Zayn Malik's debut book, "Zayn," released this month—and with it have come excerpts about his struggles with anxiety and an eating disorder, as noted in TIME Magazine. 
Malik also recently announced the development of his own fashion line with Versace and saw international number one hits with his debut album "Mind of Mine." Meanwhile, he's talked to fans on Instagram about the anxiety that has led him to cancel a number of concerts. Before we get into this discussion, it's important to note that Malik was under no obligation to explain the reasons for his cancellation, particularly anything beyond citing ill health.
Nevertheless, he released this statement on his Instagram account:
I can't think of any other Pakistani, Muslim and British man, who has achieved the level of fame and success that Malik has. I certainly can't think of someone who has also decided to talk openly about their mental health, while setting their own boundaries for how they wish to talk about it. Discussions around mental health are often painfully dominated by the centrality of whiteness.
Malik's album and book follow the same pattern of openness but have been interpreted as his way of "hitting back" at previous relationships and addressing whatever beef he may or may not have with One Direction. Such interpretations barely scratch the surface of what he's saying and doing through his mediums.
I found Malik's album a difficult piece of work to get into, partly because he has a tendency to be (adorably) mumble, but also because he doesn't spell out exactly what he means for his audience. It's an album that requires more work from listeners.
The book, however, does not require as much focus. The voice Malik crafts for himself is conversational, such that the reader feels like they are sitting with the star and having a chat about his creative processes, family, and love for art in any medium. He addresses his views on Islam, ethnicity, upbringing, and current struggles with mental health in a manner that invites you into his world while maintaining the boundaries between his work and opinions as an artist.
The excerpt from TIME Magazine is also notable because Malik speaks about the difference between what he knows and how he feels:
"As a solo performer, I felt much more exposed, and the psychological stress of performing had just gotten to be too much for me to handle—at that moment, at least," he said. "That's why my anxiety is so upsetting and difficult to explain. It's this thing that swells up and blocks out your rational thought processes. Even when you know you want to do something, know that it will be good for you, that you'll enjoy it when you're doing it, the anxiety is telling you a different story."
Malik's words are an interesting way to frame anxiety, as well as mental health in general. He points out an interesting chasm between what we know about ourselves, careers and relationships, versus how we feel about them.
It is a skill to be able to identify which opinions about yourself are truly yours based on what you believe and hold to be true, rather than what mental health illnesses are leading you to believe about yourself. This is a skill that requires constant development and growth.
Malik clearly loves what he does, and most likely knows that he can do it—but anxiety makes him feel that he cannot. The single most inspirational thing about his book, for me, was his choice to end on how he will move forward. Malik said he will take stock of what he has, where he is, and where he comes from, but with the utmost certainty that he can work out a way of being in the world that in turn works for him.
---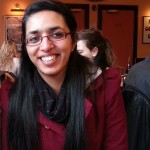 Maryam Jameela lives in Lancashire, England. She graduated with a B.A. in English literature and an M.A. in gender studies. She is passionate about writing all things desi and will begin her Ph.D research into desi film and literature at the University of Sheffield, U.K. in the fall. You can read more things that she has written here.