by Manisha Nair
Growing up in the suburbs of Chicago, my sister and I spent most of our summers in the sun, swimming in pools, playing on a beach, or even just outside in our backyard. Getting darker during the summers was never something that we really paid attention to until one of our many trips to India, to visit family.
An aunt would ask my mom,
"Why are they so dark?"
And another would say,
"Milk would help to lighten them."
My mom would always stand strong and say that it didn't matter to her— we were beautiful regardless of what shade our skin was. It wasn't until then that I felt the amount of focus that could be placed on the color of a person's skin. It is why I feel skin tone should be embraced regardless of shade and used as a canvas from which to express ourselves.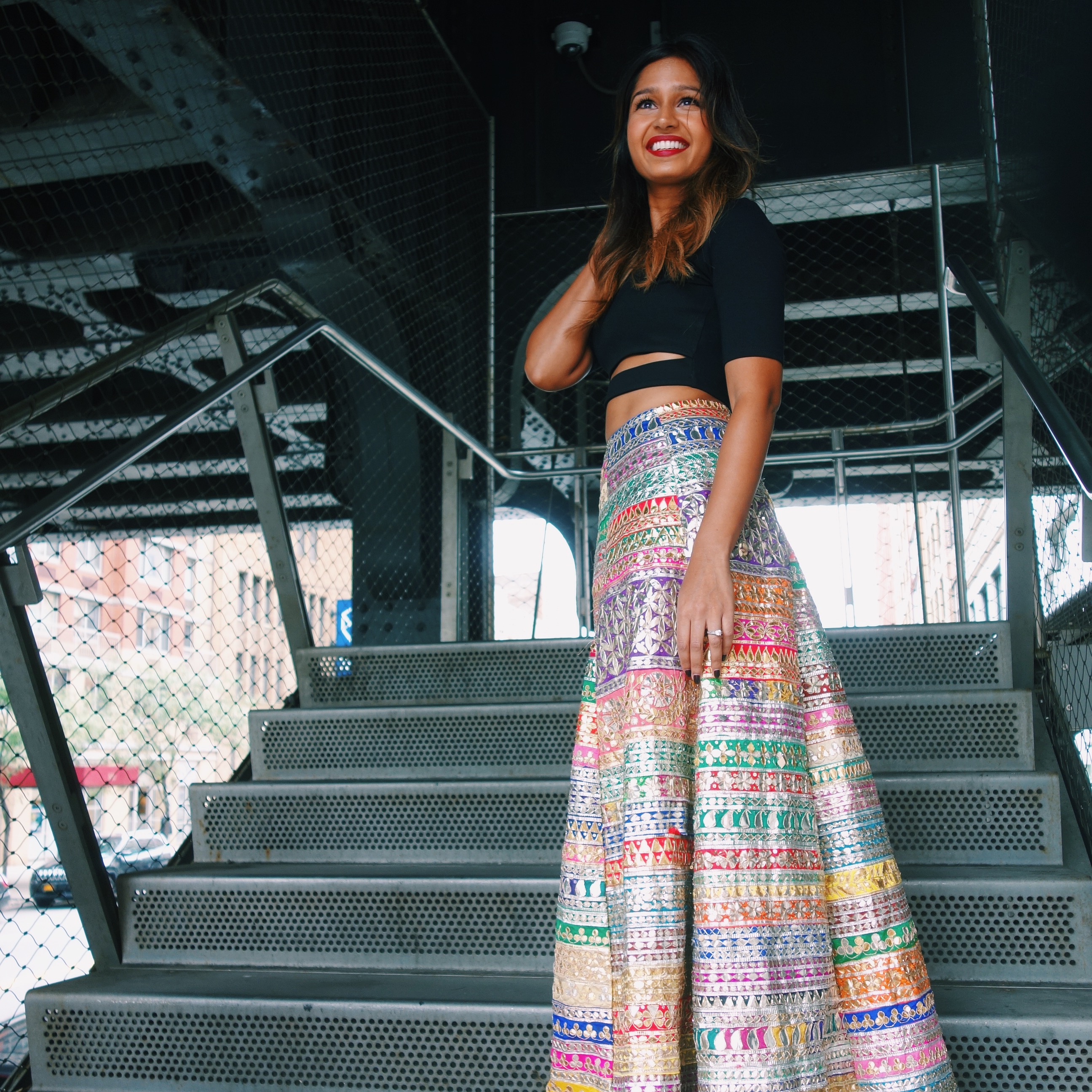 [With a knack for fashion and killer style, BG Manisha creates her own canvas with every look! Photo courtesy: Manisha Nair.]
Since I was a kid, I've always had an affinity for fashion. Fits, cuts, colors—I loved playing around with all of it.  Over time however, I found that while fit and cuts were components that people needed to consider, color was one aspect of style that everyone could embrace, regardless of their skin tone.  
I have a skin tone that is considered "darker" by most standards, but I still like the way various shades look on me, light or dark, bright or soft. For those of you that grew up in the 80s/90s, you may remember hearing that people with certain complexions or hair colors should stay away from specific colors of clothing. I knew people who were worried about how lighter colors would make them look darker, or who only wore bright colors because that's what looked best on you as an Indian-American. I like to think that most of those stereotypes were broken, but find that this is actually not true.
I was helping an Indian-American friend style herself for an event. We were playing around with palette colors and she seemed skeptical of any pastel tone I suggested.
She said,
"Pastels just make me look darker. Maybe we could try some darker colors?"
I agree that certain colors and shapes may not look good on camera or in certain lighting, but to say a color wouldn't look good on her before even trying it on sounded like she was listening to narrow stereotypes regarding Indian skin tones.
I convinced her to experiment with weaving those pastels into her wardrobe and she ended up being happy with the results. More than anything, I was just happy that she would give it a try.
To me, it's your personality that makes colors pop rather than the other way around. For example, if you have a favorite color, and you believe it represents the way you see yourself, you're more likely to carry it off with confidence versus another color that you don't naturally gravitate towards.
Ultimately, I believe that regardless of the shade of your skin, you really can wear any color. Appropriate fit and cut of clothing will vary per person, but that should never stop you from trying something different, whether it's a color or interesting pattern. It's the way you carry yourself that'll make your personal style stand out. Your skin tone is just a neutral backdrop against which any color will work, if it's styled thoughtfully!
---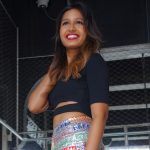 Manisha Nair is an NYC-based, globe-trotting founder of fashion blog, @ifstyledanced. A multi-disciplinary artist, Manisha was once told her fashion reflected her dance style— classic, but experimental. Manisha specializes in weaving statement pieces into your wardrobe creating versatile, elevated and unique combinations.