Nirbhaya, the word means "fearless" in Hindi, and is now a symbol of the struggle worldwide against sexual violence.
When Ladydrinks' Joya Das invited me to join her for the opening night of Yael Farber's play "Nirbhaya" in NYC, I immediately said "yes," and asked if I could bring my husband. With the whirlwind of late, we hadn't had enough time to talk and connect. The hour-long train ride into the city usually gives us a chance to catch up. As we ventured into Manhattan, we talked about a lot of things. His work week. My upcoming book, "Soaring Through Stars." His mom. The girls. And, of course, my Facebook-hooked hubby slipped in a date-night selfie.
When we arrived at the Lynn Redgrave Theater, we had just enough time to sit and meet our seat neighbors, the Caucasian woman next to me was a yoga coach and recent visitor to India. As the lights dimmed, silence fell over the audience. A very different silence would soon be broken.
The stage props of seats on a city bus in front of swaying windows gave the stage freedom and simplicity. When the play began, I didn't realize the individual stories were true. One particular story is of Jyoti Singh Pandey, a young medical student who boarded a bus with her boyfriend in New Delhi in 2012 and was subjected to a brutal gang rape that subsequently led to her death.
Furthermore, what makes the play exceptional is that the stories told on stage were by the very women who experienced the devastation no one likes to talk about, think about or believe.
I'll be honest, I failed to read the words under the central image on the program clearly stating that the stories were told by the women themselves. Two stories in, I began to ask myself, I wonder if these injustices didn't just happen, but happened to the women on stage? In fact, when the woman with burn-scarred skin began her story, I even tried to convince myself that she wore stage make-up. I had become the very person I worry exists—the viewer who fails to see past the words. The reader who puts the book down and goes on with his or her life. Same old, same cold. The citizen of the world whose world centers around me, myself and I.
And if you know me, I'm a crier. I cry while watching Disney movies. I cry when the Budweiser Clydesdales helps reunite the pup with his owner. I cry when a sad song comes on the radio, even if the radio plays it a hundred times a day. I'm that person.
But this night, when weeping rained over the stage for long moments at a time, I didn't cry. Teary eyed, yes. Gut tight at moments – definitely. But I didn't all out cry. For many reasons, but one immediately apparent to me as we left the theater that night. Control. I wanted to be in control of my emotions when I could not control the journey nor the outcome of the women's lives in front of me. And when we lose control, we get uncomfortable. Like Cinderella trying to catch her balance in new heels at the ball—she doesn't.
In fact, the question during the Q&A reflected this discomfort as one woman asked, "Why make the play so intense? Why not put a positive spin on it? After all, you're all beautiful and all lived to tell…" I paraphrase, but the gist of the question rests. Replaced by the unrest in the actors who were as uncomfortable with the idea that a little optimism is what was missing in this world. The fact is that optimism could very well be the enemy when violence against women comes out of the shadows. Truth never promised to be pretty. Just true.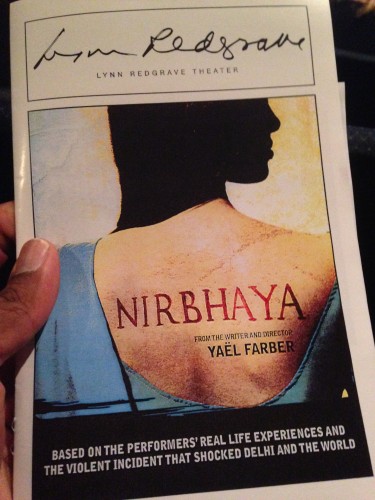 And I especially appreciated what one of the actresses shared that night after the play. And I paraphrase, but she said something along the lines of,
"I don't persevere despite my rape. The rape permeates my life every day. When I tell my story, and you hear it and believe it, I can then exist and persist, because you see me. All of me. And then I can go on, no longer in hiding."
And another woman who admitted,
"When we shared our play in India, I wasn't sure if we'd be embraced or beaten. It could have gone either way. But the cost of keeping silent is far more than speaking up."
Indian and American audiences have received "Nirbhaya" with sold-out theaters and rolling feedback after each show.
Farber, writer and director of "Nirbhaya" shared that so many women came up to the cast afterward and whispered in their ears, "I was raped too." Or "That happened to me too," and the most powerful truth of all, "Now I know I'm not alone."
On the brink of launching "Soaring Through Stars," book three of my young adult trilogy, when I first penned Talia's story, I didn't know what her mother Gita would go through in the forthcoming chapters, and nor did the women at the shelter in "Seeing Through Stones." I did know that I wanted to nudge readers out of the box. Into a world where hope seems to lie around the corner you never turn.
Because we are that corner. We are their hope. We can't do everything. But we can all do something.
As I heard International Justice Mission's Gary Haugen during his TedTalk today, I was reminded once again why I write. Why I exist. He said, "Compassion moves us to suffer with others." Will I be moved to tears and stop there? Or will I be moved to action?
---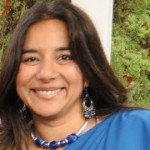 Rajdeep Paulus, Award-Winning author of Swimming Through Clouds and Seeing Through Stones, is mommy to four princesses, wife of Sunshine, a coffee-addict and a chocoholic. As of this June 2013, she's a Tough Mudder. To find out more, visit her website or connect with her via Facebook, Twitter, Pinterest, or Instagram.
---
About Nirbhaya:
Called "one of the most powerful pieces of theater you will ever see." by The Telegraph, NIRBHAYA premiered at the prestigious Edinburgh Fringe Festival, the largest arts festival in the world, in August 2013. It won the coveted Amnesty International Freedom of Expression Award given to an outstanding Fringe production which raises awareness of human rights. It also won the Scotsman Fringe First and the Herald Angel Award for Outstanding New Play.
On the night of December 16th, 2012 a young woman and her male friend boarded a bus in urban Delhi heading for home. What followed, changed the lives of these two people and countless others forever. Internationally acclaimed playwright and director Yaël Farber creates a searing new work that cracks open the cone of silence around women whose lives have been shattered by gender-based violence. nirbhayatheplay.com
Presented by Culture Project and Shivhans Pictures with Shivani Rawat, Julio DePietro, Cornelia Ravenal, The Embrey Foundation, and Abigail E. Disney. NIRBHAYA is an Assembly, Riverside Studios, and Poorna Jagannathan production.
The play is running from April 16 – May 17 at the Lynn Redgrave Theater on Tuesday-Saturday at 8p.m. and Sunday at 5p.m. Visit the website for showtimes and tickets.