Update as of November 9: Well, that didn't last long. Within days of Neil Nitin Mukesh revealing he might appear on Season 6 of Game Of Thrones, HBO confirmed that they have not offered the actor a role on the series. Now that doesn't mean that stunt director Greg Powell, who worked with Mukesh on the upcoming Prem Ratan Dhan Payo, was not impressed with the actor's work. And to be fair, Mukesh did say that the Game of Thrones team had not yet come to speak to him about a role on the show. A pessimist might say the whole story was created to drum up even more chatter about PRDP, which releases Thursday, November 12, but we would like to think it's all just a big miscommunication from an actor who had high hopes that the intricacies of Hollywood would work out in his favor. For now, let's just keep our fingers crossed that Game Of Thrones will in fact cast more South Asian faces as the series progresses.
This post was originally published on our partner website India.com.
In quite possibly the craziest news out of Bollywood in the last week, it seems Neil Nitin Mukesh might have nabbed a role in one of the biggest TV series in the world. The "Prem Ratan Dhan Payo" star will reportedly star in Season six of "Game of Thrones," after impressing stunt director Greg Powell who directed two swords stunts with the actor and is reportedly working on the fantasy series.
Mukesh broke the news to the "Mumbai Mirror," saying that Powell was so impressed by the work he put into the PRDP stunts that he offered the actor the role while still filming the Bollywood film together. Mukesh believes his role will be that of a "royal" though he did not have much more information beyond that aside from telling the Mirror that he was a great fan of the series. But he did make sure to mention that the revealing, sensitive moments of "Game of Thrones" wouldn't bother him if he was asked to comply.
"I have gone nude for 'Jail,' so why not for this? I am okay with it if it's required for my character. I am not intimidated by it as an actor," he said.
The actor added he is supposed to meet with someone on the Game Of Thrones production team for "further discussions."
Now I hate to be this person, but even if the actor himself is revealing this news, it's hard to believe it's really happening until HBO or Game of Thrones creators David Benioff and DB Weiss release an official confirmation of Mukesh's involvement. When it comes to casting a role for a TV show, especially one like Game of Thrones, most of the time the hiring process goes through a casting director, directors, and the producers. So even if the stunt director offered Mukesh a part, there are still lots of other people that have to approve this decision.
However, I really do hope the news is true. With Priyanka Chopra dominating on ABC's Quantico to Bollywood actors like Irrfan Khan, Anupam Kher, Anil Kapoor, and even Nargis Fakhri popping up all over American films and television, there is no better time for Hollywood to continue embracing Indian actors both here and abroad with roles in front of and behind the camera of the most popular projects.
If there's one thing we can always count on when it comes to breaking major entertainment news, it's that people will pounce at the chance to comment on social media. And this news was no different with tweets, memes and more created by fans and media outlets trending for hours on major social media outlets. Some jokes were at the expense of Salman Khan, who is the star of PRDP: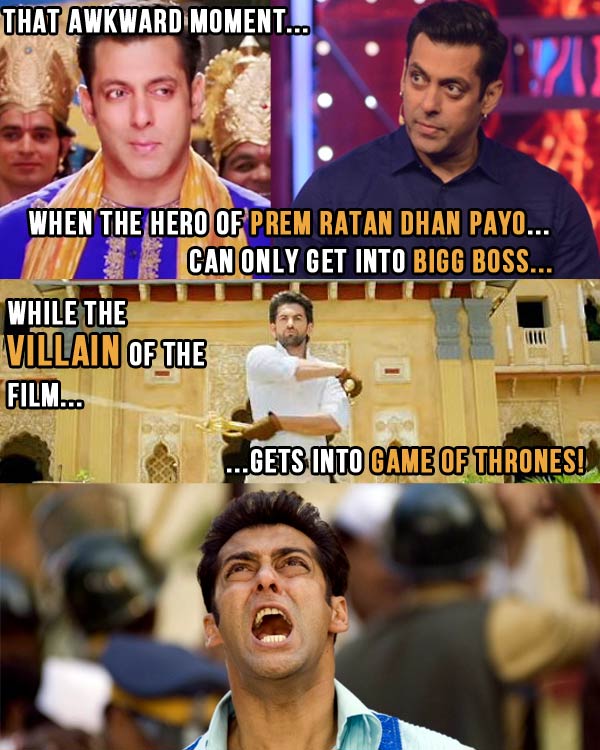 [Photo Source: BollywoodLife.com]
And many, of course, were at the expense of Mukesh's three first names:
https://twitter.com/PunePunky/status/661850307744260096]
And then there were those who jokingly speculated what character Mukesh might portray if the news is confirmed:
https://twitter.com/sujoy_2407/status/661844580778799104]
https://twitter.com/hankypanty/status/661813325689446400]
But despite these jokes, the fact that Mukesh does regularly get teased about his name (even on his birthday) and his not-so-great moments in the public eye (like the time he or may not have insulted Shah Rukh Khan at the Filmfare Awards after a joke against him), the actor is actually quite talented.
Mukesh has certainly impressed in a slew of movies, including his work in "New York", "Jail," "7 Khoon Maaf," David and his fantastic debut performance in Johnny Gaddar. It would be no surprise at all if Mukesh's news is proven accurate by HBO and if he does a fantastic job on the series. Let's just hope we get that confirmation soon.
---
Born in Texas, went to college in Missouri and now living in New York City, Keertana Sastry has a unique perspective on being Indian in different parts of America. Keertana has been working as both an entertainment, culture and lifestyle reporter, as well as a casting assistant for the film and TV industry. She loves to infuse her Indian heritage into her work and life.