by Nusrat Ahmad 
He tells me "tonight I feel blue."
I tell him "tonight I want to talk, and then we can go searching for blue. I want to talk to you about everything I wonder."
It was first your smile. It always told a story. I memorized it and wonder if it will be the only book I memorize before I die.
It was then your hands. I've never held them but I wonder if God purposely left space between my fingers so that you can fit yours in them.
It was then your eyes. I wonder if the sun cheats on the sky with them. I've seen her tip toe across your iris at sunrise and wonder if that's why dawn needs to break for the day to start.
And it was then your heart. Your heart felt like spring in my clothes but fall at my feet. It was my greatest wonder.
And I want to spend the rest of my life trying not to understand it because once I do the magic would be lost.
There is magic in all of your stages.
Sometimes you're rain, so I walk on you barefoot, heels turning to fins. I want you to water me with your words and your bruises because we're both losers.
And sometimes you're lightening. and I've forgotten the difference between being warm and being electrocuted.  
And sometimes you're thunder, cracking my skin open.
So keep it open and step inside,  take a pilgrimage to my heart and learn me slow and unrehearsed, like the henna on my palm.
God tells me to remember Him but it is through you that I do
and so you become my favorite kind of worship
but some prayers aren't answered.
I want to tell you I love you, but I never will. Because you fall in love to grow out of it. Just as a flower grows out of the earth breaking it along the way.
You broke me too but I can't seem to find your flower.
Your petals have writing on them with ink that doesn't match mine. so I've spent the last day searching for one that does but I can't find it. I think someone else own it.
There is nothing more painful loving someone you can't have. Loving someone who doesn't love you back. Being the soil in which his dandelions find a home in, only so that his seeds can wind into another girls garden.
Because one day you'll find a girl that moves the mountains in your heart. That tames the lion in your fingers and the clown on your nose.
I hope she takes care of you and listens to your thoughtful prose. I hope she realizes she's with the funniest man she will ever meet. The man who gave me happiness and heartbreak. I hope no water ever races down her eyes like they have in mine and if they do, I'll tell her to pretend it's rain racing down a car window.
But what will you do about my eyes. God, you created day and night, for those with a vision to see but my day spills into night like milk over a counter. I can't see the difference between light and dark and good and bad because they are all one. have you blinded me in this lesson of love and if so, please stop it.
Like the spider that webbed protection for the prophet, I ask you All Jabbar the mender of hearts to web my heart back into its original shape because the pieces are scattered all over my body. I don't want to keep playing Hide and seek with you.
You've changed the direction of prayer, you've cut the moon in half and split the sea. Please do this for me. Either let his ink match with mine or let me move on.
Let me forget his smile and move on.
Let me forget his hands and move on.
Let me forget his eyes and move on.
Let me forget his hea-
I can't forget your heart. Because even though my heart is crumpled into paper basketball shots throughout my body, you are the bin in which I dunk into.
I can't forget your heart because I've been here for 21 years and alive for three and those were the years you were with me.
I can't forget your heart because I am depressed.
I am sad and I can't get out of bed.
I am sad because you'll never be in my bed.
I am sad because your face isn't mine to see first thing in the morning.
I am sad because I could never ask you to cheat on the sun with me because I need her now more than ever.
God tells me to pray. Because prayer was sent to prophet Muhammad peace be upon him  when he was depressed. He tells me to visit Madina again. Because it will be easier for me to be in love with a man who I know loves me back.
And so I pray and I cry into my hands, forming years and years of oceans, the oceans that keep us apart. We are too different. Made up of different ink and different promises.
I want to be a warrior.
You've given me the greatest lesson I will ever face.
I am learning to move on.  
I'll find someone on my side of the shore.
And maybe one day I'll take a boat to yours and we can talk about my heartbreak.
He tells me "tonight I feel blue."
I tell him "me too."  
---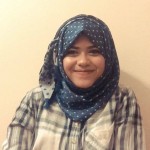 Nusrat Ahmed is a junior studying Anthropology at Princeton University. She is passionate about children's rights, women empowerment, and youth activism. Her guilty pleasures are Mike and Ikes, grape soda, and browsing videos on YouTube.