by Aamy Kuldip
The critically acclaimed movie that established Kangana Ranaut's status as an A-list Bollywood actress and won over not only the audience, but also the Hindi film fraternity, has finally completed a year. In addition to recently winning the 2015 Filmfare award for Best Film, I would like to remind everyone why it won our hearts and how it started the era of brown girls with new-found confidence.
The synopsis of the movie is quite simple. (Spoiler alert!)
Rani (also known as Queen) played by Kangana Ranaut, is a middle-class girl from Delhi, who works at her parent's mithai shop and is escorted by her younger brother everywhere she goes. She is two days away from marrying Vijay, played by Rajkummar Rao, the love of her life. But when he returns from London, Vijay has a change of heart and feels that Rani won't be able to adapt to his new modern lifestyle and thus breaks the marriage off.
Heartbroken, Rani decides to go on her pre-booked honeymoon to Paris and Amsterdam alone, places she had always dreamed of going to as a girl. There starts a journey of unlikely friendships, a newfound freedom, and the discovery of self.
Innocent Rani touches the heart of everyone during her solo adventure. From dancing in a club and drinking for the first time to having her first lip-to-lip kiss, you feel Rani's journey is your own. It is similar to our awkward self-doubt about being the only brown girl in the class, to owning our dark skin and imperfect eyebrows. She is the epitome of the average brown girl trying to settle in the misogynistic and hypocritical world of ours; coming to the realization that accepting yourself is the first step in having the world accept you.
Wandering the streets of Paris in a blue kurti, Rani befriends a half-Indian, half-French woman, Vijaylaxmi, played by Lisa Haydon. Initially, Rani is startled by Vijaylaxmi's upfront personality, but the two soon become best friends and wander around Paris, flirt at nightclubs, and do a drunken dance with police officers; a friendship every brown girl can relate to.
During the second half of the movie, Rani leaves for Amsterdam and to her horror, is assigned to a room with three "male roommates" at the hostel. However, she finds a unique friendship with her new guy friends. Together, they share deep thoughts about life, obliviously enter a sex store, visit a strip club and share the last night together at a rock concert.
Rani transforms from a scared, heartbroken girl to someone who owns herself and takes everything the world throws at her. While the mendhi on her hand faded, her confidence grows.
Rani embodies the girl we all have tried to hide throughout our lives. But she owns it, and while remaining true to her Indian ideals and customs, she becomes this badass girl who attends rock concerts in a foreign country when there once was a time when she was barely allowed to dance at family weddings. Not only does she dismiss the guy who broke her heart after returning from the honeymoon, she looks him in the eyes, simply says, "thank you" and hugs him for the last time.
Also, let's not forget Rani's cool dadi ma, who gives her the best advice, especially after the Vijay breakup.
---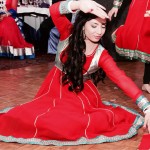 Aamy Kuldip enjoys Indian classical dancing, known as kathak, and has been learning/teaching for the past ten years. She also participated in the Miss India USA pageant and gained the titled of Miss Photogenic this past year. Through Brown Girl Magazine, she would like to share her experiences, as well as give her input on issues that affect the average brown girl.