by Roopa Cheema 
I'm 36-years-old, I'm basically your auntie. You can call me your #OnlineAuntie. And I'm not happy with the hashtag #CurryScentedBitch. Grab a cup of cha' and gather 'round so I can share my thoughts.
By now, we all know the awful things Azealia Banks said to Zayn Malik on Twitter: "dirty, Punjab, f****t,"p*ki," and of course, "curry scented bitch." Granted she's apologized and Twitter has suspended her account, this discussion warrants further thought.
As a South Asian girl, with parents from Punjab growing up in the '80s in a predominantly white town in Canada, these racial insults hit home.
I was called a "p*ki" and made fun of for how my house and clothes smelled. Azealia's words hurt. Really badly. I cried reading the horrible things she said to Zayn. My hurt and anger – YOUR hurt and anger – is legitimate. Canadian YouTuber, Jus Reign, caught wind of the situation and decided to reclaim "curry scented bitch" and turned it into the hashtag we all now know.
At first glance I thought the tag was great, seeing so many beautiful desi faces! I even contributed by posting a selfie (which I have since deleted). As I scrolled through the tag, I mostly young South Asian millennials posting selfies (many of which had Azealia's Twitter handle in the post), but then I began to see some epic anti-black racism directed at Azealia.
Let's face it, desis: our communities are very anti-black. Before you start trying to deny it in your minds as you read this, stop. You know what I'm saying is true. I saw young Desis saying misogynoiristic (the hatred of black women) comments like, "don't forget where your weave comes from," "clapping back," "monkey," "whore," and "kuthi," whilst plastering photos of light-skinned desis using African-American Vernacular English (AAVE) with words such as "slay" and "fleek," and asking Azealia, "what's good?"
There is a deep and long history of the hatred of black people's hair. Black people get called "ratchet" and "ghetto" when using AAVE but brown people are going to steal their language to sound cool? Hmm…this sounds familiar, doesn't it, desis? Like when white people wear henna and bindis to music festivals but when our mothers, aunts, and sisters wear it as a part of their daily garb, they are told to go back to their own countries.
South Asians get rightly upset when white people steal our things because they have more societal power than us; they get to have all our pretty stuff without the oppression. In the way racial hierarchy is designed, brown people have more societal power than black folks. Before you call me a liar via Twitter, please read the copious amounts of scholarship and other material on power dynamics and systemic oppression. You can start by watching Aamer Rahman's "Fear of a Brown Planet" in which he perfectly explains why "reverse racism" doesn't exist.

Black people cannot be racist toward us because of power dynamics (they don't have the power to oppress us on a systemic level) but they can certainly be prejudiced and bigoted as illustrated by Azealia. #CurryScentedBitch was created to heal from the hurt and all our community did was hurl horrific anti-Blackness at Azealia. You have every right to be hurt and angered. Please don't mistake my words for absolving her of her actions, however, I cannot sit by and watch my community spew racial hatred and dehumanize a black woman over whom we have societal power.
Azealia has talked about wanting to bleach her skin to be whiter. Does this sound like a familiar problem to you, desis?
Instead of knee-jerk racist reactions to what Azealia said to Zayn, I want for all of us to take a more nuanced look at this. Move past the valid emotion and interrogate the real culprit: white supremacy. Let's decolonize our analysis of this whole situation. Also, it needs to be said: black people, particularly black women, ALWAYS show up for desis when we need them. And let's not forget the black-desis who are experiencing erasure in all of this.
We share some of the same struggles and common histories of coloniality but please do not compare the plight of black folks with that of brown folks, even in a post-9/11 world.
When I started learning how white supremacy and anti-blackness operate, I vowed to take that knowledge to my community because that's what good aunties do. Almost all the learning I've done has been from black and Indigenous people, mostly women, in the academy and online. We must work together to dismantle white supremacy and anti-blackness. Please challenge it at the dinner table, online, in schools, and communities; the revolution begins at home.
---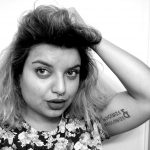 Roopa Cheema is a Toronto-based educator. She holds a Master of Education in Social Justice Education from the Univeristy of Toronto. You can follow her on Twitter at @RadRoopa. She wants all people of colour to add to #DecolonialSelfies.