Over the course of the past week, we have seen the implementation of the French ban on burkinis, building upon an earlier ban from five years ago on face coverings. Images have been shared of a woman on a beach in Nice ordered to strip by armed French police. That ban has been overturned in one (only one!) town, Villeneuve-Loubet, by the highest administrative court in France for "seriously and clearly illegally breached fundamental freedoms." Even so, plenty of mayors in France have refused to comply with the legal and political ramifications of this ruling.
Let's take a moment to think about how we have come to this place – this place where a Muslim woman was forced to strip by an armed police officer, with the full weight of France's institutions behind the police officer. We have moved towards this place, this wasteland, where Muslim women who are black and brown, who are visibly Muslim, are policed for all three of those things: being a woman, being a Muslim woman, and being a Muslim woman of colour.
There's nothing I can say that fully appreciates and demonstrates the horror and anguish I feel at the fact that this ban has come into place, that people support it, and that it is being enacted.
A lot of the discourse I've seen in reaction to this has compared this incident to other examples of different kinds of women being policed for the clothes they choose to wear but that is, at best, a hopelessly reductive argument, and at worst, a wildly unnecessary tactic that switches the focus from the specifics of this development (namely that it affects Muslim women of color and Muslim women of color only) to an articulation that erases those very women.
I can't help but despair at the state of feminism, where are all the white feminists outraged and consumed with anger at this? Muslim women of color are forced to repeatedly outline historical contexts that have lead to events like this, to provide examples of ways in which Muslim women deserve to be treated as people, to outline instances where Muslim women have comprehensively not been treated as humans, to explain, and repeat, and repeat, and repeat the most basic right of Muslim women to be treated as human beings.
We have not arrived at the point where Muslim women are forced to undress by accident; these Islamophobic laws have come into place precisely because French law has upheld the opinion, by proxy at least, that Muslim women are too oppressed to make choices for themselves. The burkini ban, especially, aims for a removal of visibly Muslim people in public spheres and, at the core of these bans, is the presumption that Muslim women need to be forced into their liberation.
It says that if a brown man tells a Muslim woman how to dress, he is oppressing her. If a white man does it, he is liberating her.
---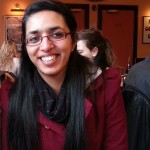 Maryam Jameela lives in Lancashire, England. She graduated with a B.A. in English literature and an M.A. in gender studies. She is passionate about writing all things desi and will begin her Ph.D research into desi film and literature at the University of Sheffield, U.K. in the fall. You can read more things that she has written here.