by Zara Raheem 
From the outside, The Booksmith looks like any other eclectic store lining the trendy streets of the Haight-Ashbury neighborhood of San Francisco. But on this particular Thursday night, this quaint, independent bookstore was brimming with swarms of young people excitedly awaiting the arrival of Canadian poetess: Rupi Kaur—a 20-something-year-old Toronto-based photographer, writer, and artist who was debuting her first collection of poetry titled "Milk and Honey."
After a grueling hour and a half fighting rush-hour traffic and another thirty minutes of circling the streets for parking, I was pretty pleased that I managed to get there by six-thirty, an hour prior to the start of the event. My satisfaction was short-lived, however, because as soon as I walked in, I noticed there was already a line forming from both corners of the store. Within the next ten minutes, this line had extended out the front entrance, along the sidewalk, and eventually resulted in a huge crowd spanning almost two city blocks. I had been to several literary readings in the past, but never before had I seen such a frenzy over an author—let alone a poet.

I first learned of Rupi Kaur about a year ago when The Huffington Post ran an article about her controversial "period photo." Intrigued, I clicked on her Facebook page and stumbled across some of her writing; and instantly became an admirer of her work. Raw, honest, discomforting, yet empowering are just a few of the words I would use to describe her poetry. Her writing provides a candid reflection of her own personal experiences as a first generation, Sikh-Punjabi woman; therefore, as I looked around the bookstore, it was no surprise that the majority of the attendees were young women of color.
As seven-thirty rolled around, I wheedled my way through the crowd and somehow managed to get a seat near the front of the stage. As I watched Rupi Kaur make her entrance in a sandstone-colored jumpsuit, nude stiletto heels, with her long, black hair braided down to her waist, I couldn't help but wonder how such a fresh-faced young woman could convey such depth and emotion in her writing. However, as soon as she opened her mouth to recite her poem "Broken English,"—her hands flowing gracefully, her body swaying rhythmically to the movement of her words—I stopped wondering and became entirely engrossed in her performance along with the rest of the audience.  
Kaur's style of poetry, which resonates with so many of her readers, breaks standard conventions of form and meter, and instead resembles a narrative or monologue style to converse directly with her audience. Her ability to elicit strong emotions in just a few words conveys a profundity which surpasses far beyond her age. She also gives credibility to this new form of poetry that is beginning to take rise among young writers everywhere.
For the next 30 minutes or so, Kaur captivated the attention of her listeners as she recited selected poems from each of the four chapters of her book, evocatively chronicling the stages of a relationship, taking her readers through her journey of pain, love, heartbreak, and healing. Each recitation was met with "Mmm's" and "Ahh's" and collective snaps from the audience as the lines of her poems eloquently articulated the complexities of human relationships.

After her reading, I waited in line—once again—with hundreds of others to have her sign my copy of her book. While the employees of The Booksmith tried their best to keep the crowds moving, Kaur remained gracious, meeting each of her supporters with a generous smile and signing multiple copies of their books. When it was finally my turn, I had only seconds to tell her how much I enjoyed her reading as she quickly scrawled a generic "Hello!" across the inside cover and thanked me for coming.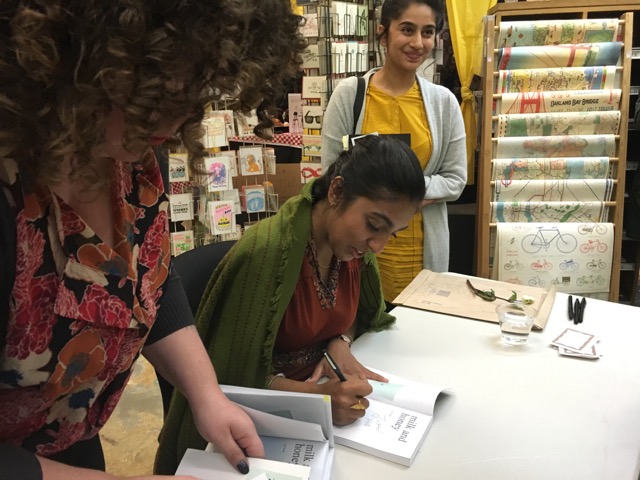 As I was leaving, I momentarily regretted not requesting a more personalized message; however, on second thought, I realized that her Adele-esque inscription was actually quite befitting. Similar to the beloved singer, Kaur's poetry successfully taps into the universal power of empathy—using the language of love and heartbreak to connect to her readers while simultaneously serving as a reminder that regardless of age, gender, race, or experience, we are all simply human and there is immense beauty to be found in our struggles.
---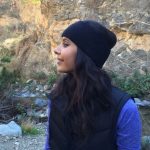 Zara Raheem has a B.A. in English Literature and a Single-Subject Teaching Credential from California State University, Fullerton. She currently lives in the Bay Area and is pursuing her passion for creative writing as a graduate student at San Jose State University. Her writing has been published in Muse India, Fiction Magazines, EastLit Journal, eFiction India, Polychrome Ink, and The SF Bay Reader.