"Why are they returning your money?" Qutub asked as we parked in front of Q'ba, an Asian fusion restaurant in Connaught Place. Qutub was our driver for the day and had received a call from our hotel to inform us that the jeweler was returning our money.
To commemorate our family vacation in Delhi, I wanted to purchase an authentic Indian nose ring. My father explained to Qutub that we had paid a jeweler who agreed to custom-make a nose ring for me.
"The jeweler promised his employees would work on it today, but they didn't show up to work this morning. We're leaving for the airport early tomorrow, so there's no way for them to deliver the nose ring in time," Dad continued.
"Well, I can't let my sister go home without her nose ring. I have a friend whose family has been in the jewelry business for generations. They are sure to have a wide selection for her to choose from. Shall I call him? We can go right after dinner," Qutub suggested.
He knew English better than most of the other drivers we had met during our stay in New Delhi.
It was almost 11 p.m. and we hadn't even eaten dinner yet. Dad hesitated for a moment, but I pleaded silently. My big brown eyes proved to be persuasive.
"If he is available, then we can look around," he finally agreed.
It was 12:15 a.m. when we finally left Q'ba. As we settled into the car, Qutub announced that he had called his friend, who would allow us into his private showroom. When we arrived, I noticed that the enormous showroom was attached to the jeweler's home. Despite his large collection, he did not have the type of nose ring I was looking for. The only one that caught my eye was a small sapphire gem encased in gold claws.
A few months after I turned sixteen, I had my nose pierced. The decision was partially cosmetic, but it was also a way to embrace my heritage. Nose rings have been part of the Indian culture for hundreds of years.
In the late 1800s, my ancestors, as indentured servants, emigrated from India to the then-British colony of Guyana in South America. Their culture and customs blended with those of the Europeans, Chinese, Africans, and natives, who were also living and working in Guyana. Through the generations, we have lost the native language of my ascendants. The villages they departed from remain unknown. We have no connection to distant relatives that may still reside in India. In fact, none of my grandparents or great-grandparents have ever visited the subcontinent.
As I grew older, I became more interested in the origins of my family. In the exploration of my own identity, I discovered various methods to reconnect with my ancestral roots. I began taking Kathak lessons, a type of classical Indian dance and became an avid watcher of Hindi films. I purchased the Hindi version of the Rosetta Stone program, believing that a better understanding of the language would somehow teach me something about my familial history of which I knew so little.
A nose ring was an outward approach to incorporate more of the Indian tradition into my daily life.
As I took another look at the assortment of nose rings before me, the beauty of the sapphire gem stood out even more, and I knew it was the one I had to buy.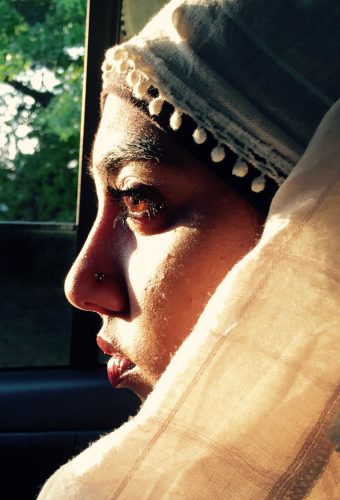 However, in my hunt for the perfect nose ring, I realized that this piece of jewelry was far less important than I had originally believed. It was Qutub's generosity – intangible, but very evident – that provided me with the priceless insight into my heritage that I had been seeking for years.
Beginning at 8 a.m. that morning, he drove us around to the famous sites of Delhi, including Jama Masjid, the Lotus Temple, and the Qutub Minar. (Ironically, our driver shared the same name as the first Muslim Sultan of Delhi who erected the historic column.) Before dinner, Qutub took us to a tea shop that he guaranteed would reenergize us and soothe our unsettled stomachs, which we had suffered from all day. While my parents, for the following two hours, tasted numerous tea flavors from Darjeeling to mango, Qutub picked up our custom-sewn lehengas from the bazaar we had visited earlier. He had not eaten dinner and was probably more exhausted than we were. Yet, at midnight, he still offered to take us to a jeweler to search for the nose ring I, a girl to whom he had no connection and would probably never see again, desired. In my many travels abroad, this was my only time experiencing such a high level of hospitality.
It took me by surprise that my greatest insight into the Indian culture did not come from a Hindi movie, a history book, or one of the museums we visited in Delhi, but instead came from the "common man," one of the numerous taxi drivers working in the capital of the second largest country in the world. My sapphire nose ring is still one of my most prized possessions today because it serves as a reminder to practice the values of generosity and respect inherent in the Indian culture – the culture of which I am a product. Through my interactions with Qutub, I learned the true essence of what it is to be Indian.
---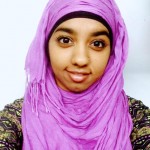 Gabrielle Deonath is a full-time college student. She is a contributor to the teen column, "At The Crossroads," in SISTERS Magazine and the author of the "Hijab Diaries" series on virtualmosque.com. Her dream is to be a journalist and novelist one day. One of her biggest obsessions is Bollywood movies and music. When she's not in class or following her dream of becoming a writer, she most likely is choreographing a dance to the latest song or watching a new Bollywood movie. To read more, visit her blog at hijabdiaries.com.