by Duriba Khan 
This post was originally published on our partner website India.com.
And so there I was, tightening the laces on my Nike sneakers and reiterating words of encouragement, as I ventured into the golden sunset of my weekly run (hey, I'm trying). I press play, and soon enough, the welcoming chords of the "American Desis" podcast theme song ring in my ears.
In this week's podcast, titled "Brown Boys Meet Brown Girls," introduced us to Kamini Ramdeen and Trisha Sakhuja, two long-time representatives and editors at Brown Girl Magazine.
The podcast begins with a rap that would be sure to put Busta Rhymes, Jay Z and Kanye West to shame. From "diva on my lips" to "I ain't no player's wife," you will find yourself head bobbing (and occasionally snapping and exaggeratedly humming "mmmhhhhmmm") to the addictive rhythm that, the listener later learns, was an original rap by the ladies and their rhyme-savvy friend Sharanya V.
Following the warm welcomes and introductions, we are greeted with questions addressing the purpose and origin of Brown Girl Magazine, an online publication dedicated to young South Asian women living in the Diaspora. Through these questions, we learn a very imperative lesson about South Asian women empowerment and the amount of work and dedication that goes into crafting a worldwide platform for communication, hard news, entertainment articles, beauty tips, standards, and marginalization: it is hard. Both Ramdeen and Sakhuja take unexplainable mediums to represent Brown Girl Magazine in a positive, sophisticated light.
The podcast then delved into how Brown Girl Magazine ranges from political issues to "fluff," to which the ladies responded by explaining "fluff" is as important, because it caters to all types of audiences and ranges of interests. Here I couldn't help but wonder why hosts Akaash Singh and Arjun Gupta would make such a remark, as all news sites are designed to engage a medley of audiences and to educate, entertain and inform them.
Later, the podcast highlights upcoming figures for the audience to keep an eye on singer/songwriter Asha Sing, Sonia Moghe, a producer at CNN, and Deepica Mutyala, former Birchbox consultant and YouTube beauty expert are discussed.
Although I found myself happily listening to the podcast, occasionally I had to stop in my tracks and remove my headphones, specifically when Singh remarked, "Isn't the best version of yourself not having to put shit on your face?"
Wow, man. I can wholeheartedly concur that labeling beauty as a societal construct holds truth, but perhaps, he could have thought to choose his words wisely. When Sakhuja elaborates that make-up is a woman's form of self-expression catered to producing the best version of herself, the hosts almost scoff. As a result, they insist that it is a "woman-made" system, which allows for unnecessary competition over the nicest designer bag or silkiest hairdo.
But have they ever thought that maybe this competition is due to the typical alpha male expectations that teach us we must be amiable, intelligent, skinny women with hips rounder than rotis, lips shinier than jalebi, and still remain dutiful and obedient to their will?
Listening to this podcast inspires eclectic thoughts and allows us to accept differing viewpoints. Through it, we partake in a conversation that ranges from the establishment of Brown Girl Magazine to the definition of beauty.
I look forward to listening to part two of the conversation between the brown boys and brown girls; a conversation I might even run another mile to listen. Stay tuned for the second review!
---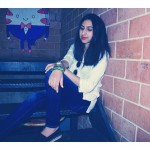 Duriba Khan, or "D-Dawg", is a sixteen-year-old blogging, vlogging, photographing, filmmaking, sketching geek who enjoys long, romantic walks to the refrigerator. She is half-Pakistani and half-Indian, and currently resides in Austin, Texas. Duriba also feels uncomfortable writing about herself in the third person. For more of Duriba's work, check out her blog.