by Jasleena Grewal – Follow @JasleenaGrewal
I used to be embarrassed to share my love for Bollywood from fear of being labeled as "too Indian" by both my desi and non-desi friends. But as I've grown older and more confident, I flaunt my Bollywood pride without any shame. Bollywood taught me more about my sensuality, spirituality and self more than any western film has, and this is how.
I love Bollywood because it shares my eye for all that is sparkly, loud, dramatic, and deeply poetic. I will never know if art imitates life or vice versa. But, because of Bollywood, I do not feel shame when I gravitate towards the brightest, blingiest outfit in the mall, amidst friends who'd prefer a muted look instead.
At ten years old, when I saw Vyjayanthimala's sweet face in her 1960's film, "Amrapali," I knew I'd wear a cat-eye the second I was allowed to buy makeup. I look to Bollywood to see faces and bodies that not only look like mine but validate the way I see beauty in the world.
Bollywood's colors and dancing are visual expressions of the celebratory foundations of my culture. The colors and dances laugh in cynicism's face and embrace life joyously, and that is why I do, too. Cinematic production preserves the rich cultures that South Asians practice around the world. The reds are more than reds, they are symbols and foreshadowers of themes like partnership and transition. Royal blues are more than what adorns kings and queens, they can also be religious and spiritual signifiers. When I'm watching a Bollywood film, I can follow the plot by the colors as well as I can with the dialogue.
Because of Bollywood, I learned more about my sensuality than any American film could have taught me. I didn't miss out on my sexuality just because a Bollywood couple failed to kiss on the lips or lay in bed naked. Instead, I came to understand the subtleties of love and sexuality at a young age. With every dance number, at every gyrating body and suggestive outfit, I came to feast on love not only with my eyes but my mind and heart. My ideas of romance are rooted in what I grew up witnessing in the movies: a tug on a sari, the closing of a bangle clasp, a stolen glance, the complicated dynamics of running into your crush at your place of worship.
In Bollywood films, I see my convictions. Shahid Kapoor in "Haider," even with the gun in his hand and approaching his enemy from behind, was left hesitant and chose not to kill him upon witnessing him in prayer. His restraint went beyond simple principle, symbolizing the deeper moral and spiritual understandings of Islam. These subtleties and poeticisms, I feel, are lost, clumsy, or two-dimensional in American cinema.
The spiritual and cultural intelligence in Bollywood films makes me feel understood in my complexities and cozy in my passions. The lyricism and unrelenting commitment to beauty and complexity I witnessed reflect in my own life as I have come to understand it.
---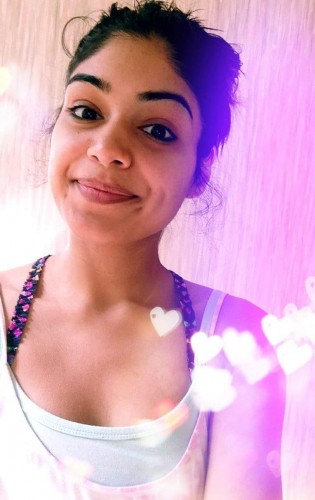 Jasleena Grewal is from Seattle, WA. Her beautiful Pacific Northwest home has taught her to see stars in cars, little amoebas in raindrop reflections against the quivering dashboard. Aside from what her parents have to say (about anything), she only lets the sky rule her moods.