by Farha Hasan

Both writing and cooking involve creativity and the ability to communicate culture and flavor. The right ingredients are only the beginning; the artist must forge them together to bring out the interesting and unique flavors of the dish, and in some cases an exotic dish.
However, no matter how creative the fare, how bold the flavors, how fresh the ingredients, consumers need to be open to diversifying their palettes. In the realm of food, people have come to appreciate a flavorful medley, but in the world of fiction…not so much.
In the realm of food, the authenticity of a particular dish is often crucial and foodies will go to great lengths to seek out authentic ethnic cuisine, opting out, even shunning the  "Americanized," mass produced versions of the same thing. I've found this preference  in the literary world to be the exact opposite – everyone is looking for chicken tikka masala.
I use the example of chicken tikka masala because it's one of the most popular South Asian dishes enjoyed outside of India. Except, chicken tikka masala isn't an Indian dish. I did not grow up eating it and neither did any of my South Asian friends. Instead, it was more common for me to eat a dish like bagara baingan (curried eggplant). My mother wouldn't even know the recipe to chicken tikka masala.
Chicken tikka masala, according to folklore, is the result of an improvisation that occurred at an Indian restaurant in Great Britain – not a family recipe passed down from generation to generation. Legend has it, a  British gentleman felt his chicken tikka was too dry, so the chef improvised by adding a can of tomato soup, spices, and yogurt, and voila, chicken tikka masala was born.
A stroke of ingenuity on behalf of the chef, but one that compromised the authenticity of the original entree to appease a non-Indian clientele, thus surmising the challenge of writing ethnic fiction. You have to sell it to a largely non-ethnic publishing community. A publishing community  that continuously serves its readers chicken tikka masala and claims that it's giving them bagara baingan.
I want to start off by saying I do enjoy chicken tikka masala. It's a dish whose root flavors are Indian and there is a place for it in Indian cuisine. But calling it a dish that exemplifies South Asian cuisine is kind of a stretch. If you want a hint of what I mean by bagara baingan, take a look at South Asian roles in mainstream television that have moved past some of the old overused stereotypes of  identity crisis or status of the oppressed South Asian women. Let me ask you:
Did tough PI Kalinda Sharma (The Good Wife) ever let anyone intimidate her?  
Is Mindy Lahiri (The Mindy Project) trying to escape an arranged marriage?

Is Dev Shah (Master of None) struggling to get to tell his family he does not want to go to med school?
The South Asian community has gone past arranged marriages (this does not mean they don't exist) and inter-racial dating and has moved on to inter-racial marriages and children. We are also not all doctors, engineers and IT professionals. This new reality brings with it a set of new dynamics and challenges that can be a great fertile ground for literary and commercial fiction –  if the publishing community is willing to take more risks.
Perhaps, what is needed is more South Asian chefs in the publishing kitchen, or perhaps a better understanding of current South Asian issues. Because if the above sitcoms are doing well, then clearly there is a market for these types of characters and storylines. Next time publishers are selecting titles, I urge them to diversify their palate and give bagara baingan a try.
---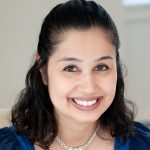 Farha Hasan is a writer of south Asian descent and the author of "The Mother-in-Law Cure," a fairy tale retelling. Her short stories have been published in various e-zines and small circulation press. Her newest novel "Beauty Sleeping" will be released by Evatopia press this year.