by Atiya Hasan – Follow @atiyahasan05
No one told me that there comes a stage in your adult life when you look in your closet and nothing is really you anymore. Despite changing body shapes, tastes, and fashion trends, my closet had grown stagnant. No joke, I still had clothes hanging in there from high school! Between Brown Girl, my other two part-time jobs, and trying to make it into a residency program next year, time to go shopping is a luxury that is hard to come by, not to mention the decision fatigue I experience on the daily, especially when it comes to figuring out what to wear.
As someone who has worn hijab for most of my adult life, shopping becomes that much more complicated. There are certain considerations be taken: the clothing must be modest and cover appropriately, they must be comfortable and reflect my personality as well as my professional aspirations. So over the years, whenever you find an outfit that exemplifies these values, you hang on to it for dear life!
A month after moving into my new apartment with its massive walk-in closet—which my clothes shamelessly take up 3/4 of—I noticed that I kept reaching for the same trusted 5-7 outfits. So that's when I started considering online services that utilize a personalized style profile to figure out your preferences and send you clothes based off of it, in the comfort of your home.
There are quite a few out there like Wantable, Daily Look, Le Tote, Golden Tote, Gwynnie Bee, Trunk Club and more. Stitch Fix happens to be the most popular of these online styling services. I asked around if anyone I knew had used Stitch Fix and many of my friends mentioned loving it despite the high price point. I asked a few other women who dress modestly and wear hijab, they mentioned hearing good things about it from their friends and coworkers but were hesitant to try it for themselves considering the average Stitch Fix user—and assumptively, the stylist—is white.  This became more apparent when I joined the many Facebook groups dedicated to Stitch Fix for Buying, Selling, and Trading, most of its members were also white women.
One friend noted:
"They won't know how to dress a hijabi! It would be a waste of money."
But I was getting desperate! I had already started emptying out my closet of clothes that I kept finding excuses not to wear. I even got rid of two pairs of jeans that had ripped in a well-hid crotch area despite how comfortable they were. I definitely needed higher quality clothes that I could hoard for the next 10 years of my life.
So I set out to create my perfect Stitch Fix profile. I wanted to educate my stylist about the general restrictions hijabis adhere to. I filled out all the options, put in extended information about myself where ever the form allowed me to, paid the $20 styling fee, and patiently waited for my first fix to show up.
Mentally, I prepared myself to not like anything and send everything back. Doing so meant that I would lose my $20 styling fee. If I chose to keep any of the five items they sent me, the $20 amount would be credited towards it. And if I chose to keep all five items, I got a 25% discount on my entire box! So in the 10 days between placing my order and receiving the Stitch Fix box, I tried to convince myself to like at least one item, you know, to be cost efficient.
The specifics: in my profile, I asked for a pair of jeans. I had recently gotten rid of two pairs of my jeans which had developed well-hidden tears in the crotch area. I asked my stylist to send me jeans that were comfortable but I could also pair with a blazer and dress it up. I also asked for business casual clothing. I told them I wanted to be fully covered and preferred tops that hung lower up to my hips. I made it a point to mention my budget wasn't very high, some Stitch Fix veterans even recommend mentioning your exact budget for the entire box were you to keep it.
As soon as they shipped my box out, I received a tracking number in my email. Within another 2-3 days and my package was in my mailbox, two days ahead of the estimated date. So what did I get? Read below for pictures, prices and the final verdict.
Romolo Genevieve Stacked Chevron Pendant Necklace – $28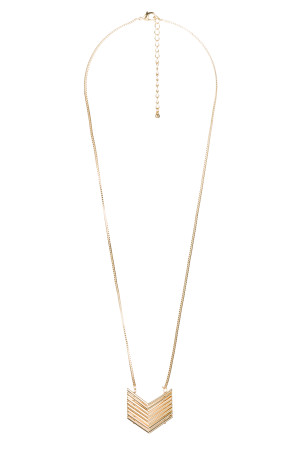 [Photo Source: StitchFix.com]
This was at the top of the package and even though I had mentioned in my profile that I didn't want any jewelry, they had sent me this necklace. I was disappointed. It was the cheapest thing in my entire box but unfortunately, I wasn't even looking to buy jewelry in the first place. I already knew I wasn't going to keep my entire box.
Verdict: Return
With a sinking heart, I moved on.
Kut From The Kloth Kate Distressed Boyfriend Jean – $78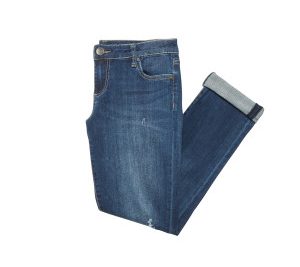 [Photo Source: StitchFix.com]
One of the pairs of jeans I had recently gotten rid of was a pair of boyfriend jeans and they were one of my favorite pairs. I was excited to see this pair and when I tried them on, they felt really good on. One of the things I was concerned about with jeans is the frayed portions sometimes show skin and that was something I did not want. I was happy to see that my stylist had made sure that even though the jeans had some fray on it, they did not expose any skin.
My other concern was that since I was spending so much money on a pair of jeans, I wanted to make sure that these did, in fact, fit me well. This was the moment that I wished I was at an actual store to try on a smaller size before I made a final decision. As a last resort, I emailed Stitch Fix asking if they'd be able to send me the same jeans in a size smaller so I can try them on and decide which fit me better. To my surprise, within 24 hours, they responded saying they were sending over the smaller size pair of jeans and I could choose the pair I liked and send back the other! Now, that's service!
Verdict: Keep
41Hawthorn Abrianna Longsleeve Knit Cardigan – $54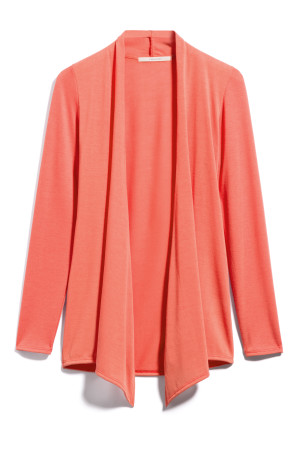 [Photo Source: StitchFix.com]
The first thing I noticed was the color. I used to have an orange shrug before that I never wore and ended up donating but that one also didn't really fit me right. The material of this shrug was definitely high quality and it held it's shape upon wearing it too. My aim for getting Stitch Fix was to take my closet one step closer to being more professional and less casual, so I finally decided against keeping this. Maybe under different circumstances, if we meet again, I might keep it.
Verdict: Return
Papermoon Kucasta Cuff Sleeve Knit Top – $38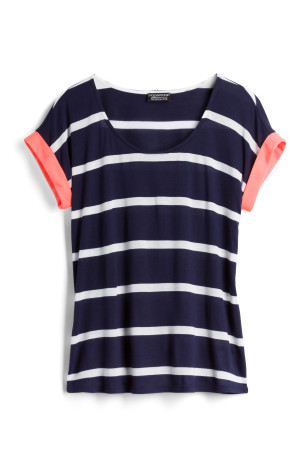 [Photo Source: StitchFix.com]
I wasn't sure about this one when I saw it out of the box. To begin with, it's short sleeves and I knew if I did keep it, I would have to layer either a full sleeved shirt under it (which I find extremely uncomfortable) or cover up the sleeves entirely with a blazer or shrug.
Verdict: Return
Market Pruce Keely Henley Style Top – $38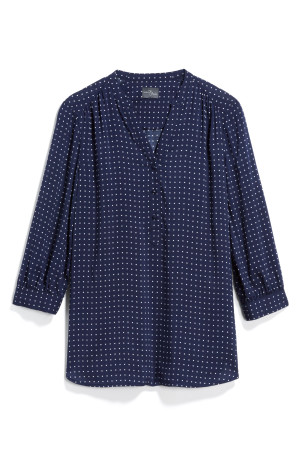 [Photo Source: StitchFix.com]
I am currently in love with this style! It is so hijabi friendly and so comfortable. It can be worn on its own over jeans or paired with a blazer for a more business casual feel. The print is also very classic. To top it off, the material is perfect for Houston weather!
Verdict: keep, keep, keep!
If I had kept my entire box, the total price after the 25% discount and the $20 credit was $157—a decent price for five items that you would wear on a regular basis and keep for the long term. I, however, only kept two so only received the credit. The other option is to buy all five items for the sake of the discount and sell or trade the items you don't want on the many Facebook groups, the largest one has over 50,000 members.
Despite the high price point, I totally understand and appreciate the service that Stitch Fix provides. I no longer have to worry about going shopping for a specific thing, finding myself in the fitting room with eight different options and walking out of the store three hours later with nothing because it wasn't exactly what I was looking for.
While, it is not something I can afford on a monthly basis and only when I need specific items like a new suit for my upcoming interviews or dress pants that can be worn casually as well as in a professional setting, I can just let my stylist know and expect to receive those items in my fix. Over time and multiple uses of the service, Stitch Fix better understands your sense of style and the fixes they send tend to improve as well!
Click here for my referral code if you'd like to try Stitch Fix for yourself. Leave a comment below if you'd like me to review any future fixes I get!
---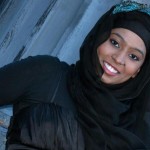 Atiya Hasan is the COO and Editor at Large at Brown Girl Magazine. She currently lives in Houston, TX and is a recently graduated MD. She strongly believes in empowerment through knowledge. She is also a contributor for the anthology "Faithfully Feminist: Jewish, Christian, and Muslim Feminists on Why We Stay." In her free time, Atiya enjoys consuming large amounts of chocolate and TV shows. She also live-tweets a lot of Netflix shows @Atiyahasan05.