by Amy Devan 
The following post was originally published on our partner website, India.com.
Wedding Season is around the corner—and if you're South Asian—you probably have an average of 10 weddings to attend this spring/summer, right? That means 10 potential mehndi nights, sangeets, wedding ceremonies, and receptions, for a grand total of forty looks just for YOU! We explore what to wear for these occasions, how to be innovative with your existing wedding-guest wardrobe, and what to expect at the next big fat South Asian wedding!
1. Bare Those Shoulders
Taking inspiration from Spring-Summer 2016 Fashion Week runways around the world, jump on the exposed shoulder bandwagon this wedding season. Whether you opt for an off-shoulder, cut-outs, or a one-shoulder, you can't go wrong with this look. Take a peek at how couturier, Manish Malhotra brings this look to life.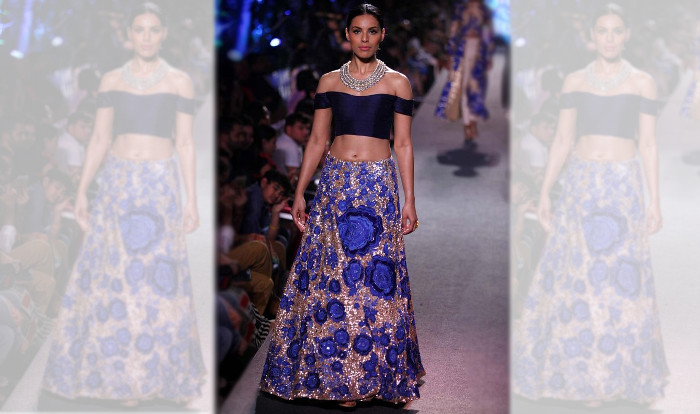 [Manish Malhotra's off the shoulder lehenga from his Blue Runway Collection at Lakme Fashion Week Summer/Resort 2015| Photo Source: Pinterest]
Take note of how the off-shoulder element elegantly transitions the look from a traditional lehenga to mimic the silhouette of a fusion gown. If you choose this two-piece look, keep it simple with the off-shoulder top, either in a solid—or if printed—with minimal to no embroidery. Let the voluminous or heavily embroidered lehenga-skirt stand on its own. The blouse nor the lehenga will compete with one another, instead, both pieces will compliment each other flawlessly.
Shown below is the designer Anushree Reddy's fun, feminine, and flirty take on the exposed shoulder look and she has just enough modesty to keep the aunties from gossiping. In this look, the blouse is kept simplistic, but the detailed shrug has shoulder cut-outs in the most delicate of ways:
[Anushree Reddy's shoulder cut-out lehenga from Lakme Fashion Week Winter Festive 2015 | Photo Source: Pinterest]   
Check out a somewhat similar cut-out trend for this season's weddings below. Kalki Fashion's zardozi embroidered lehenga has side and back cut-outs, thoughtfully placed and leaving just enough to the imagination.
[Blue and olive zardozi embroidered lehenga | Photo Source: Kalki Fashion]
2. All Things Floral
This trend really began to hit street style last year and hasn't set sail just yet. Enjoy this ultra-feminine meets bohemian look this season before it's time for a change. When the floral trend first shifted from runway to "real way," the common theme was a floral lehenga skirt in pale pastels with pops of color, gotta border and more of a basic blouse. We suggest having fun with this look by pairing two floral patterns together in an unexpected, complimentary manner. Another head-turning option is to pair a floral print with a bold wide stripe print, balancing the girly-ness of the flowers with the chic, clean lines of the stripes. Here are a few free-spirited twists on florals we know you will lust over.
[(Left) Sunaina Puri's floral lehenga with floral bodice from her winter 2014-2015 Armaan Collection | Photo Source: Pinterest, (Right) Sabyasachi Mukherjee's floral lehenga with striped bodice | Photo Source: Pinterest]  
If prints are not your cup of "style" tea and you prefer texture instead, go for a lehenga with floral embroidery instead. Try a look like Designer Fahad Hussayn's bridal lehenga from his 2015 Nautanki Rani Collection.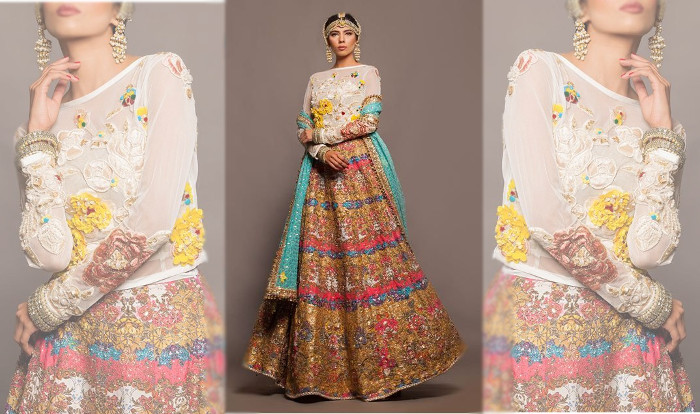 [Fahad Hussayn's intricate Bridal lehenga from the 2015 Nautanki Rani Collection |Photo Source: (Background) Pinterest, (Center) Pinterest] 
3. Crop Top Chic
The crop top frenzy really began in the 1980's with Western street style fashion, and it has come back in a BIG way—now crossing waters to South Asian style. Sure, a sari blouse or choli could be considered a crop top, but what we are referring to takes influence from the West with clean lines and a bit of edge. The best part is this look is easy to replicate with some mixing and matching with your existing wardrobe!
First, try a lehenga you already have and pair it with a more modern crop top you also probably have. If you don't have a crop you love, not to worry as it's an easy find. Try mainstream retailers like Zara, Nastygal, or Top Shop. Now, let your styling creativity run wild! Essentially, you want your overall look to mimic something like this: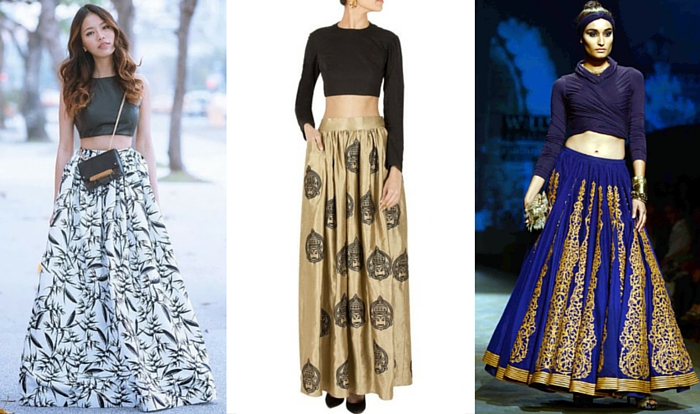 [Crop top lehenga's | Photo Source: 1, 2, 3]
If you're not a crop top lover, choose a longer top that still defines your waistline. It is 100 percent OK to choose something that is free-flowing and somewhat casual. Designer Siddhartha Tytler showed this easy-breezy styling trick at Amazon India's Spring/Summer 2016 runway show.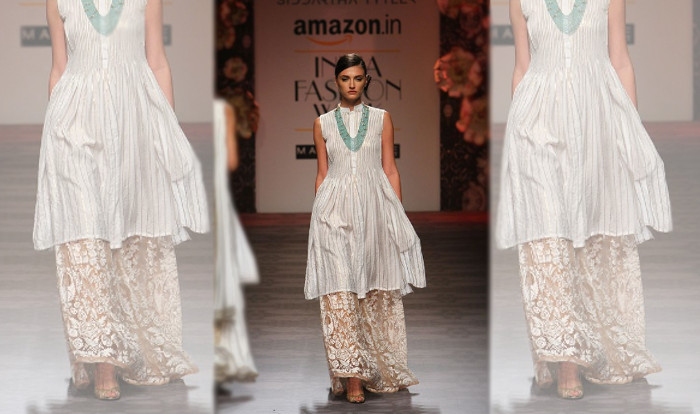 [From Siddhartha Tytler's Amazon India's Spring/Summer 2016 runway | Photo Source: Pinterest] 
4. Gowns
We get it, you're going to your best friend's wedding and you want to dance the night away, hands-free and more importantly, fuss-free! One of the biggest wedding trends is wearing a gown in lieu of a traditional lehenga or sari! Now, we understand this is something we South Asians aren't so used to wearing to a wedding, however, select a gown that ties to our roots in some way and problem solved! Check out how designer Siddhartha Tytler does gowns with just the right amount of tradition infused within: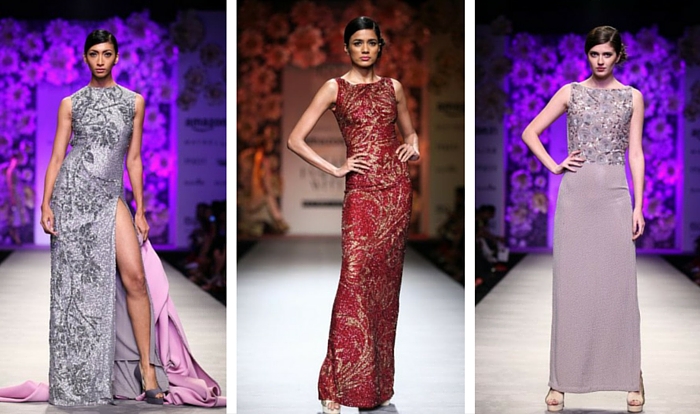 [Siddhartha Tytler's gowns from his Amazon India's Fashion Week Spring/Summer 2016 Collection | Photo Source: Cosmopolitan India] 
Shantanu and Nikhil's gown's are also to die for! They are mystical and whimsical, meshing east with west in the most effortless way. Our favorite collection is actually the Spring/Summer 2015 Collection: Advent of Dawn. The collection, as the label is known for, is feminine and soft mixed with raw rocker-girl vibes.
Along the same "hands-free" tone, is wearing—wait for it—PANTS! Not everyone is a gown gal, and actually, pants can easily take you from day-to-night so you don't have to change between the wedding and reception you're attending.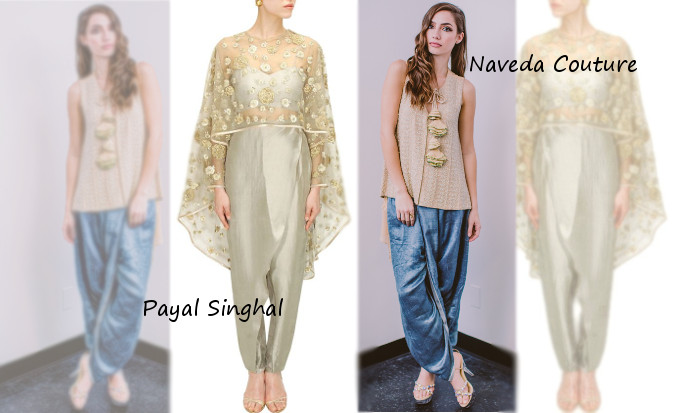 [(Left) Payal Singhal's pant look | Photo Source: Pinterest (Right) Naveda Couture's pant look | Photo Courtesy: Naveda Couture]
We hope you've enjoyed our wedding guest style mash-up. Moral of the story is, try something fresh and new. Choose silhouettes and colors that are unexpected, while keeping true to the occasion. We guarantee other guests will have major style envy!
---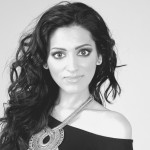 After completing her MBA in 2006, Amy Devan went on to work in marketing and business development among various industries. Though grateful for every professional path crossed, she had always been a creative spirit and ultimately decided to follow her childhood dream of design. One day, feeling overwhelmed by this unshakable passion, she left all things known to her, packed up her belongings and booked an exotic trip, half-way across the world to India – all to study the craftsmanship of her roots. Upon returning, and feeling more inspired than ever before, she moved to New York City to attend Parsons – The New School for Design. From that point, Naveda™ was born and the rest is history!