After months of anticipation, Disney and Pixar have finally released the first clip from the new original short "Sanjay's Super Team." The short, which will be shown in front of Pixar's new film "The Good Dinosaur" releasing on November 25, has the unique honor of being helmed by an Indian-American director, Sanjay Patel.
In 30 seconds, the clip shows viewers so much about what to expect from the film: Hindu religion, generational differences, and the struggle of the hyphenated identity for many Indian-Americans.
The clip introduces viewers to little Sanjay who is watching one of his favorite superhero shows while his father begins morning Hindu rituals with the ringing of a bell. An irritated Sanjay plays TV volume chicken with his father who turns down the sound with the remote control as Sanjay turns it up. Eventually, his father turns off the TV and the battle has been lost. It's the kind of moment many of us Indian-Americans have probably experienced with our parents time and time again, especially while growing up.
It's the constant battle between cultures, the difficulties of accepting one's ancestral traditions and customs over wanting to be part of the country in which they live. "Sanjay's Super Team" is the first Pixar short and the first-ever animated project, to truly identify with a majority of South Asian Americans in a loving, touching, and funny way.
Pixar animator Patel spoke to L.A. Times about how he turned his life into a short.
"My parents' whole world revolved around their gods, the Hindu deities," said Patel, who joined Pixar in 1996 as an animator on 'A Bug's Life' and has worked on several films including 'Toy Story 3,' 'Monsters, Inc.' and 'The Incredibles.' Our worlds were diametrically apart. I just wanted my name to be Travis, not Sanjay."

"It took me a long time to feel safe with my identity," Patel said. "But [Pixar Chief Creative Officer] John Lasseter felt strongly about celebrating the personal side of the story."
 Let's hope Pixar continues to make films whose messages can reach a more global audience. This is what we want and need to see.
---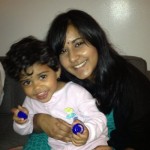 Born in Texas, went to college in Missouri and now living in New York City, Keertana Sastry has a unique perspective on being Indian in different parts of America. Keertana has been working as both an entertainment, culture and lifestyle reporter, as well as a casting assistant for the film and TV industry. She loves to infuse her Indian heritage into her work and life.