by Poorvi Adavi
The following post was originally published on our partner website India.com. 
What's the correlation between a motorcycle and a woman? Casting women in ad commercials for eye candy has been an age old advertising mantra and the Indian society has been quite hypocritical in dealing with issues related to women.
On one hand, Goddess Durga is worshipped and on the other, women are reduced to sexually provocative body parts in ad commercials to drive sales. With growing competition to be the largest seller, the demands of the modelling industry have also shot up. In the documentary "The World Before Her," Nisha Pahuja analysed how in Indian society's women are constantly told they are not good enough—how they do not have perfect legs, and that they must submit to the patriarchal society.
This mindset is true to the ad commercial world as well—not just in India, but around the world. An easy way out for marketers to increase their brand's presence is a sexist ad commercial. Be it mango juice, beauty soaps, bikes, furniture or any other object, a perfect model with flawless skin and figure can make your product worth it! And in case the model is not as perfect as the competitor's, then there is photoshop to edit faces and bodies of the featured models. Some of them even succumb to botox injections to get a consummate camera-friendly appearance.
This is largely impacting the society. Young girls are believing that how they look is more important than who they are. And boys are growing up thinking that how the women look is the only thing that matters.
In a new deodorant ad, comedian Vir Das ripped apart objectification of women in Indian ad commercials. In the ad, Das sarcastically mimics ads that portray women as sexual objects. Some of the scenes in the ad depict a Das dressed like a woman squeezing a mango, sitting in a bathtub with bare legs and the director tells Das "Thoda aur sexy chahiye!" (Make it sexier!).
Towards the end, Das talks about the deodorant, "HE" for "real men who respect women."
Isn't it a really cool ad? See it for yourself below!
---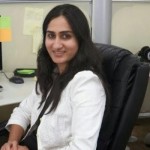 Poorvi Adavi is a freelance web content writer and editor in San Diego, CA. She is inspired by observing people around her and being aware of things happening in the world. She has completed her Masters in Communication from Christ University and also has a Business Management Certificate from UC San Diego.