by Bicky Khosla
Joty Kay, a 25-year-old Indian-American is making waves in the desi community.
Kay has more than 4.6 million loops on Vine, and a growing fan base of 20,000 and is making a name for herself as a comedian. An acting student by day, and Vine superstar by night, Kay still makes the time to make YouTube videos and was the People's Choice Winner at Miss India America 2015.

Kay's inspiration for Vine videos began while she was casually browsing the "Punjabi Vines" Page on Facebook one day. The Vines made her laugh and were relevant with her own experiences as a Punjabi-American. So, she decided to download the app and follow them.
Kay says her friends thought she was funny too, and encouraged her.
And the rest is history.
"My first video was really lame. I was just trying to get the hang of it."
The concept behind the video was the typical girl asking her boyfriend, "Do you think I'm fat?" After the boyfriend gets annoyed, he admits she is.
However, her second video became a viral sensation and was featured on the Punjabi Vines Facebook page. She reenacted the differences between desi people reacting to Punjabi songs versus English songs. The video brought Kay tons of followers, comments, and reposts.
"I gained so much more confidence and started making more [vines] on the daily."
Kay's parents were the last to know of her new found social media popularity. Kay's mom learned through a friend who told her "how funny she is and that her kids love Joty." After, Kay  had to explain to her mother how much support she was receiving. She finally gave her approval for her Kay's new endeavor.

Kay's father had a similar experience. He found out through a friend as well, that his daughter was on Vine. He followed Kay's online account by asking the friend to help him open his own Vine account. She said his only question was why she wasn't getting paid for her creations but decided that he didn't really mind as long as she was happy.
So, with all the family on board, it's no wonder Kay's favorite Vine features her brother. She sums up the heartfelt moment by saying:
"It was relatable and many people loved it."

Kay hopes to add Rupan Bal, the Canadian-Indian to her list of Vine memories. She says Bal stole her heart with his "Gurdaas Mann Kithe aa" (Where is Gurdaas Mann?) skit.
"I was like dude; I wish this guy was my friend. I love that guy – he is hilarious."
With a beautiful smile and hilarious vines, it's no surprise that Kay has some die-hard fans.
According to her:
"The craziest thing a fan did was write a song about why I should marry him and how much property he had in India, and then sent it over a voice note through Facebook."
He then proceeded to show her blow up pictures he had of her on his wall and cell phone. She recalls the experience as being:
"Flattering, funny, and scary all at the same time. He did have a good voice though; I'll give him that."
In addition to her funny bone, Kay's got amazing makeup skills – which she credits to Benefits Cosmetics, her former employer, and consistent practice from watching YouTube tutorials. Kay's makeup advice is simple:
"Remember blend, contour, highlight, and practice."
It's no wonder she's also a beauty pageant winner!
Kay says the pageant contacted her because they had one open spot left and would waive her registration fees if she participated. After consulting her friends, taking it as a sign, she decided to give it a try.
Within two weeks, Kay found sponsors and showcased a comic sketch for the talent round. Her performance landed her the title of the People's Choice Award. And while she says it was a great experience and that she met some amazing women through the process, you won't see her doing another pageant.
"It's not for me."
While Kay continues to branch out as a young South Asian artist, this year she says her vision is to focus on self-growth and her reputation for her fans.
"I want to represent being yourself, positivity, and love. It's okay to not look like a model 24/7 and eat ice cream in the middle of the night. That's what I stand for – a normal girl who's just like you, doing what she loves."
Her goals are to continue to make funny videos and brush up on her acting skills with the main emphasis on proving herself as an actress. We can expect some of her projects to come to fruition later this year.
While she spreads her message of positivity and love through her work, she reminds fans:
"Do your research before making comments on events and people. Everyone is entitled to their own opinion, but make sure your opinion is not hate-filled. Spread love."
Finally, she shares some wisdom for those young South Asian woman who want to break the norm and progress.
"Don't be afraid to be yourself. That's the best thing you can be. For every negative, comment there will be a 100 good ones. Don't let that ONE bring you down. If something makes your heart happy, that's what you should do. If you're passionate, hardworking, and positive, you can take over the world. Just remember, who runs the world — yup, girls!"
To learn more about Joty Kay, follow her on social media:
---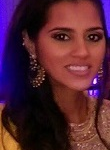 Bicky Khosla was born and raised in South Florida with two bachelor degrees from Florida Atlantic University. She enjoys traveling, spending time with her dog, and reading non-fiction. She is passionate about highlighting South Asian achievements, raising awareness about Sikhism and the importance of religious tolerance. Bicky currently works as a healthcare recruiter for a company that provides medical services for both adults and pediatrics.