by Hansini Vyas
After giving us countless hits in the past, it seems like Vidya Balan is en route to hitting another home run with her upcoming film, "Hamari Adhoori Kahani." The much-awaited movie that also stars Emraan Hashmi and Rajkummar Rao (previously seen in "Queen" opposite Kangana Ranaut)  looks like will be love story of the year. In this interview, Balan discusses some important themes in the movie and her career building up to her work in it.
After her previous woman-centered movie "Bobby Jasoos," which released in July of 2014, and performed quite average at the box office, Balan seems keen to win back her audience with this upcoming release. She shares with her fans that she will be portraying the role of a florist in "Hamari Adhuri Kahani."
Balan mentions her excitement to work with Mohit Suri, the beloved director of "Aashiqui 2." Balan confesses that she had approached him and mentioned her interest in working with Suri ever since she went to a screening of "Aashiqui 2," two years ago.
Close to the wrap up of the interview, Balan opens up on her views on the controversial topic of abuse in marital relations. She mentions that in her mind, many times women become prey to societal pressures, and wind up living through abusive relationships. Balan continues to say, she would prefer to find someone else or be independent if faced with being in such a situation. As the issues of women's rights and abuse are being discussed more openly in India, it is refreshing to see the Bollywood world openly address the issue of domestic violence as well. Not just in India, but everywhere women suffer through unhealthy relationships for various reasons; however, no reason is ever good enough. Understanding that we also have a right to live, to enjoy, and to be happy is extremely important, as Balan states.
Lastly, Balan mentions her excitement for the release and promotions of "Hamari Adhoori Kahani." We already know Balan is a versatile actress so we are more than anxious to see what the partnership between Mohit Suri and Vidya Balan will be bringing us!
---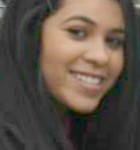 Hansini Vyas is the new summer intern at Brown Girl Magazine. She is a Bollywood lover, basketball player, and a self-proclaimed donut addict. She is a humanitarian and loves to spend her spare time volunteering. She is a huge foodie and can eat all the time, literally! She also enjoys traveling to new countries.