As of May 15, 2016, it has been a year since I graduated. One. Whole. Year.
Since graduating, I have learned a lot. How to move into a house on a hill, how to pay rent on my own, how to get a car repaired when someone rear-ends me, how to ball on a budget, and how to balance all of that with my art within 24 hours (who needs food and sleep?).
I have also learned some very, very important life lessons in my year of adulthood. Many of these have to do with money management, sure, but a lot of it has to do with demeanor in the workplace. I mean, you go to college and you can dress the way you want, talk the way you want, act the way you want (within reason). In the workplace, however, unless you're working somewhere created or inspired by Steve Jobs, you're usually asked to maintain a certain level of "professional clothing."
Professionalism in all facets of the workplace: wardrobe, work ethic, honesty, punctuality, etc. We all know the drill. My workplace is actually really chill about those things. I wear workout clothes and people pat me on the back for my dedication to my fitness, as opposed to believing it's all a ruse for optimal personal comfort (the latter is accurate).
Throughout this year, I have learned jargon in the workplace that has gotten me far. There are certain "keywords" and "key points" that everyone must know in order to keep up during the meetings. And don't you forget to "touch base" after the storm.
Some of these phrases span across every office in America, even across the world. These will always be "things people say in the workplace."
Also, I really hope you didn't forget about #tinyblacktop, because yes, she has made another appearance in this video. Happy adulting!
---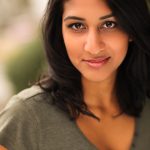 Shefali Deshay is a Los Angeles-based singer-songwriter and actress. She graduated from the University of Southern California with a degree in Political Science and a minor in Musical Theatre. She co-starred as "Sita" in the comedy web series, "The Fob and I," which gained traction in the media as a relatable series highlighting two strong South Asian women. Shefali creates weekly videos on struggles related to work, love, family, and being Indian on her YouTube channel. You can also follow her on Instagram and Facebook.