by Rabia Toor 
"Don't look at me like that. I'm not crazy. I'm not insane. Just get me out of here, I don't belong in a prison you call a psychiatric ward."
I was there because I called into work saying, "I can't do this anymore." And within 10 minutes, I was escorted out to the psychiatric ward in Baltimore, Maryland.  I waited for seven hours in that dark room wearing a green jumpsuit resembling something a criminal would wear.
I was terrified my parents would find out where I was and be utterly ashamed or my friends in the medical field would look down at me for being weak. The doctor came in and called me a 'high-risk patient,' meaning he knew I wouldn't come back for a follow-up and I wouldn't get my prescriptions for Prozac and Tramadol filled. It's because I didn't understand there was something wrong with me.
I kept saying "I'm not THAT crazy. You've seen more psychotic patients than me, so why am I here? I'm just having a bad day." But what he saw was a clinically depressed, borderline suicidal medical student who suffered from body dysmorphia and anxiety. And…he was right. 
One in four people suffers from mental illness. Let that sink in. I was that 'one.' Being a Pakistani female who was surrounded by the unfortunate 'socially acceptable norms,' it was terrifying to think I suffered from depression. People would think I'm crazy and it would shame my family. Their friends wouldn't want to be their friends anymore because 'I'm the psychotic one.' Anytime I hinted at the fact this may be more than just normal sadness, my mom's instant reaction would be that I shouldn't speak about it, I should pray, otherwise, no one will want to marry me.
Screw that, right? But I believed it and I suffered… I suffered hard. I tried overdosing, tried harming myself in different ways, constantly lived in fear of what people would think of me. I wouldn't be able to get up and shower for days at a time or have the energy to chew food. I wanted to sleep…all the time. It was like a fog that took over my entire being. 
When it finally hit me, after my third overdose attempt, laying on the bed wondering why I can't just die, I had a moment of clarity that something wasn't right. Normal people don't feel this way. It's not…how I was meant to live. I decided to go see a psychiatrist and after an hour, I walked out of his office with…my life in a pill bottle. My 'happy pills.' 
My parents still struggle with it. They struggle with the fact that medication helps my medical illness, an illness which doesn't manifest itself like other diseases. Because it can't be seen and it's sometimes subtle, it doesn't always 'exist.' And that ideology is what I want to erase.
That is how "Veil of Silence" came to be. "Veil of Silence" is a documentary featuring a variety of people and their experiences with mental illness in the Muslim community. The stigma of mental illness remains a taboo subject for the Muslim culture with individuals hiding behind closed doors and struggling to endure firmly established societal norms of shame and ignorance. This documentary aims to break down cultural barriers and reconciles the notion that mental illness knows no sex, race, age, religion or culture. 
There are too many people suffering in silence. There are too many who believe they are a burden on their family members or their friends. There are too many lives lost to this disease. It's time to speak up. And it's time to heal.
For more information on mental health in the South Asian community, check out MannMukti—ending the mental health stigma, one story at a time.
---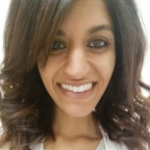 Dr. Rabia Toor is a recent graduate of Saba University School of Medicine. Her passion for social work and providing care motivated her to pursue an MD. After suffering in silence for many years, she believed it was time to speak out and be an advocate for the education and treatment of mental illnesses. Her first foray into the arts is a documentary called "Veil of Silence," a film on the stigma of mental illness in the Muslim community. She hopes to continue her work in the future as a family physician specializing in psychiatric care. Between studying mindlessly for hours on end and being a social advocate, she loves eating Mexican food, crocheting, playing with her kitten and shamelessly discussing her Pinterest fails.