by Priya Arora – Follow @ThePriyaArora
"Valentine's Day is so overrated," I say to a friend as I longingly browse the heart-shaped chocolate boxes lining the shelves at Duane Reade. The Bollywood-loving teenage girl in me can't decide if I actually want heart-shaped chocolate or just want someone to give me one in a super cheesy gesture of love. Secretly, I want to come back on February 15 and get the best possible deals on the same pink foil-wrapped goodies. Luckily for me, my partner doesn't have much of a sweet tooth. Instead, we play crossword puzzles together in bed each night, a form of intimacy that far exceeds anything else I've ever experienced.
I don't know how my partner feels when people ask, but there's still a pause before I answer how we met. Swiping right to meet people somehow became incredibly easy, and yet, so taboo amongst a millennial generation that uses phones for practically everything. With the simple motion with one finger across the screen, a gesture babies now know before they learn words, Tinder swept into our lives at a time when it was cool to have (or at least seek) no-strings-attached rendezvous. It's even harder to explain to South Asian folks, of any generation, what Tinder is, or that I could meet someone I want to spend the rest of my life using an app that has a reputation for hook-ups. I hear now, more than ever, South Asian friends meeting their significant others on apps like Dil Mil or Kama, but there still seems to be this cloud around saying Tinder out loud.
What's weirder, for me, is that when I was using Tinder, alongside OkCupid and a couple others, I was looking for a same-sex partner. It's hard describing the online dating scene to my straight friends, but one thing was always clear—there were less creepy/stalker-y/hook up-y propositions than when I was listed as straight. Turning to Tinder was a simple way for me to tell myself that I was putting myself out there, whether I was ready to really meet these women or not.
With my partner, it took just one look at her green eyes for me to be sold—one right swipe for me, and an accidental swipe right on me by her friend was all it took for us to match. The rest, as they say, is history.
Living with my partner has been one of the most transformative experiences of my life. From the depths of messy disputes to lazy, love-filled snow days, living with a significant other as you graze your late 20s into reluctant adulthood changes you. I find myself (proudly) saying and doing things more and more like my parents each day, and gravitating to other same-sex couples at social events to chat about lazy Sundays, sharing recipes and coming out journeys.
I don't know when it became cool to hate Valentine's Day. In high school, I was among those who felt my face heat up when student-council-sold valentine's grams made their way to friends around me in 4th period—it felt like everyone got one but me. Several years ago, I bought myself flowers and chocolate on February 14, an act of self-love that back then, felt at once both shameful and radical. The pressure I felt growing up to conform to this holiday, this overly pink and commercialized holiday that further romanticized love (which really needs no romanticizing beyond its inherent definitions), is unlike what I feel now.
Today, I feel like celebrating love. In a world where immigration status dictates travel plans, salaries derail dream career paths and holding my partner's hand on a subway elicits fear or retribution, I want to fiercely protect my partner. I want to hold her close, shield her from those who would harm her, and spend my days whispering words of encouragement in her ear.
We get the question a lot less now, about how we met—most of our friends and family either already know or don't care at this point. We celebrate our love every day, and on this day, it's a sweet reminder that whether I give in and buy those heart-shaped Hershey's boxes or bring home her favorite flowers, it's not anything unlike what I'd do on a normal day. Maybe Valentine's Day is overrated and capitalistic and more about likes on a photo than actual expressions of love—but I love being reminded that love exists, in all forms. Parents, families, siblings, friends, and partners—Valentine's Day is a day to simply tell someone we love that we love them. And in a world where fear and anxiety *cough* trump *cough* much else, it's a nice pink-and-red-colored reminder to say, "I love you"—even if I had to swipe right to do it.
Writer's note: My browser wanted to change "Tinder" to "tender" multiple times in this post, which I find incredibly hilarious and apt!
---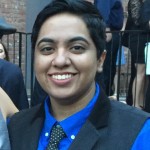 Priya Arora is a queer-identified community activist, editor, writer, and Netflix enthusiast. Born and raised in California, Priya has found a home in New York City, where she currently works as a Web Editor at Hearst Business Media. When she's not working, Priya enjoys watching old school Bollywood movies, obsessively playing Candy Crush, reading books she never finishes, and eating way too much of her partner's homemade Hyderabadi biryani.