Early this year, the United States Department of Defense made a statement regarding religious articles worn by members of the military. The new rules allow Sikhs, Muslims, Jews, and other religious service members to wear articles pertaining to their religion as long as it does not hinder the service member's ability and readiness.
The new rules do not give a direct pass on religious items, but requests to wear religious items can be made, but they have to be reviewed on a case by case basis. Some of the religious accommodation requests may be resolved by immediate commanders addressing uniforms, grooming, and certain religious apparel. According to Dept. of Defense's spokesperson, "the Department of Defense places a high value on the rights of members of the military services to observe the tenets of their respective religions and the rights of others to their own religious beliefs."
Sikh American organizations such as the Sikh Coalition, and the Sikh American Legal Defense and Education Fund have criticized the new policies as an expansion of current policies rather than overall change in policy and practice. This led U.S. Rep. Joseph Crowley (D-NY), Vice Chair of the Democratic Caucus, and Rodney Frelinghuysen (R-NJ), Chairman of the House Defense Appropriations Subcommittee, to call for an end to the circumstantial ban on articles of the Sikh faith. After the new policy was announced, Crowley persuaded a bipartisan group of 20 members to sign a letter requesting the Dept. of Defense to update their policies allowing Sikh Americans to wear religious items while serving in the US Armed Forced.
"Given the achievements of these soldiers and their demonstrated ability to comply with operational requirements while practicing their faith, we believe it is time for our military to make inclusion of practicing Sikh Americans the rule, not the exception," wrote the lawmakers in the letter.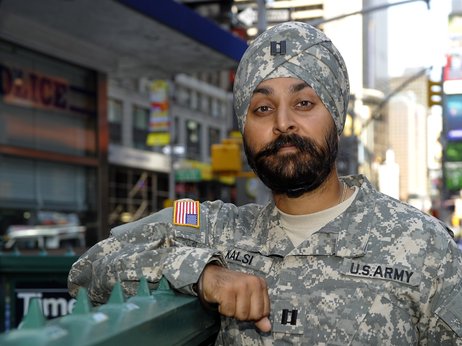 Sikhs have served in the U.S. Armed Forces since World War I. Currently, there are three Sikh Americans who have been granted permission to wear turbans and maintain beards while serving. Abiding by such religious articles have not interfered with their ability to wear protective equipment, such as helmets or gas masks.
Since Crowley first initiated a letter for bipartisan support with only 20 lawmakers, the letter has now been signed by 105 lawmakers. The letter was directed to the Pentagon and Secretary of Defense Chuck Hagel.
Under the new policy announced in January, service members requesting a religious waiver should receive a response within one month. According to lawmakers and recruits, the policy still has prohibitive hurdles. Six weeks after the policy was communicated, an Army recruit has yet to hear on a request for a religious waiver.
Regardless of existing hurdles, Rajdeep Singh, director of Law and Policy at the Sikh Coalition, said that the "letter from Congress is a big step forward in our campaign to ensure equal opportunity for Sikh Americans in the US military."
Featured Image Source: http://www.dailymail.co.uk/news/article-1328634/Simranpreet-Lamba-First-Sikh-US-army-soldier-nearly-3-decades.html