by Sonali Kudva
I grew up in India, and I cook Indian food and sometimes wear Indian clothes, but for the most part, like most of my Indian counterparts, I find myself living in an intersection of west and east. I take many aspects of my culture for granted.
I add cumin to my potatoes because it helps against gas and bloating. I add turmeric to my dishes because I believe it acts as an anti-inflammatory agent. I add garlic for enhanced taste and heightened immunity building.
And I do all of this without thinking about it. It's part of my food identity and physiological beliefs.
So it's entertaining to watch what I take for granted becoming the next big thing.
First, there was the adoption of Holi through the infamous Color Run, then there was the henna phase with body tattoos, more recently coconut oil is all the rave, and now we have turmeric lattes, aka haldi doodh.
But while it's entertaining, it's also bewildering.
As a brown girl, I distinctly remember a childhood where I fought against the forcible oiling of my hair with coconut oil. You know why? The smell of that coconut oil wasn't pleasant to some of my classmates. They made fun of it.
We ate food cooked in coconut oil at home, only to be told some years ago by medical professionals in India, that coconut oil was one of the biggest culprits for heart attacks, obesity, and ill-health within my community.
Today, doctors in India advocate the use of olive oil – something that does not grow in India and is economically out-of-reach for most middle-class Indians – not to mention that it is chemically unsuitable to the high temperatures at which most Indian food is seasoned.
I find myself divided, then resigned. My reasoning is – if parts of my culture became ubiquitous, would all of it become more acceptable?
But no. I still have to defend my spicy masala-infused Indian food.
Some time ago, a friend of mine came over and questioned, "How come your house doesn't smell like curry all the time? Other Indians' homes usually do…"
I didn't know whether I was complimented for my flower-scented home, or insulted for my lack of Indianness.
As a Fresh-Off-the-Boat (FOB) Indian, who came to the American shores only some years ago, I've heard about curry-scented Indians often. At one workplace, I was told by a boss to take my lunch someplace else because it smelled "strange." She didn't say I was curry-scented though. I took some solace in that.
But I have known other Indian FOBs to wear "l'eau de curry" on their coats.
And so, I've firmly resisted being part of the curry-scented population.
But what all of this translates to (besides this long-winded rambling), is a highlight of how insidious cultural appropriation and cultural translation can be.
Bone broth or "paya soup" was part of my diet growing up. I never brought it up in a mixed-culture company in case someone thought I was weird or poor (what with coming from a Third World emerging economy and all).
I haven't participated in a festival of colors event since the year I ended up with my leg in a cast while playing Holi. In any case, many Indians avoid the use of artificial colors or water during the festival for environmental reasons.
But on American shores, I'm struck by the hypocrisy of cultural appropriation. On one hand, spicy and curry are seen as pejoratives, and on the other, aspects of these are seen as exotic and desirable.
I'm labeled brown with a weird accent by some – and exotic and attractive by others.
I'm confused, yet amused.
I'm a brown girl and I don't do yoga and can't figure out what hot yoga is supposed to be or achieve. Not to mention, I detest a warm cup of haldi doodh and will refuse to order a turmeric latte at Starbucks (because for all we know, it will launch during their next line of drinks for the fall). And I'm going to scream at the next person who tells me they like chai tea latte.
---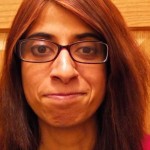 Sonali Kudva is a Ph.D. candidate at the College of Communication and Information at Kent State University, Ohio, with research interests in Bollywood, Human-Information Interaction and Popular Culture. She inherited the travel bug from her parents and has traveled widely, and hopes to get the opportunity to travel to more interesting places someday. In another life, she was a Pulitzer Center for Crisis Reporting Fellow, has worked as a full-time journalist-editor and freelancer at magazines, newspapers and online. Sonali calls India her home, even though she spends more time away from home than in it. She likes to collect academic degrees, and in her spare time, she likes to vegetate with an interesting novel, talk to her family or argue with her friends on politics, international affairs and any other topic that may come up.