Last month, writer, director,and actor Kabir Chopra, created a short film called "Ghosted," which chronicles the awkwardness of online dating and what happens when you bump into someone who, like the title says, ghosted you. If you missed it, please do yourself a huge favor and check it out below:
The New Jersey-raised Tisch School of the Arts graduate is a budding filmmaker, looking to break out onto the romantic comedy movie scene. After watching the accurate and relevant "Ghosted" and seeing his increasing success with the screening of his film "Misaligned" at the New York Indian Film Festival (NYIFF), we just had to find out the story behind Chopra and his work, and what he has in store for the future!
Here's what we found out about the immensely talented Brown Boy as part of our "Fast Five" interview series, which introduces budding artists/activists to the Brown Girl Magazine community.
1. Tell us a little about yourself and your background. How did you get into filmmaking?
"I was born in New York and raised in New Jersey. I was always interested in filmmaking so I decided to pursue that at NYU's Tisch School of the Arts. I majored in dramatic writing with a concentration in screenwriting. After graduation, I worked for the talented Mira Nair as a production assistant on her film 'The Reluctant Fundamentalist' and helped out with the movie from pre- to post- production. I have been studying acting at Studio 4, which is James Franco's acting and film school, since last July, and have acted in some films and commercials in the past."
[Read Related: "Master of None" Gerrard Lobo Speaks on His Experience of Acting From a South Asian Perspective]
2. "Ghosted" seems like a pretty accurate portrayal of what can happen to someone in the dating scene today. You mentioned to us that the movie was based on a personal story. Can you elaborate on that? How do you relate to the dating dilemma as a South Asian?
"Making 'Ghosted' was a lot of fun and yes, it was based on a true story. But the film itself wasn't the date I was on. I made the movie because not seeing the girl I went out with again really bummed me out, and it put me in check because I realized I ghosted people before. It's something I'm aware of and considerate about now. The film is the conversation I would've had if I met her again. 'What were your thoughts when you decided to not text me back?'  I'm not bitter or angry, though.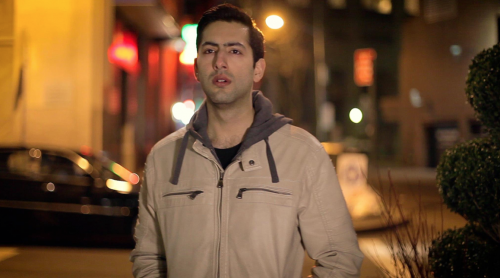 As far as dating as a South Asian, I don't see any difference in South Asians using online dating, because it's just a mechanism to connect with people through technology.  From my experience, it seems like minorities like to stick with each other. Apps like Dil Mil, Kama, etc. where they're geared towards South Asians are a good way to meet like-minded individuals of the same background. I'm not an expert, but I think the dating culture in America is extremely different than dating in India.

Being 'ghosted' has become common, so relevant now because it's so easy–it's easy to brush people off and move on without a second thought. Dating can be overwhelming especially if you're seeing or talking to 2, 3, 4 people at a time on different apps. You may be thinking that there's someone else out there. It's kind of like the 'grass is greener on the other side' mentality."
[Read Related: Dancer and Choreographer Deepa Iyengar on Finding Freedom with Dance]
3. Both "Ghosted" and "Misaligned" are romantic comedies. Are there any other genres you're looking to explore?
"All of my work is romantic comedies. 'Ghosted' just really spoke to me even though I don't usually do movies based on a personal story. 'Misaligned' was inspired by Priyanka Chopra's 'What's Your Rashee?' – I wanted to tell my own version of dating based on the zodiac.

I think it's Daniel Radcliffe who said that romantic comedy is the one genre in which everyone is an expert, or something like that. That's why there's a lot of sh*tty rom coms – you can smell the bullsh*t a mile away. But you may know what it's like to like someone and not be liked back, or what it's like to look at someone and have your heart melt. That's the type of work that I like to do." 
[Read Related: Fast Five Interview With Visual Artist Sania Ahmed]
4. What is your opinion about the way romance is depicted in Bollywood and/or in Hollywood? Which industry do you feel your movies fall in line with better?
"Bollywood influences my work more. I've seen all the classic Hollywood movies and just didn't feel as inspired by them. Bollywood just has that flair, that passion. Like when a Hollywood couple falls in love, they kiss, they fall in love, and live happily ever after. In Bollywood, couples make grand gestures about their love, fight for their love, profess their love. It's just passionate and inspiring. It's just so much happier to watch. 

The Bollywood flair is something I admire, but I want to show love as being grounded, relatable, and freaking hilarious. When you love someone, when you like someone, it burns in your heart, it's just there – that's definitely something I want to keep. I want it to be realistic, too. I want someone to watch my movies and be like, 'Yes! I was in that exact position.' I think that's why people liked 'Girls' so much – especially the first season. It was just so real and raw – that's how people date."
5. What do you enjoy the most: writing, directing, or acting? Are you working on anything right now that we can look forward to watching?
"Writing and directing go hand in hand for me. Acting is something I'm developing right now – I'm in class and I've grown a lot as an actor. If I had to choose one, I would choose writing because that's where it all starts. It all starts with the script and that's what I studied at NYU, what I fell in love with.

'Misaligned' is coming out [this] week at the NYIFF, which is exciting. The idea is to adapt that into a feature length script, although I'm not sure when or where or how it will happen. But it's a goal. I'm writing a few more short films, but nothing is ready at the moment."
Like Chopra's Facebook page to get the latest updates on his work!