Finding the perfect red lipstick shade can be tricky at times, especially with medium to darker skin tones. You may simply want a sheer pop of color to have on throughout the day when you need a pick-me-up or a bold pigmented hue for night-wear.
Below, I chose some of my favorite textures, colors, and red finishes to guide you while strolling the beauty aisles at the drugstore. Rocking your favorite bold shade is always the perfect go-to, so, don't be afraid, a red lip suits everyone!
Although you can rock any color you please, picking one that flatters your skin tone the best can be achieved by following our simple guideline:
Fair to medium with cool undertones: Berry tones or cherry reds complement the pink tones in your skin.
Fair to medium with warm undertones: Bold cranberry tones, crimson tones, cherry reds.
Medium to medium tan skin tones: Universal skin tone that suits almost every color red. Bright, vibrant orange-y/cherry reds look stunning as well as the dark sultry shades. Brown tones or brick-red lipsticks also suit you well.
Medium dark to dark skin tones: Vibrant reds, orange-y tones brighten your complexion, sultry deep wine reds look amazing.
For subtle pops of color or a fresh look in the daytime, choose tinted balms or glosses. To pack a punch, the cream and matte formulas are pigmented and provide a high coverage bold lip. Below are the names of each lipstick pictured in the collage as well as the finish of each noted in parentheses.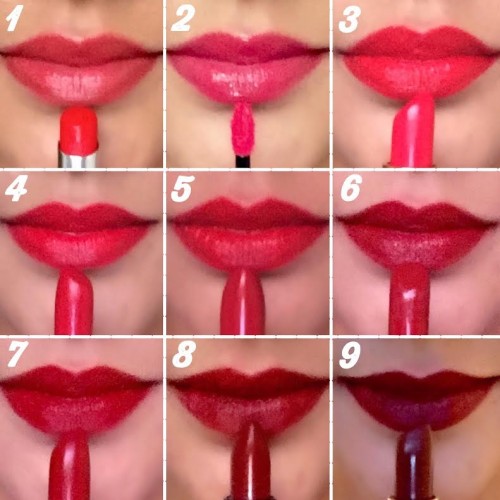 1. L'Oreal Pop Balm- "Fiery Red 430″ (Sheer tinted Balm)
2. L'Oreal Color Riche Extraordinaire – "Rouge Allegro 303″(Medium-full coverage gloss)
3. Revlon Super Lustrous Lipstick – "Love That Red 725" (Creme)
4. Milani Color Statement Lipstick – "Best Red 07" (Matte)
5. Milani Color Statement Lipstick- "Ruby Valentine 08" (Cream) 
6. Revlon Lipstick- "Crimson 095″ (Cream) 
7. Rimmel London by Kate Lasting Finish- "01" (Cream)
8. Rimmel London by Kate Lasting Finish- "11" (Cream)
9. Milani Color Statement Lipstick- "Cabaret Blend 04" (Matte)
I like to always keep a general rule of thumb when choosing a true red—find a blue-based red to make teeth look whiter and get those lips to pop against your skin tone. In my case, I'm a medium tan to dark skin tone, and I'm comfortable with all nine shades as they complement my skin tone, not to mention all are blue-based, a.k.a a cooler undertone.
Hope this guide helps in choosing your perfect red depending on the look you want to rock! Want to see more lipstick guides? Drop a comment on my
social media
and let me know what color family you would like to see next!
To learn how to maintain your bold lip for hours or how to turn your creamy satins to matte lipsticks, follow the tips in the video below.
Similarly, if a matte lipstick is too matte on your lips (like the infamous "Ruby Woo" by MAC), simply apply lip primer prior or a creamy lip balm after lip liner and prior to lipstick application.
---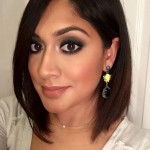 Sapna Sakaria is our go-to beauty blogger at
Brown Girl Magazine. She 
is thrilled to share beauty tips, tricks and tutorials with all of you! Born and raised in New York, Sapna grew to love the artistry of make-up application and all things beauty. All while receiving her B.S. in Biology at St. John's University, beauty and make-up started as a hobby, but making women smile and enhance their true inner beauty by sharing her passion has made it all worth it! Deemed "The Sephora Princess" by her fun-loving little brother, you can find Sapna perusing down Sephora's isles and continuing to answer all your beauty qualms here at
Brown Girl Mag
!