Happy Summer brown girls!
Corals and oranges are the next addition to my drugstore lipstick series where I'm highlighting this popular shade, perfect for the summertime. Some may be fearful to venture into this warm color family because of the overall challenging wearability that comes with rocking saturated shades. However, you should make your next lipstick purchase in a coral/peachy shade because of how well they complement tanner skin tones. In my opinion, they are one of the best color families I consistently recommend to my brown girls!
While corals are season appropriate, I scoured my local Tar-jay (Target) and found many hot, red-like corals distributed between brands, but, sadly, lighter corals and peaches seemed sparse. By sparse I mean the light, creamy peaches were just too light and chalky for my medium-dark skin tone, which obviously makes it too light and unflattering for even deeper skin tones.
Fear not, I narrowed it down and kept all my brown girls in mind! Whether you want a glossy peachy balm or a deep matte burnt orange, read below for some of my favorites with the addition of some flattering newbies I discovered, perfectly suitable for medium to deeper skin tones!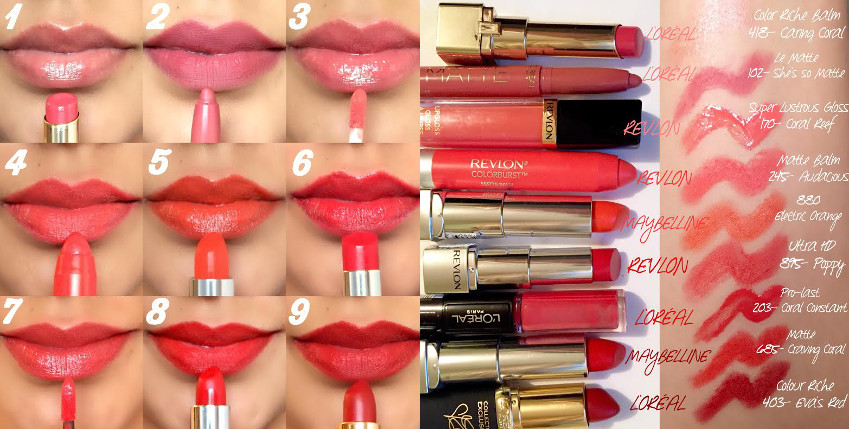 L'Oreal Colour Riche Balm '418- Caring Coral' (sheer peach lip balm).
L'Oreal Colour Riche Le Matte Pen '102- She's So Matte' (velvet matte nude with warm peach undertone).
Revlon Super Lustrous Lip Gloss '170- Coral Reef' (semi-sheer coral gloss).
Revlon Colorburst Matte Balm '245- Audacious' (matte intense, bright coral).
Maybelline Color Sensational Vivids '880- Electric Orange' (creamy satin vibrant warm orange).
Revlon Ultra HD Lipstick '895- Poppy' (gel satin vivid orange-red).
L'Oreal Infallible Pro-last '203- Coral Constant' (warm deep orange lip stain with balm to moisturize).
Maybelline Colorsensational Matte '685-Craving Coral' (matte rich medium-dark orange-red).
L'Oreal Colour Riche Signature Collection Reds '403' Eva's Red' (matte satin burnt orange).
I found all nine shades to be moisturizing formulas that are also extra long-wearing if paired with a similar tone or nude lip liner depending on the lipstick's intensity. Similarly, if you use a dark or light lip liner under the lipstick, it can deepen or lighten any lip color. Topping off the matte color with balm or gloss instantly changes the formula and contributes to multi-purposing your lipstick!
Personally,  I love to add a bit of gloss in the center of my lips for a nice sheen look! The options to change any individual lipstick color or texture are endless. An intense orange lip pairs well with a simple mascara only eye look (shown above) or a warm brown smokey eye (one of my favorites). Likewise, try pairing one of the light to medium corals with an intense or soft eye for a pretty, soft look.
Try this look with a coral lip for the perfect bronze Summer glow!
If you're in the mood to splurge, some of my go-tos are:
I would love to hear if you have a favorite drugstore peachy coral shade you absolutely love as well as the next color guide you would like to see. Let me know in the comment section below! xo
Want to see more videos by Sapna? Check out our Beauty Videos section for lots of make-up tips and tricks! 
---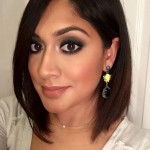 Sapna Sakaria is our go-to beauty blogger at
Brown Girl Magazine. She 
is thrilled to share beauty tips, tricks and tutorials with all of you! Born and raised in New York, Sapna grew to love the artistry of make-up application and all things beauty. All while receiving her B.S. in Biology at St. John's University, beauty and make-up started as a hobby, but making women smile and enhance their true inner beauty by sharing her passion has made it all worth it! Deemed "The Sephora Princess" by her fun-loving little brother, you can find Sapna perusing down Sephora's isles and continuing to answer all your beauty qualms here at
Brown Girl Mag
!