by Grishma Patel
Kul • fi
Noun
a type of dense Indian ice cream typically served on a stick.
When Pooja Bajaj, founder of The Kulfi Co., is busy and stressed with her everyday life, there are only a few things that seem to keep her calm: The New Yorker and some kulfi.
For those unfamiliar with one of India's most popular post-meal options, Kulfi is a frozen dessert that originated from the Indian subcontinent. The idea of kulfi was devised during the Mughal Empire, which ruled India in the 16-18th century. And believe it or not, ice was specially brought from the Himalayas to prepare this savory dessert. Traditional flavors consist of pistachios, cream, rose, cardamom and saffron.
So, now that you are all craving some kulfi, here's everything you need to know about the new-age kulfi, by The Kulfi Co. What I love the most about Bajaj's dessert is the uniqueness of each flavor and how she was able to incorporate saffron and cardamom into each one of her kulfis.
Persian saffron from Oman, cardamom from Guatemala, and fruit imported from France (90 percent brew and 10 percent sugar), Bajaj made sure that there were no artificial flavors added to the product, making her kulfis very rich and pure in its taste among each flavors.
I was lucky enough to try four of her amazing kulfi flavors and here is a brief description of my take on it.
Alphonso Mango & Cashews
The Alphonso Mango & Cashews flavor brings the ethnicity aspect into play. No matter what part of India you're from…Gujarat, Punjab, or Tamilnadu, there will always be desserts and treats you can find with mango flavors. Whether its lassi, ice cream, halwa or kulfi, you can never go wrong with a mango-based dessert, which is also one of the reasons Bajaj said she was inspired to make the mango-flavored kulfi.
The taste itself is very subtle—and although not overpowering, with every bite you feel like there is that constant reminder that this is a mango flavored kulfi. That is what makes this flavor so special and tasteful.
Coconut & Almonds
Coconut & Almonds is a flavor that definitely speaks volumes to all coconut lovers. Coconut itself has a very delicate taste that only certain people tend to enjoy. And on top of that, this flavor is mixed with almonds to give it that nutty/crunchy feel in every bite. It's definitely worth a try.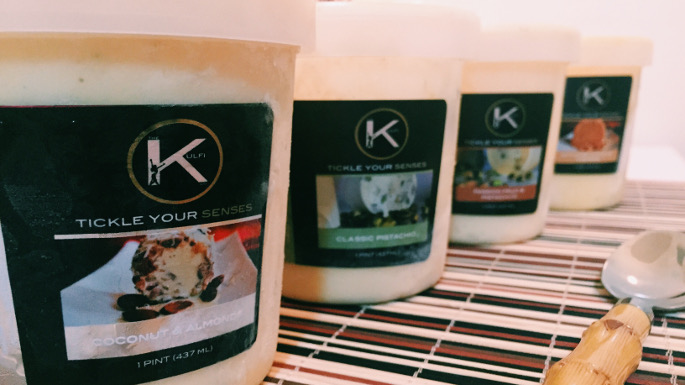 Classic Pistachio
This flavor, as Bajaj explained, is "modeled off of what street kulfi would taste like…and what I grew up eating." The Classic Pistachio has a soothing and creamy effect to the palate. In my opinion, it has more of a mellow taste that is consistent and delightful.
Eating this flavor definitely took me back to my summer days in India! It is certainly something you would find off one of the local street carts there. But the best way to differentiate the street kulfi from the Classic Pistachio would be the quality of ingredients and the time it took to make.
Passion Fruit & Pistachio
Passion Fruit & Pistachio as Bajaj said  is, "definitely not something that is ethnic to Indian ice cream."
However, Bajaj explained that the more acidic a fruit is, the more of a kick it will have within its flavor profile. And, after trying these four different flavors, I can confidently say that the Passion Fruit & Pistachio was my favorite. The passion fruit definitely gave it a nice hint of sour to balance the sweet flavors of the kulfi itself.
With every bite, there is a burst of scrumptious flavors leaving you wanting more. When thinking about it, passion fruit is rarely found in traditional Indian desserts, so for Bajaj to create this flavor was bold and outstanding.
In my opinion, this would be the flavor people will pick up in the store out of curiosity. Before trying this flavor myself, I had completely different expectations; however after tasting it, I came to realize that it was nothing like what I expected but it was much more than that.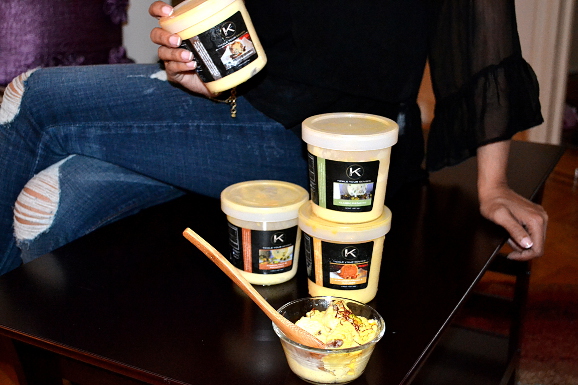 After speaking to Bajaj and trying out her one-of-a-kind kulfis, I came to admire not only her personality but also the hard work and effort she put into her founding company, The Kulfi Co. Bajaj said she envisioned her product to appeal to a universal audience, something that anyone can enjoy, not just the South Asian community.
On founding her company, Bajaj said:
"It's like taking a childhood treat and turning it into the ultimate adult reward."
When asked about future flavor options, Bajaj shared some interesting combinations, some of which included avocado and coconut, chocolate and rose water, and Pomegranate with pine nuts.
We hope to see The Kufli Co. flavors on the shelves of an American grocer near you, so help our fellow Brown Girl achieve her dreams by contributing to her Kickstarter campaign! 
---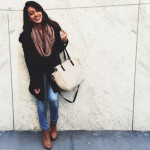 Grishma Patel is an average college student in NYC, and when she's not swamped with school work she can be found exploring the city, cooking new recipes or learning about cultures, ideas and people. Add her on Instagram to keep up with her latest updates.