Aside from finding just about any type of chaat delicious, you know what else I love about the Indian snack? It's ability to make for a quick and impressive buffet for entertaining!
For those of you not in the know, you might ask what is chaat. Though by definition,chaat is not solely a street side snack but historically, that is where it is mostly sold and eaten.
It is challenging to define chaat as a dish simply because there are so many varieties of it. Often confronted with having to define it to non-desis, my go-to explanation is that it is a layered savory snack, perhaps drawing a loose comparison to American loaded nachos or chili. My more involved explanation goes like this: chaat usually consists of something starchy such as fried or boiled potatoes, bread (fried or otherwise), samosa, dahi vada (fried lentil donuts), boiled chickpeas or a variety of other fried dough. This list hardly exhausts the possibilities.
The layers on top of the starch poses yet another variety of ingredients. It can be either yogurt or chutneys or maybe even a balanced mixture of both. That's not all. The layering may go further with bhujiyas (crunchy mixes of roasted or fried chickpeas, besan flour, puffed rice, etc) and/or sev (deep fried gram flour noodles) on top.
And that's still not all! The final topping might include chopped onions, coriander leaves, and chaat masala.
Having somewhat of an idea of the flexibility in defining chaat, one can perhaps better appreciate the freedom in throwing a chaat party as a host.  Because there are so many ways to make so many different types of chaat, you can have fun with your offerings and serve a plethora ingredients buffet style, and have your guests layer as desired.
A visit to your local desi grocery store goes a long way when entertaining and throwing a chaat party. What you will want to do is buy an array of common chaat "bases." You could certainly make any or all of these items at home. However, when pressed for time, I typically boil potatoes as my base or bake frozen tater tots as a fusion spin!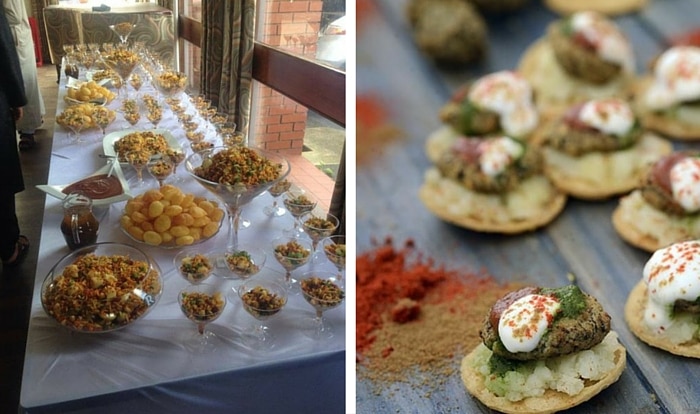 [Photo Source: Pinterest| 1,2]
With so many dishes now being sold in the freezer section of your desi grocery store, it is easier to buy items and just bake them and serve buffet style. Frozen or ready-made, the following dishes are what we suggest you outsource from your local desi grocery store:
samosa
pakora
ragda patties
dahi vada
Other ready-made items you may want to buy as part of your buffet are:
sev
bhel
papadi
tamarind chutney
mint chutney
chaat masala
Do not forget to put out diced onions, coriander leaves, and yogurt!
To make your buffet look appetizing and fun, we suggest displaying your chaat bases in colorful platters or even cake stands. Put dry item toppings such as sev and other bhajiyas in decorative bowls. Place chutneys and yogurt in large martini glasses for extra oomph!
To see more of Soni's original recipes and comics, visit SketchyDesi.com.
---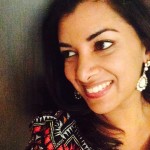 Soni Satpathy-Singh is a recipe writer and developer who resides in Manhattan. She is either always cooking or eating be it for work or simply because she loves to! She is working on her own cookbook and also recently created "Sketchy Desi" which provides daily humor, greeting cards, and apparel that celebrate brown culture. To see more of Sketchy Desi's work, visit SketchyDesi.com or stay tuned to upcoming posts on Brown Girl Magazine.