The writer of this piece has chosen to stay anonymous to not become a target.
Picture this: You spend countless days working on something you're extremely passionate about, you have big plans and can't wait to follow your dreams. One day, someone sends you a link to an Instagram photo of your work that someone else is trying to make money off. This is exactly what happened to artist Hiba Khan, from Calgary, Canada.  A drawing that she worked really hard on was being sold by a wannabe business person, named Abu Dinar.
Khan discovered her love for art in the ninth grade and ever since has created many works of art ranging from abstract watercolor to realism. Currently, as a 19-year-old engineering student at the University of Calgary, Khan has managed to balance her education and love of art. Khan's bio on her website states, "…the artist's world is limitless" and that her work represents her "passion and love for creativity."
Khan, as well as many other artists, turn to social media to display their masterpieces to the world with hopes that their talents will be recognized and appreciated by like-minded people. Khan's talents were recognized, but unfortunately by a sneaky, devious, sad excuse for a business person. The piece that caught Dinar's eye was an unfinished result of an idea Khan shared in November 2014. It was also one of her favorites so far.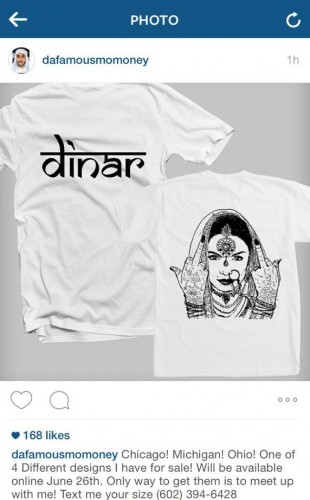 Dinar's shady effort to sell Khan's drawing on t-shirts was brought to her attention by a fan that sent her a screenshot of Dinar's Instagram account. Distraught and upset, which anyone in her place would be, Khan took to social media to call out the act of robbery. When Dinar realized that Khan was fully aware that her artwork was stolen, he contacted her trying to pay her for her work.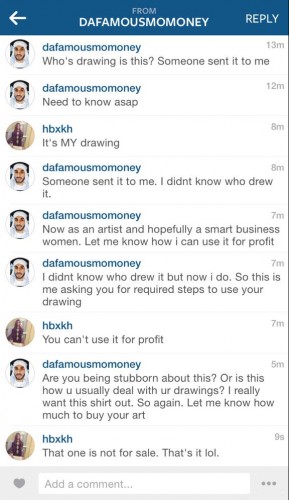 In an attempt to protect her work from being capitalized by someone else, Khan refused to sell her piece of work to Dinar to which he responded with a series of Instagram videos that have now been deleted. In the videos, Dinar states that his lawyer has told him that he would not be in any sort of trouble by continuing to sell these t-shirts, so for that reason, he will continue to do so. He also tells his followers that Khan had the chance to make some money and be a part of this but because she refused to sell her piece of art, he was going to sell it anyways and not respect her wishes.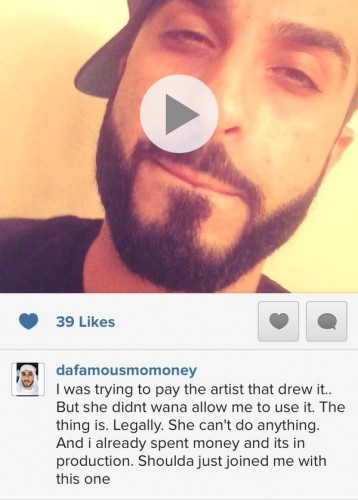 Khan's work was not copyrighted. Unfortunately, this sort of thing does happen in the art world often, but this type of business needs to be stopped. Artists should be respected as should their work.  My hopes from writing this article is to call out who will take advantage of others' efforts. Incidents like these discourage artists from doing what they love.
Just because someone may not face legal consequences for their actions does not mean that selling something that is not theirs is okay. Artists like Khan are entitled to decide the future for their own work.
Since Khan's battle began with Dinar over her rights of her intellectual property, she has consulted with a lawyer and is in the process of filing a complaint against Big Cartel, the company that Dinar works with. Dinar, seeming unusually defensive considering his confident nature, took to social media once again, threatening to sell the t-shirt design because of the backlash he's been receiving. However, his Instagram account has now been made private.
Support Hiba Khan through social media: Instagram (@HibaKhanArt), Twitter (@hibakhanart and @hbxkh), website, and Facebook.