The much-anticipated Bollywood film"Dilwale" releases this month, featuring a comeback of the iconic Kajol and Shah Rukh Khan jodi.
While we impatiently wait to obsess over this eternal romantic pair, this "Minions" spoof of Rohit Shetty's "Dilwale" trailer will fill all voids in your heart!
The 3-minute video is already stealing hearts with more than 47,000 views on YouTube. Produced by KTB Videos, this spoof is EVERYTHING. 
But before you watch it, beware, you will never be able to watch "Despicable Me" without the catchy tune and SRK's voice playing in your head.
And while we have you gushing over this spoof, you have to watch one of the most (allegedly) expensive Bollywood songs ever produced, "Gerua." It was shot in Iceland and features the duo, Kajol and SRK, romancing each other to the backdrop of countless gorgeous landscapes.
With music by Pritam, heartfelt lyrics by Amitabh Bhattacharya and sung in the soulful voices of Arijit Singh and Antara Mitra, the music video has been seen more than 13 million times and is bound to give you a love overdose. <3
"Dilwale" also stars Varun Dhawan and Kriti Sanon, and is set to release on December 18 in cinemas worldwide. If you're just as excited to watch the film as we are, share our post with your friends! 
---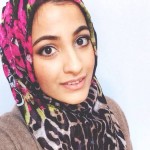 Hera Ashraf is a graduate with a Biology degree, hoping to pursue medicine. She is a self-proclaimed foodie with a passion for desserts. Coffee and Bollywood are her two most favorite things. She loves to read, even though she barely gets time for it anymore. Brown Girl Magazine allows her to write about the things she loves, and then shares it with the world. Her ultimate goal in life is to become a world wanderer.