Every New Yorker knows that you can only eat so many salads and sandwiches before you get sick of them. There are only so many options to grab-and-go for the busy, always-running-to-the-next-meeting, New Yorker. That's why easy to eat, portable food from other countries have become so popular in the Big Apple. One such example is the kati roll.
Traditionally, it's a kebab wrapped in a paratha, or type of Indian flatbread. Nowadays, the filling can be vegetable or meat, often with some condiments and chopped vegetables to accentuate the flavor. This is the simple-to-make meal that South Asians everywhere found in their lunch boxes or ate when they came home from school.
What most people don't know is that the kati roll originated at the Nizam restaurant in Kolkata, India. This place has been around since 1932. Every visit to my mother's hometown always included at least one mandatory midnight snack at Nizam's. In fact, I know some family friends who often take the overnight flight from Dubai to Kolkata to satisfy their Nizami roll cravings!
Obviously, I was more than pleasantly surprised when I found out that a small hole-in-the-wall restaurant called Thelewala sold the same Nizami rolls. As a kid, there was so much hype around this dish that I was glad to find that this tiny piece of my heritage had found its way to my vicinity. It's been a while since I've gone to Kolkata, but my mother, who visited this summer, said the Nizami rolls at Thelewala come "pretty damn close" to the original thing.
The restaurant is located on the most happening block of New York called MacDougal Street, opposite their competitors, Kati Roll Company, but there's no argument that Thelewala is better. Plastered on their walls are reviews by the New York Times calling them one of the "Ten of the Best Inexpensive Restaurants of 2011."
My favorite items on the menu are the chapli roll, okra roll and puchkas (which are Kolkata-style pani puri). The most expensive dish is their famous chapli roll, which is only six dollars, consisting of lamb patties with red onions, lime and fried egg: Perfection in every bite. The lamb is juicy and has a smoother texture than the shami kebab, which is found at Kati Roll Company. The red onions are slightly pickled so the heat from the raw onions doesn't overwhelm one's palette. The pickling of the onions also introduces a sweet element to the dish. The addition of lime brings in a much-needed acidity and, in a way, doesn't let the egg's distinct flavor become the boss of the dish.
The beauty of the Nizami rolls is that they use sharp ingredients and then tame them down to complement each other. This ensures a balance, not only with the other fillings inside the roll but also with the paratha.
The okra roll is simpler in terms of ingredients and flavor profile but that doesn't mean it's any less delicious. There's plenty of crunch from the crispy okra and fried, pickled onions and, like the chapli roll, the lime accents all the flavors with its bright tartness. However, in this roll, the lime is allowed a little more leeway because there is a magical punch when eaten with the okra.
The puchka is the one thing people don't like as much, but mostly because it doesn't taste like a traditional pani puri. The puchka has more tamarind in the paani, or flavored water, and therefore, is tangier than the pani puri, which originated in Maharashtra and Gujurat and is more commonly found in Indian restaurants around the world. I'm particular biased to sharp and sour flavor profiles and for that reason, I'm particularly partial to the puchka. Beside the tamarind syrup is the masala, which has a mixture of potatoes and Indian spices.
To eat this, you poke a small hole in your puri (a fried, crisp, round ball) using your thumb and fill it with the paani and masala. Then, you put the whole thing in your mouth and let it erupt as the puri crumbles and the fillings overflow in your mouth. It's an experience.
Clearly, this isn't the best place for date night since the puchka isn't a particularly graceful food and there are onions in everything. However, this is an extension of Kolkata's history for New Yorkers to enjoy and like I said before, the rolls are easy to carry around and eat on the subway. Just make sure you have some breath mints before you run back into office so your coworkers don't smell your breath and get jealous of that insanely delicious onion-y meal you just indulged in!
[divider]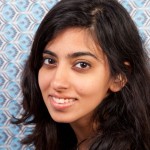 Ailsa Sachdev is a writer, and the New York City editor of an upcoming food website called Gourmandatory. She is passionate about food and travel, and can say "I'm hungry" in over ten languages.