by Liya Thachil 
Ladies, let's face it—we all know about the dreaded saree, petticoat puff. It is the puff that seems to add 10 pounds to your figure that does not exist in your favorite pair of denim jeans. It is the puff that keeps you away from sarees because you want to make sure it is known that you do indeed hit up the gym five times a week, even though currently you're gorging on pani puri at the appetizer table.
You spend hours watching youtube tutorials trying to figure out how women get their sarees to lay perfectly on their hips. Do you puzzle over how is it that they manage to look shapely and thin, and yet you look like a marshmallow? Okay, this might just be my own personal stream of consciousness that I am projecting onto you, BUT I believe this to be a universal complaint among us South Asian gals.
I personally would only love sarees from afar because whenever I did wear one, I was constantly disappointed on how it looked on me. No amount of safety pins, tucking, and pulling could fix the bulkiness that kept occurring around my hips. But then, I discovered their secret—the tailored petticoat. So it turns out, those ladies have been cheating!
Let me walk you through the process of purchasing a saree: you go to the store, pick the one you like, they find you the matching saree skirt, and you leave with your purchase, usually heading straight to your tailor so you can get your blouse stitched. This saree skirt comes in the wonderful "free size," which is code for "we have made this extra ginormous to accommodate all sizes." 
While I have been dropping off my blouse to be stitched and taking my skirt home, a handful of fashion-forward fashionistas is dropping their skirts off along with their blouses. A simple fix, which I wish I had discovered years ago, will give you the saree look of your dreams. Think of all of the lost Instagram opportunities.  
By taking out the excess fabric, you prevent the bunching that happens and it allows the fabric to lay neatly. You can take it further by adding a shape, like the example below: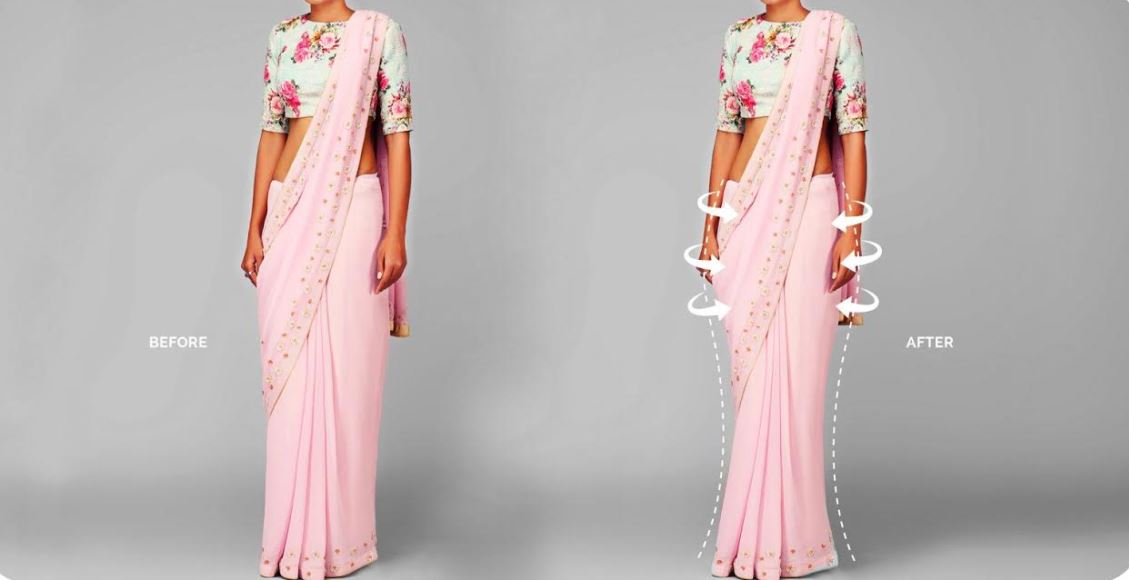 [Photo Source: zivame.com/saree]
If you want to make it more of a saree-lehenga, add a layer of tulle or crinoline towards the bottom of the skirt. The mermaid-cut for a petticoat will transform the way your saree lays, especially for those of us lacking in the hips department.
It is all about the foundation and once that is sorted, you can build away and get as creative as you like. I have seen skirts with trains for brides so that they can wear a saree as a wedding gown. I have seen hoop skirts for a fuller skirt. You have nine yards of fabric, therefore the opportunities are endless. So bid adieu to the puff and let us welcome a sans puffy era of saree-wearing.
---
Liya Thachil is the co-founder of WESTxEAST, which is a retail brand aiming to provide South Asian inspired basics. It was created because of the need she and her co-founder, Tania Chackumkal, discovered for sari blouses, petticoats, kurtas and etc. They believe the silhouettes of the subcontinent should be more globally embraced. WxE aims to be a movement towards style beyond borders. Liya is an avid collector of vintage saris and believes all women should own at least one kanchipuram sari.