by Parth Shah
Hyphen is a podcast I created after a really bad job interview.

I work in public radio and am currently wrapping up my last few months of a journalism fellowship in Wisconsin. I started sending out job applications back in December for positions all around the country. Some applications were to places that I wasn't too excited about, others were to dream jobs I thought I would never get.
A few weeks ago, I heard back from one of those dream jobs. I had made it to the phone interview round for a producer position with one of my favorite podcasts. My assignment was to pitch a story that would fit the theme of their podcast.
When I got the call later that week, I was flustered. I didn't realize that the host of the podcast, one of my audio idols, would be leading the interview. When he asked for my pitch, I gave him the long winded story of how my parents met and how they came to America.
I could feel their disinterest in my pitch. It didn't fit the mold of their podcast.
When I got the email later that week that I hadn't made it to the next round, I wasn't discouraged. Rather, I was inspired.
I created Hyphen to tell the stories of people like me. My name is Parth Shah and I'm an Indian-American man. That hyphen between the words Indian and American is where I live. Hyphen is a podcast about the experiences of people living in two different worlds simultaneously.
This first episode of Hyphen is all about names. Your name is the first gift you receive long before you can even grasp the concept of what a name even is. And it pretty much has a no return policy on it.
Names are a combination of sounds that set you apart. But what if your sounds are too hard for some people to say?
---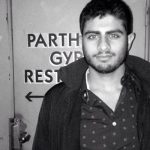 Parth Shah is the founder and host of Hyphen, a podcast about identity. When he's not editing audio you can probably find him sipping bubble tea and listening to Bollywood mixtapes. Parth is a graduate of
UNC Chapel
Hill, NC and is currently completing a reporting fellowship at a public radio station in Wisconsin.