A warm hello to my fellow Brown Girls! Every week, I will share my favorite Eastern and Western ensembles with all the details you need to get the look. So, stop by for a healthy dose of fashion before the weekend begins.
Today's outfit is perfect for a formal dinner or a romantic date. For this modern chic look, I opted for a fitted sheer lace dress with loose curls and soft makeup. For more fashion inspiration to feed your inner fashionista, be sure to visit my personal blog.
[divider]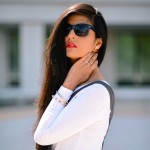 Zunera Mazhar is the highest earning fashion blogger in Washington D.C. Her blog, Zunera & Serena, is about fashion, inspiration, confidence and she occasionally includes photos of her five-year-old fashionista, Serena! The blog has been featured on ABC, FOX and she is a featured guest on CNN. She has worked with some of the top designers and retailers in the fashion industry and is the international brand ambassador of "Labels." She contributes/writes for Self Magazine, AOL's Stylelist. and POPSugar. When she is not blogging, she works as a program manager for Refugee Asylum and International Operations for the U.S. Immigration Services.