The year 2015 has been huge for South Asian-American politicians—some of it good, but most it has been controversial, to say the least.
Louisana Governor Bobby Jindal, the first South Asian-American to run for president, inspired ire on social media as he attempted to distance himself from his Indian heritage, prompting a takeover of his Twitter account with the hashtag #AskBobbyJindal.
Then we had Indian-American Governor Nikki Haley defend the Confederate flag on South Carolina's statehouse grounds, but then she later changed her mind and said it should have never been placed there, citing it as a "poor decision."
And now we introduce you to Ali Najmi—a criminal defense attorney by trade, who was born and raised in Queens. One of six candidates vying for the seat, the progressive Democrat has his eyes set on becoming the first South Asian-American New York City Councilman, for District 23, in Eastern Queens. 
Najmi has been involved in grassroots activism his entire career, working with community organizations like South Asian Americans Leading Together (SAALT), Alliance of South Asian American Labor (ASSL), and co-founding the Muslim Democratic Club of New York. He was also the past president of the Eleanor Roosevelt Democratic Club. His resume includes working as the Legislative Director for former long-time Councilman Mark Weprin and was an active force in the election of Congresswoman Grace Meng. 
Adding to Najmi's campaign, The New York Times recently endorsed him on September 3:
"With such a big field, in one isolated race, on a Thursday, a few hundred ballots could settle this. We hope voters get themselves and their neighbors to the polls. We hope they choose Ali Najmi."
In addition to scoring an endorsement by The New York Times, Najmi has also seen lots of support from his childhood friends, including Comedian Hari Kondabulu and Das Racist band members Himanshu Suri (Heems) and Ashok Kondabulu (Dapwell).
We recently spoke to Najmi about his campaign, and here's what he had to say:
How did you decide to run?
"I've been doing grassroots activism and social advocacy my whole career, it's a passion of mine. Going to law school helped me understand how to navigate our justice system and government better. When this seat opened, many people asked me to run."
What is your campaign strategy?
"I go door to door every day. There is no shortcut. The best part [of the campaign] is talking to voters every night."
How would you describe Eastern Queens?
"The neighborhood is now mostly of color, and has one of the highest concentrations of South Asian people and is the most diverse in New York City. It's a wonderful place to live. People moved here (including my parents) because they wanted a good life, safe streets, good schools."
What are the major campaign issues?
Najmi has listed many issues he wants to fight for on his website, but he said, the most important one is increasing economic opportunity for residents of District 23.
"People need good jobs. I want to invest in adult education, so adults are well prepared to enter the tech sector and get high paying jobs. We also need more police accountability. Tragedies like Eric Garner's death happened a year ago and we still need body cameras on all police officers."
Najmi also joins Councilman Daniel Dromm and other community leaders to recognize Diwali as a school holiday. 
What advice do you have for young people interested in politics?
The best thing to do is volunteer on campaigns. Volunteers on my campaign have been knocking on doors to meet voters. You can volunteer here.
We too have jumped on the Najmi bandwagon and hope you will cast a ballot in Queens, New York, on Primary Day September 10.
---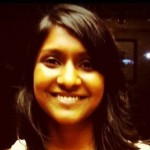 Sneha Goud recently graduated from NYU with an MA in public administration. Follow her on Twitter @sneha_goud for her thoughts on reality television, feminism, and all things South Asian.