by Anuja Shashipadme – Follow @browngirlmag
This post is originally posted on Anuja's Endeavors and was republished with permission.
A college friend and I had been casually talking about going on a trip together for some time. Once we discovered that Wow Air, an Iceland-based airline company, offered cheap flight tickets to Iceland and other parts of Europe, we were game—and what better way to enjoy the beginning of 2017? She booked her ticket from Washington D.C. and I did the same from San Francisco. Unfortunately, I had to experience 2 days worth of delays from the SFO airport and the Iceland airport in Reykjavik, making me a day late upon arrival.
Thankfully, I arrived on the day of New Year's eve festivities and here's a breakdown of what I did from there on in.
Den Haag (The Hague)-12/31
Our arrival from Iceland put us in the Netherlands at the Amsterdam-Schiphol airport, but our AirBnb location was about an hour away by train, in the small city of Den Haag ("The Hague" in English). We explored around, saw the narrow streets of Den Haag decorated with Christmas lights and bumped into kids lighting fireworks in the streets. Our AirBnb hosts, 20-something young Dutch men and their girlfriends, invited us to hang out and watch the NYE fireworks over the Dutch parliament buildings from a rooftop only 10 minutes away.
Outside, in front of the canal by the parliament buildings, a DJ set-up shop and locals followed suit by dancing to the upbeat music. When the clock struck midnight, the fireworks began (and lasted much longer than in America).
The Dutch locals served us limitless champagne and offered traditional NYE pastries known as oilenbollen (literally oil balls) and applebeignets (similar to apple turnovers). The hospitality of the Dutch and the beauty of the unique fireworks made us feel at home and kickstarted the excitement of our two-and-a-half week journey through Europe.
Amsterdam- 01/01
We woke up groggily, after the New Year's eve adventures, only to make it out of bed around 1 pm. We had planned to spend the day in Amsterdam, which was only an hour train ride away. The Den Haag Central station was only a 10-minute walk away and pleasantly surprised us with many options for lunch. We grabbed a quick lunch at La Place before our train boarded, which is a restaurant originally from the Netherlands that aims at providing fresh food with healthy and organic ingredients. Definitely one of my favorite eateries in Europe.
In Amsterdam, our day was a little underwhelming due to overcast skies and a downpour of rain. The weather though did not stop us from checking out a Body Worlds Exhibit and a Watercolors canal cruise. The exhibit is one that I've seen before in San Jose, California where visitors have the chance of looking at real organ systems and body parts given to the exhibit by generous donors. The Watercolors cruise was another quaint site to see with an hour and a half guided audio tour of the lit art displays found along the canals during the wintertime.
Den Haag (The Hague)-01/02
We loved walking around Den Haag so much the first day we were there that we decided to spend another day exploring it. We saw the Dutch parliament buildings (the Binnenhof), including the buildings inhabited by the royal family today. Their home is right next to a wide canal that produces an amazing view during sunset.
[The Peace Palace]
We happened across a cool coffee franchise called Bagel & Beans, which had cute decor and delicious coffee. Finally, to end the day, we wandered off to the Peace Palace where the United Nations meets every year to resolve political conflicts between countries. I had no idea the Hague played such an important role in modern-day European politics. The free audio tour and videos/artifacts on display helped us learn heaps about the Peace Palace and its significant role.
Recommendations
Cities to visit in the Netherlands:  The Hague and Amsterdam
Places to eat/drink: La Place, Bagels & Beans, Marks & Spencer (supermarket with lots of marked down prices)
Things to see/do
The Hague: visit the Binnenhof (Dutch parliament) and the Peace Palace for free!
Amsterdam: Body Worlds exhibit + Watercolors canal cruise is 35 euros (you can also visit the Museum of Prostitution, the Sex Museum, get a tour of the Heinekin factory & more!).
Both cities: Window shop in popular European-brand stores like Primark and Flying Tiger.
Continue watching this space for where I traveled after this short and sweet trip to the Netherlands!
---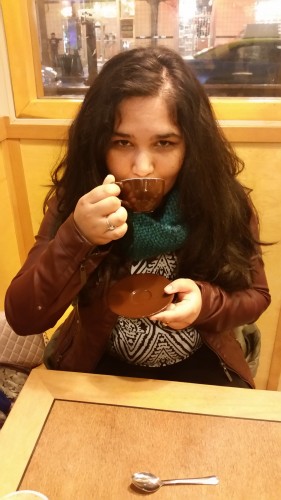 Anuja Shashipadme is a recent graduate of the University of Virginia with a double major in Cognitive Science and Spanish literature. When she's not drinking coffee, you can find her traveling to different places, writing poetry, or getting lost in a good book.