By Naila Sheikh
A family unit consists of a mother, a father and their children. It's the children that bring joy into this beautiful dynamic of family life and add an inevitable responsibility to raise these little human beings into civilized, responsible, wholesome adults whilst enjoying the quarrels and the many agonizing moments of sibling love/hate interactions throughout the growing years.
Does that ever stop? The teasing, the underlying snarky tones of superiority and 'knowing it all' attitude in sibling rivalry and camaraderie in this familiar realm of mutual understanding that forces us to love each other no matter what? No matter how old we get, the family ties of brother and sisterhood always remain sacred as the very first friendships we created in Kindergarten. However, a a lifetime of sharing similar genes, similar looks and behaviors and this annoying feeling of well-known imperfections, witnessed failures within one household, makes this bond nothing but special and always worth the extra attention.
As the eldest child and older sister to a sister and two brothers, I've always felt responsible for their well-being and upbringing as well as my role as a good example for them to follow. This role was never forced upon me and neither was it implied, but my innate 'sibling skill-set' that kind of developed overnight when my sister Madiha was born, made me feel powerful yet vulnerable at the same time. Powerful, because I was suddenly looked as 'older'; more authorized to make decisions and grow up faster. Vulnerable, because now this tiny being in the form of my baby sister, had her eyes on me and my every action was fascinating to her. I couldn't help but naturally be more caring, affectionate and protective from the day she (and my brothers, Nabeel & Sammer) were born. To this day, those feelings still very much remain the same.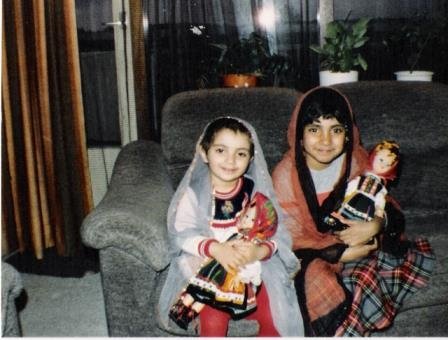 The bond of brother and sisterhood comes with unconditional love and sometimes, this love challenges us to seek the best in each other through times of tragedies, loss and sufferings. During these times, we hold on to one another and never let go, like a little sail boat stuck in the middle of a whirlpool during a nasty storm. We hold its grip until the water calms and the chances of survival are more than just hopeful because we stuck out this far together and survived the merciless waves of the raging waters to finally emerge onto clear shore and blue skies where everything is more colorful as we sail towards the beautiful horizon…
April 10 marks National Siblings Day. National Siblings Day is the brainchild of Claudia Evart, who thought up the day as a way for siblings to honor, recognize and celebrate each other. I find this month to be extra honorable for my entire family and extended family on my mother's side as we lost our dear brother, my most beloved  cousin,  Zahir Khan, two years ago. He was the kind of brother, cousin and son that would light up the entire room with his presence and he would make you feel the most special person with his detailed attention to everything and care for everyone. His positive outlook and zest for life was so contagious that one was bound to love him unconditionally and speak highly of him. To say he was my cousin, I feel blessed and honored and to have been in his company, sharing moments of family celebrations, I feel more than fortunate. I yet have to see a smile more beautiful than his.
May we all cherish the moments with our siblings and express our love for them, care for them, pray for them and always no matter what, support them.
To my siblings, whom I love very much:
May your every dream come true and may you live life to the fullest. Always and always love and respect one another, do good and be the best at who you are. Work hard to enjoy life and utilize the talents God has given you as you are smart, creative, loving individuals who each possess different qualities. Always respect Ammi (mom) and care for her as she cared for you when you were little. Treat others as you want to be treated and take things light in life, however be serious in accomplishing goals. Have faith in God and rely on Him for all your decisions. My dream is to see you succeed in all aspects of life. I am super proud of you guys…