Mental health is a hot topic. According to the CDC, approximately 7.7% of the U.S. population (around 26 million people) over the age of 20 have depression, also known as the "common cold" of mental illness. It's no secret there is a ton of ignorance and taboo around mental health in minority communities. The more awareness we raise, the better. The more influential people speak out, the better.
Shanti Das isn't a clinical counselor or psychiatrist. She's an ex-superstar music industry executive who is using her Rolodex to raise awareness. And she is making waves in Atlanta, GA.
Who is Shanti Das?
Born to an Indian father from Calcutta, India, and an African American mother, Shanti grew up in Atlanta before moving to NYC to pursue a career as a music executive. When she was just seven months old, her father, Ash Tosh Das, died by suicide after suffering from depression.
"Everyone assumes it's not difficult because I didn't know him well, but his suicide took a toll on me," she tells me.
Shanti was raised by her mother and primarily identifies as African American. I ask Shanti how her family dealt with the loss of her father.
"I hid my feelings and acted as if I never had a father. We never talked about it in my family. I threw myself into school and extracurriculars. I did well in school and started working in the music industry."
After receiving a degree in Television, Radio, and Film from Syracuse University in 1993, she began her career as LaFace Records' National Director of Promotions, working directly with industry giants L.A. Reid and Babyface. Shanti's earned many accolades for her impact in music before turning 40. June 5, 2000, was officially named "Shanti Das Day" in Atlanta, GA. Till date, her impact is large and her roster even larger. She has worked with some of the biggest artists including Outkast, TLC, Toni Braxton, and Usher. With large, dynamic careers come large, dynamic stressors.
Her Experience with Depression
Shanti experienced her first bout with depression after moving to NYC.
"I didn't realize at the time I was depressed. I wasn't eating, my face was breaking out and I had thoughts of ending my life. My boyfriend at the time encouraged me to call my sister, who suggested I visit a therapist. "
For the first time, Shanti openly spoke about the tragedy her family experienced and forgave her father for completing suicide. After four months of therapy, she threw herself back into work. Like most of us, Shanti has had her good days and her bad bays. She tells me healing is a continuous process.
"I contemplated suicide in 2015. My best friend died by suicide. I spoke to her the day before, I kept blaming myself. Since my dad died by suicide I thought, ok maybe I could too. I thought my work here was done. I received help and started medication."
Her advice for anyone struggling with mental health is simple: Reach out and gather your resources.
"Reach out for help. Find someone at work who is objective, not a direct boss, that you can trust. HR departments have resources for employees struggling with mental health, a fact I didn't know. Find a therapist who can help you navigate your circumstances."
Around 2008, her mother developed Alzheimer's and Shanti experienced health issues herself. She decided to leave NYC and come home.
"It was clear to me that I didn't want to be in NYC anymore. The entire right side of my body went numb and I received a diagnosis of cervical spinal stenosis. "I resigned from my career as an executive at an all-time high."
Turning her Pain into Purpose
"I started doing community service in Atlanta and it felt very fulfilling. I decided to commit full-time."
Shanti launched her movement, Silence the Shame, dedicated to peeling back the layers of shame and stigma around mental health, in 2017. Silence the Shame is under her foundation, The Hip-Hop Professional Foundation, a foundation whose mission is to help youth and families affected by mental health and poverty. Silence the Shame launched on May 5, 2017, and received 90 million impressions on Instagram in one day.
"God allowed me to be great in entertainment and I have been able to use my Rolodex to build my foundation and work on my purpose."
I ask her what's next in her entrepreneurial journey. Shanti is working to raise awareness and provide solutions by developing a podcast, producing a documentary on teens and depression, building high school, college, and faith programs for mental wellness, and creating content for all social media platforms.
"We want to raise awareness and provide solutions."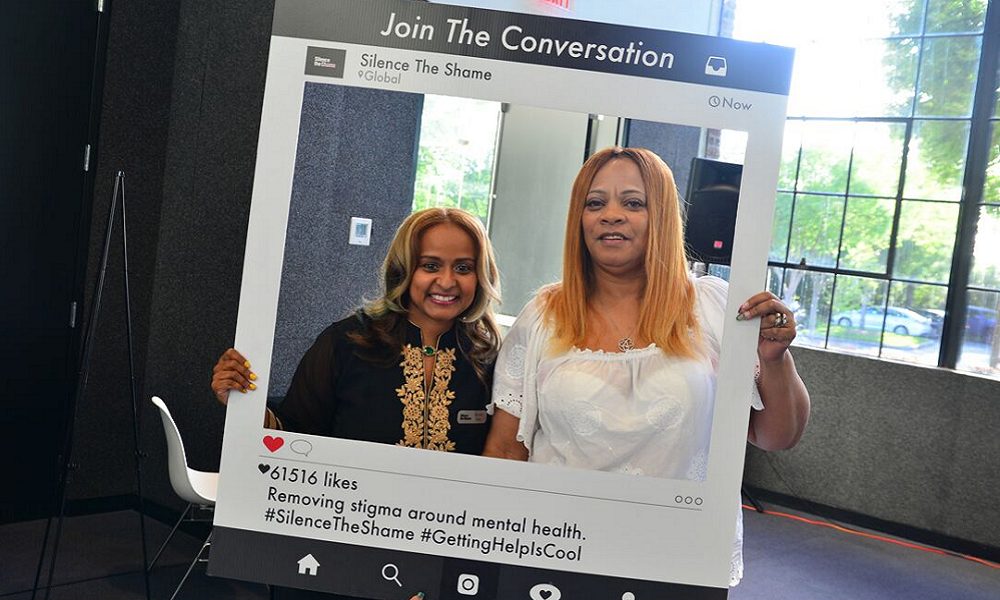 Mental Health Resources in Atlanta
You can text the word "Silence" to 741741 and can get connected to a licensed professional counselor (LPC) at the Crisis Text Line Organization.
Visit silencetheshame.com to find more national resources for mental health.
Grady Behavioral Health Center provides outpatient services and offers financial assistance to those in need.
Georgia Access and Crisis Line: 1-800-715-4225
Pre-order Shanti's latest book, Silencing My Share here.
Keep up with all the good work Shanti is doing by checking out her Instagram.
Access the Silence the Shame Podcast on iTunes here.