By: Nehal Mehra

Vivacious, bold and a plethora of knowledge. Daniel Pillai is one of Canada's most sought after entertainment personalities and hottest players in its entertainment industry playground.
Growing up as a gay South Asian male, Pillai was often addressed as a He/She, a derogatory term that he flipped upside down into his newest production —"The He/She Project." This film demonstrates Pillai embracing his identity. [It] is an ode to [Daniel and his journey of self-acceptance as a gay man, and the expression of it.] It is one of the greatest events in his life that make him feel fulfilled and proud.

"Each photo is paired with an inspirational quote that encapsulates my journey and struggle and the words that I am inspired by. I did this project because I was always bullied as a child for being gay, and growing up effeminate. I was often ridiculed by the phrase 'He/She' and in my family, different cultural variations of it. So the project is my attempt to reclaim the phrase, reclaim my power and ascribe a whole new meaning to it. One that celebrates everything that is a part of me and who I am. I hope to inspire other people to be who they are and who they were meant to be through this project."
Reminiscing about his childhood memories of aspiring to be the next Madhuri Dixit or exhibiting his love of beautiful Indian fashion through the androgynous lens, Pillai aims to teach us the power of self-love and hopes to inspire individuals like him who are struggling with coming out.
"I grew up wanting to be like Madhuri Dixit and I spent a lot of my youth dancing to her songs, and trying to emulate her expressions and movements. To me, she is the epitome of class, intelligence, and grace and I want to be all of those things too."
With the same essence, he said he believes Priyanka Chopra carries the same grace and class. He admires her intelligence, humility and willingness to create time for her supporters. In his eyes, that's only class and grace.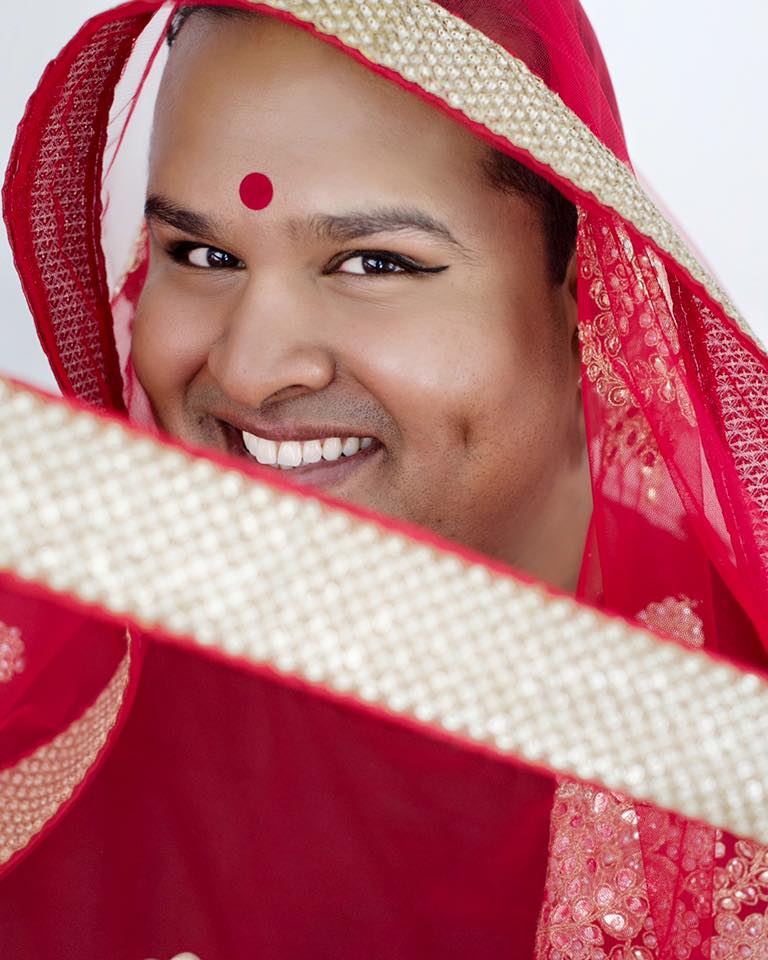 [Photo Credit: Pure Studios]
Daniel talks about his battle with self-love and acceptance. Now this is something all of us struggle with. For many of us, this is a daily internal fight, whether it is self-love, confidence or simply considering ourselves worthy of affection and care. However, Daniel talks about his own struggle, not only as a young media professional but also an active member of the LGBTQ community.
"I don't think I accepted myself at all growing up. In fact, I was taught to just be what others expected of me, and I think a lot of us first, second, third generations South Asians face this around the world. My identity, who I was and who I was going to be was decided for me and how that was going to happen was planned out too. It's a lot of pressure to live with and it eventually becomes a burden, especially when you as an individual don't take on the values and belief systems of your culture and parents as you grow up. Many of us do, and that is okay, but for those of us who don't it's a challenge."
When asked about his challenges as a young, gay, South Asian male, Daniel responded:
"Now growing up brown and gay is not easy. I was very effeminate; I wanted to be like Madhuri Dixit and I danced around all the time and loved wearing my mother's clothes. These weren't considered masculine traits and for that, I was bullied a lot at school, and within my larger family unit too. It is very hard when you grow up with so many traditional men who fit the alpha male stereotype and you're the one boy amongst them all who is different. That difference is something I celebrate today, but growing up it was tough to fit in and feel loved and accepted. The feeling of rejection and failure became the norm."
"As an adult, I've grown into my own skin. I told my family I was gay in 2010 when I was 25 years old. So after living my entire childhood, adolescence and early adult life as someone everyone else wanted to be, I decided to be who I was and take my life into my own hands. This journey still continues today and I discover parts of who I am all the time, I love learning about myself and feeling free to express it too."
We all have fears. Some bone chilling, shaking our inner being, leaving us paralyzed. Daniel's words are necessary for helping us all come to terms with this fact. Some of us are more blessed than others that our fears and challenges aren't as intimidating. Daniel mentions his dad's embarrassment of him being effeminate and his fear of losing his mom's love for who he was as a human being as some of his darkest periods of life. But the title of the darkest of them all goes to his experience during graduate school at York University in Toronto.
"I had to do a presentation to a class of 15 students and I couldn't do it. I was so afraid of being judged speaking out loud, talking, being and thinking, that I met with the professor privately and convinced her to let me forgo the presentation with a penalty toward my final grade. I was so uncomfortable being who I was that I met with the professor and convinced her to not let me speak in front of everyone. She did put up a healthy fight and challenged me, but I cried and begged her to let me forgo the presentation and she did. I remember that moment vividly and it haunts me to this day. I think that feeling of discomfort had a lot to do with the bullying I faced as a child."
Daniel began his career in media and entertainment in 2011 at the IIFA Awards in Toronto, where he was discovered by the host of Bollywood Boulevard. A minor meet and greet that catapulted his career to becoming one of highly sought out Canadian entertainment leaders. Daniel's love for media stems from its offering "to connect with people from all walks of life."
"Everyone has a story and a unique way of sharing it and I love being able to interact with these individuals and discuss their life experiences. I love being inspired by these same personal stories too. I have to say, a little glitz and glam don't hurt and I love the rush, glamour, and spontaneity with covering red carpets. I love that high I get after fighting a throng of other journalists to get a bite or just being a part of all that chaos."
His energy and values of self-acceptance are still coherent even in his fashion sense.
"In fashion, I love the ability to express your individuality. I don't consider myself to be fashionable per se, but I like to consider myself a stylish person because I always make sure what I wear is true to who I am and embodies my persona and energy. I love seeing this same expression of individuality in the work of designers too. It's a treat to see!"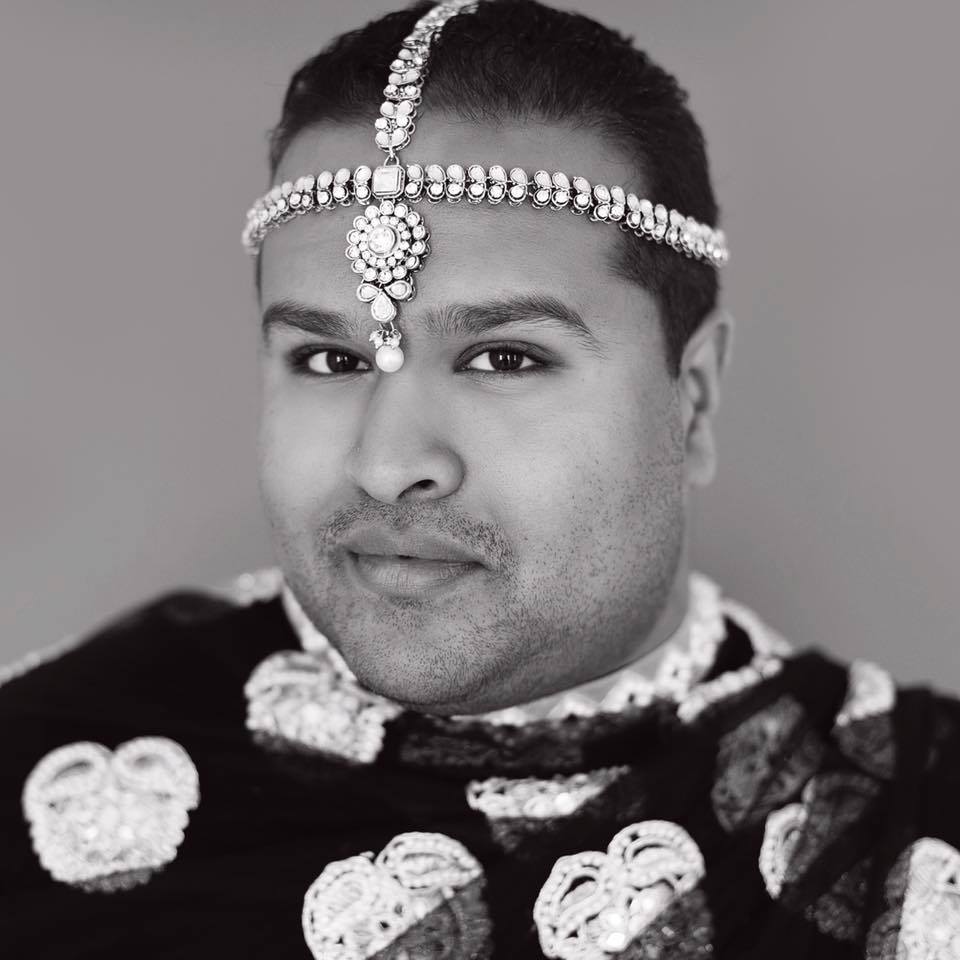 [Photo Credit: Pure Studios]
With an increasing percentage of LGBTQ representation in the media, Daniel believes this is a positive step forward. It is beyond imperative as it offers positive figures or role models for young individuals wanting to come out to their families and friends. Although the rate of acceptance is slower it is still there in the South Asian community.
"We see more Pride Parades happening in South Asian countries, we see more sexual diversity in films and entertainment such as the same-sex storyline in Bombay Talkies or the trans band in India called 6 Pack Band. So the representation and the conversation are moving at a much slower pace, but the progression is happening and I am happy to see it."
Many of us fit the mold of acceptable societal norms. It doesn't seem like our decision at all, from our career paths to life partners to our sexuality. Most of the time we are ridiculed for being different and not abiding by these rules. This causes a disconnect and internal frustration leading a large number of us to conform and avoid the idea of making ourselves happy. Daniel's new project, "The He/She Project," is a raw depiction of his life and his win against his many demons. But the most powerful aspect of this production isn't limited to the LGBTQ community, it is an indirect message to all of us to love and accept ourselves in our barest form stripped of all our expectations.
---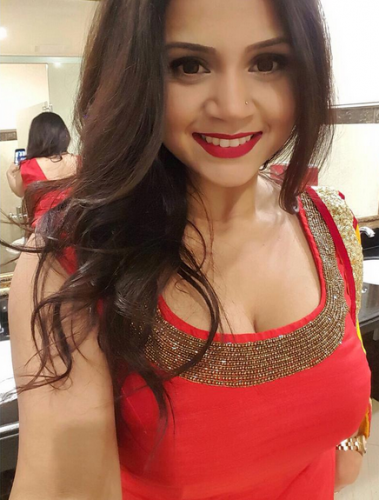 Nehal Mehra, a graduate student from New York University, is a native Torontonian currently residing in the Big Apple. She finds solace in the arts, beauty and all you can eat sushi. If you can't find her scrolling her social media feed or studying at a Starbucks, look in the aisles of Sephora or blasting Bollywood tunes in her bedroom.