by Rupinder Thandi 
There is a side of my culture that has played on my mind from a young age. It has churned my stomach to bits. It's what South Asian aunties always ask when you reach your early to mid-twenties—"beta, you have a good job now but when will you get married?"
Like fictional character Mindy Lahiri from "The Mindy Project," I have grown up loving rom-com. The odd Bollywood films I saw as a child often consisted of women portraying the damsel in distress, but I loved how the women ended up falling for the rescuer. Moving on to Hollywood—I loved them all; cheesy ones, realistic ones, period ones. I guess I fell in love with…love.
This all makes me wonder about my love story.
I've always found myself questioning my identity. Is it something we are born with? Or something we create? I was born in Britain, I have Indian parents, and I was raised in a predominately white neighborhood. I didn't have South Asian friends until I was 17, which only lasted a year until we all went in different directions for college. I don't see my extended family too often, and I rarely go to church. I struggle to speak the language of my ancestors. So in some ways, I am more British than Indian.
I see two types of British-Indians in my life—the girls who want to get married and embrace their heritage and marry the guy that is acceptable in their culture, like Jesminder's sister in "Bend It Like Beckham." The second type of girls are the ones I call the "lucky ones" — because they fall in love and marry whomever they want.
I find myself in limbo. I am the girl who doesn't know whether she even wants to get married. BUT, if I do get married, I don't want to marry someone just because he is the ideal candidate for society's standards.
To put this simply—my parents want me to marry an Indian guy and ideally by the time I hit the 30 mark because, in people's eyes, you are a lost cause by that age. But if I end up with a non-Indian boo, my parents do not want anything to do with me. Some may find this a bit harsh but I always knew this to be true so my emotional nerve endings on this topic are numb.
The main defining conflict here is religion. Religion gives people identity. I may have a religion but I am not religious. I guess, over the years I have created my own characteristics, beliefs, and values. Though I do find my culture somewhat beautiful, I cannot let it dictate my future. Whether I respect my parent's ways or not, they will never respect my choice to marry a non-Indian. I never understand how marrying outside of my culture is enough to break the relationship I have with my parents.
As of now, I don't see marriage on the top of my to-do list. I've never been in love. I've never had to share my cozy bed. I've never had to selfishly be responsible for looking after a pet (fish don't count!). But if I were to fall in love and share my life with a significant other, I want it to happen on my terms. And I shouldn't have the pressure of losing people in my life for the cost of gaining the love of my life.
And you know what the worst part is?! THAT GUY DOESN'T EVEN EXIST YET! We all know love comes with its own set of problems but who knew I would have so many before meeting the guy?!
Who knows what will happen to my love story. I hope more brown girls can relate and understand that marriage doesn't need to be a priority. Love and marriage should be a choice, not a task we have to check off the bucket list.
---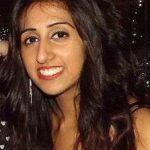 Rupinder Thandi is from Newcastle, England. She is a British-Indian who studied journalism and is a freelance writer. At heart, she is a wanderlust, film lover, and foodie. Her ideal day is reading her true bible – IMDB, while eating a cupcake, in a beautiful city park on a sunny day. Follow her on Twitter and Instagram.