by Ashni Mehta
We all remember Sanam, the henchwoman in RiRi's BBHMM music video, right? I mean, how could any of us forget her? She's basically living out the modern day American dream: experiment with badass new beauty looks, build a loyal following on Instagram, get discovered by the one and only Rihanna on Instagram (totally casual, nbd), have the opportunity to be in RiRi's newest music video, and naturally, turn into an overnight Internet sensation. (What is life?!)
Well, this fairytale keeps getting better and better, (and I keep becoming more and more jealous of her, but that's beside the point). Sanam now has her own column in Refinery29, and we're left to figure out whether we love her more for her stunningly unique look or for her downright REAL personality. Not that we really have to choose, the point is we love everything about her!
Sanam tackles several salient issues prevalent in society: from the lack of minority representation in fashion and media to cultural appropriation, as well as, the importance of self-love. And the best part about it all? Her I-don't-give-a-fuck down to earth attitude.
Through her recent post on Refinery29, we learn that Sanam struggled with self-esteem issues for the majority of her life. But today, she is being referred to as a "Desi Goddess" and is highly envied by people around the world.
That's not to say the transformation has been easy for her; in fact, it was quite the opposite. Growing up, Sanam said she had to deal with many of the same struggles that most female minorities have to go through. Many females of color grow up doubting their beauty and self-esteem because the features they are born with do not conform to society's idea of what is considered to be traditional beauty. This is further exacerbated by the complete lack of representation of female minorities, ESPECIALLY South Asian females, in mainstream media:
"I can't remember a single movie, music video, TV show, or anything that I saw growing up that had an Indian girl or a South Asian girl in it," Sanam said. "When M.I.A. came out, I think all of us were just so fucking hyped to see a brown girl—she helped to put so many of us on the map. I think that's the same for any woman of color; we just feel so underrepresented, especially dark-skinned women. Even in India, you don't see dark-skinned actresses or models. And there are so many advertisements for whitening creams, and I just think it's so fucked up."
We are so thrilled to see more and more South Asians in mainstream media, and even more excited that Sanam is another media personality who will represent sassy South Asian females worldwide!
We, at BG, absolutely cannot wait to read all that you have to say, Sanam. So, here's to another badass #BrownGirl making it to American mainstream media!
P.S. You should totally contribute to us too! <3
[Feature Image Photo Source: Instagram]
---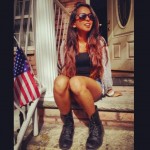 Ashni Mehta graduated from St. John's University with a degree in Psychology. Currently, she is the Community Manager at Corporate Suites Business Centers, as well as a professional Bollywood dancer with Sonalee Vyas Dance Company (SVDC). She is a passionate aerial yogini and a self-proclaimed foodie. During her free time, you'll find her eating and laughing her way through NYC.