by Duriba Khan 
"Exercise is important; being healthy is good. I mean, the post pregnancy Aishwarya Rai Bachchan is still just as flawless as the 'Kajra Re' Aishwarya Rai, but, why am I comparing myself to Aishwarya Rai? Duriba, you can't be chubby. You fail at contouring and you have the fashion sense of a forty-year-old hippie man…"
Such was the stream of thoughts that swam across my mind last summer when my mom forced me into our '07 Honda Odyssey to give me a ride to the gym.
My parents, both from the medical field, find it vital to constantly reprimand me on how necessary it is to exercise daily, drink plenty of water and consume plenty of hearty almonds (you knew it was coming!). So it was no special occasion that I was now dragging my Nike sneakers across the local YMCA. I considered trying out the Zumba dance fitness class, but quickly changed my mind when I watched a group of brown aunties attempting to dance to Britney Spears's "Toxic," clearly sweating their kofta kababs off.
As I was on my way to the vending machine, I noticed an advertisement for a new movie theater style exercise room upstairs with treadmills instead of chairs. Better than nothing, I guess, just as I watched an aunty horribly attempting to "drop it low." I darted up the stairs faster than my father on tax free weekend at Costco.
Upstairs, they were playing a Morgan Freeman movie about something to do with ice mountains and a bucket list (which at the time, was a new term for me).
A bucket list, I later learned from the deeply comforting voice of Morgan Freeman, is a compilation of everything one would ever want to accomplish in their life, no matter how lame, ridiculous or impossible.
Below is my, or sorry, our very own stereotypical brown girl bucket list.
[divider]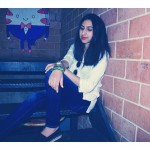 Duriba Khan, or "D-Dawg", is a sixteen year old blogging, vlogging, photographing, filmmaking, sketching geek who enjoys long, romantic walks to the refrigerator. She is half Pakistani and half Indian, and currently resides in Austin, Texas. Duriba also feels uncomfortable writing about herself in the third person. For more of Duriba's work, check out her blog.