The weather is cooling down, but we're still getting summer breezes. It's weird weather time, but BGM's staff picks will keep you right on track. From travel woes to bad hair days, we got you covered with the best hacks and products!
1. Facial Razor by Shiseido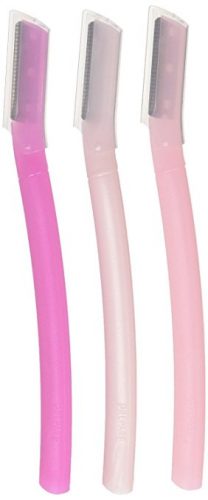 Shiseido /Photo Source: Amazon
Putting sharp objects near your face can be scary, but these facial razors are a staple in Japanese beauty routines. BG Komal reassures you: "They aren't like regular razors. Japanese woman have been shaving their faces with these for years because it's like a light version of dermaplaning. Using them has gotten rid of excess dead skin, brightened up my face, my skin feel smoother than ever before, products like serums and creams soak up way better and my make up also goes on smoother now!" If she can face her fears to have the best skin of her life, then you can too! You can get pack of 3 razors for $5 on Amazon. Click here to get your pack today!
2. Movie of the Month: "Dangal"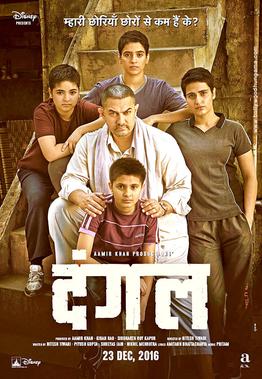 "Dangal" movie poster/Photo Source: Wikipedia
Sometimes, we have to accept the sad facts of life: summer is over and our late night Netflix binges are numbered. Make sure your queue is filled to the brim with the best and latest movies! BG Pooja suggests "Dangal," an action packed, estrogen fueled sports film. "Amir Khan outdoes himself as a determined father, but to be honest, watch this movie for the girl power. Seriously. Do it. Like right now." You heard her! Watch it now on Netflix.
3. Nail Color of the Month: Butler Please by Essie
Butler Please by Essie/Photo Source: Essie
BG Faria is a working woman. She keeps professional and classy. However, she likes to let her heels and her nails stand out, so you know that she's not afraid to have a little fun. Get yourself a color like Essie's Butler Please that can you can rock in the office AND at happy hour with the girls.
4. Newseum
Newseum/Photo Source: Newseum
The staff of BGM love writing and half of us are journalists. We live to spill the tea on everything from the Affordable Healthcare Act to Amitabh Bachchan. We have the perfect travel destination that anyone, journalist or not, will absolutely love. Check out Newseum! BG Sriya explains: "This museum is in D.C. It celebrates the first amendment and freedom of opinion, while simultaneously looking at news history. It can probably get easily overlooked because of the Smithsonian, but it's really something to check out." Click here to get your tickets to D.C.'s Newseum!
5. FIONA Tie Leg Sandals in Tan by ASOS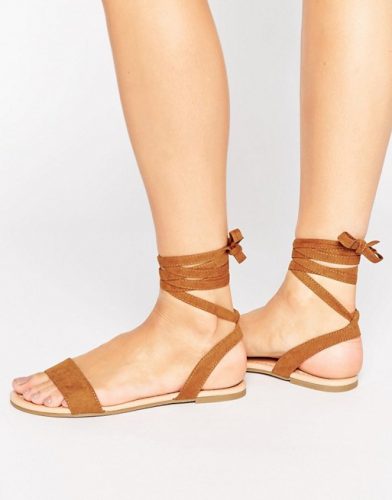 FIONA Tie Leg Sandals by ASOS/Photo Source: ASOS
It can be hard to find a pair of good hot weather sandals that can hold up to the wear and tear of concerts, afternoon walks, house parties, and movie theater matinees. This year, BG Priya found her perfect summer sandals from ASOS. "These sandals are the perfect! They match to any outfit. They're super cute, and comfy. The best part is that they're only $16!" You can get your own pair of FIONA Tie Leg sandals from ASOS.
6. Kati Roll Company (NYC and London)
Delicious food from Kati Roll Company NYC/Photo Source: Serious Eats
BGM's photographer and unofficial foodie, Pooja Dhar, has a new favorite restaurant. "So I went to the Kati Roll Company the other day, and to my delight, they had mishti doi lassi. Mishti doi, is a quintessential Bengali dessert. It's sweet yogurt made with caramelized sugar. Mishti doi is both tart and sweet, and 100% delicious. Kati Roll Company's version tasted like summer in Kolkata. The lassi captured the city's flavors in liquid form, and I was transported back. Go get some!" Kati Roll Company has multiple locations in New York City and one in London. You can find their addresses here. You can also order online by clicking here.
7. Mas Marina by MDMflow
Mas Marina by MDMflow/Photo Source: MDMflow
BG Marina is a blue lipstick enthusiast. Some think it's a crazy color, but to her, it's the perfect to show up and show out anywhere she goes. Think you can't work a blue lipstick into your day-to-day look? She's got you covered with the perfect color. "Unsurprisingly, Mas Marina from MDMflow is one of my favorite shades. It works on all skin tones, especially on dark skin tones. The company is run by a woman of color and each lipstick is handmade!" So what are you waiting for? Rock the blue lipstick trend with your own tube of Mas Marina.
8. Book of the Month: "How to Be a Muslim: An American Story" by Haroon Moghul
"How to Be a Muslim: An American Story" by Haroon Moghul/Photo Source: Amazon
Our co-founder Atiya Hasan loves to curl up with a good book and a cup of coffee when she's not hustling at BGM or working toward becoming a medical doctor. She loves a book that can raise an eyebrow, open minds, and completely move readers. Recently, she finished reading Haroon Moghul's latest book, "How to Be a Muslim: An American Story." It recounts Moghul's youth, growing up as the child of Pakistani immigrants and living before the time when Muslim-American superstars like Hasan Minhaj dominated the media landscape. Moghul's sentiments can be echoed in the experiences of many Muslim-Americans today. Get your copy of his book today and experience growing into adulthood through Moghul's moving perspective.
9. Productivity Hack: Evernote
Evernote/Photo Source: Google Play Store
Do you have a million little pieces of paper that create a large, unorganized mess in your bag, drawer, or desk? Do you need a place to put together all of your notes, online bookmarks, and web screenshots? Try Evernote! It's an easy to use website and notes are saved in the cloud, so that you can access them from their multitude of apps. You can make on account and access your notes online. To have your notes on the go, download the app from iTunes, the Google Play Store, or the Microsoft Store. Also, for the times your wifi is down, download Evernote's software straight to your computer. When you're computer is reconnected to the Internet, all of your notes sync up in the cloud!