by Binoj Jacob
This post was originally published on our partner website, India.com.
Popular choreographer and immensely talented dancer Rohit Gijare has recaptured the spotlight with an interesting new mashup. Released on YouTube yesterday, "The Bachelorette (Tapori Mashup)" is Gijare's latest video, and comes shortly after his stint on "Dance India Dance," where he finished in the Top 3.
"I'm very excited to share this one with everyone because after mentally planning it in my head for nearly a year, it's finally come to life and I think it's one of, if not, our best work yet," he said. "And what's more fun than watching an all-boys dance where they are breaking it down to Bollywood's most fun tracks?"
The music featured in the video is a mashup created by a local music producer, Ravi B. The video's concept is a throwback to the vintage Bollywood tapori style of dance, starting with Anil Kapoor's classic "Mera Naam Hai Lakhan" to Varun Dhawan's "Palat Tera Hero Idhar Hai," and revolves around a parody of "The Bachelorette."
Following the show's concept, you will see a handful of guys vying for one girl's love and willing to do just about anything for her—what Indian girl wouldn't welcome that situation, right? The girl decides the best way to win her heart (and her rose) is by a dance-off with 18 talented dancers.
The video, seen close to 5,000 times on Youtube since its release, is completely dance-centric, and possible because of  three camera masterminds, two hilarious actors and one music maestro.
Disclaimer: After you have watched this video again and again, your dancing skills will surely come to life—or, if you are like me, you will dance in your living room until you are out of breath.
[Feature Image Photo Credit: Umar Rashid]
---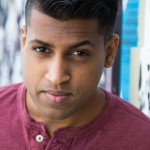 Binoj Jacob's strongest trait has always been his personality so he decided to make a career out of it. Previously On-Air Talent for Power96, a Top40 radio station in Miami Florida, he is currently in Los Angeles trying to live out his dream of becoming the brown Ryan Seacrest. His other passions include Songwriting and Acting.