Ladies, I'm sure we've all had those moments while getting ready for a night out, as we scour through multiple outfits, often it's the classic Little Black Dress that saves the day! On April 21st, 2017, Texas Health is giving women in Texas the chance to, once again, get out their Little Black Dress (LBD), but this time for a specific cause.
With its primary service area accounting for 16 counties in North Central Texas, home to more than 6.8 million people, Texas Health Resources is known to be one of the largest, non-profit health care delivery systems in the United States. Established in 1997 with the assets of Fort Worth-based Harris Methodist Health System and Dallas-based Presbyterian Healthcare Resources, Texas Health was soon after joined by Arlington Memorial Hospital.
With a purpose to raise funds to support Women's Services at the Texas Health Presbyterian Hospital Allen, the LBD night promises an evening of entertainment coupled with a strong sense of real girl-power. Over the past three years, these events have raised almost $140,000 in net proceeds, all towards supporting the life-saving impact this institution has on its community.
Brown Girl Magazine exclusively speaks to this year's chair Devika Chand Dandona:
At the beginning of this event, the money raised went towards a mammography machine, formed from one of the newest technologies, and our hospital was one of the first to obtain such a machine. This year we are putting blue tooth fetal monitors in the labor & delivery floor.The focus for these events is to ensure we always gift the hospital with something that will improve the patient experience.  As a mother of a young daughter, I want to show her this is our way to make sure women's health services are covered and how we can strengthen our community.
Described as "supergirl power night," this women-only event with a black dress code is always a fun-filled night with dancing, dinner and event silent auctions.
The little black dress event was originally started by Dr. Radha Iyengar, a well-known and successful breast surgeon in North Dallas. Her main motive behind starting the LBD event was to bring together women in the community and support causes and raise awareness about health issues that affect women.
The first LBD event was in 2013, sponsored by a number of local medical practices. The news of the successful first LBD night spread like wildfire and the foundation accredited members like Devika for the growth within the community. The 2016 event was completely sold out, with over 400 women in attendance. It seems as if the 2017 night is not too far behind. With Devika as a leading member of her local community, she has brought on at least four community members to join the committee under her leadership.
Devika shares:
Post the 2016 event, we purchased webcams for the hospital's NICU. This is one of those things that you hope no one will ever need to use. But if there is just one mom out there who can see her baby on a screen after leaving him/her in the hospital – if we have changed just one life; that's enough motivation to keep this cause alive. I'm really proud of the way LBD 2017 is shaping up. We have sponsorships that range members of the community to medical practices right through to personal sponsorships.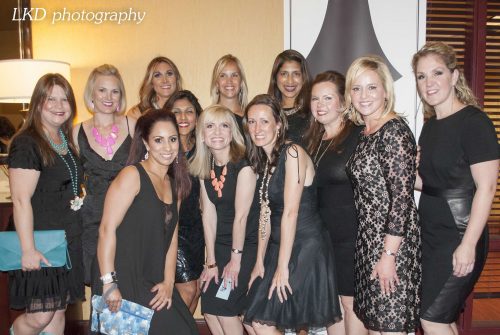 Compassion, strength, and loyalty are shared traits in such women. There is no doubt that when you put a desi girl in charge, she will own it. And own it they have!
Check out the event page for more details and tickets.