by Syeda Hasan
It's been twelve years since author Tanuja Desai Hidier penned "Born Confused," the breakthrough novel in young South Asian American literature. The book chronicled the exploits of Dimple Lala, a high school senior and ABCD – otherwise known as an American Born Confused Desi – a notorious nickname for first-generation South Asian Americans. Desai Hidier takes readers along on Dimple's coming-of-age journey and her efforts to reconcile her Indian heritage with her American culture.
Without realizing it at the time, Desai Hidier wrote one of the pioneering novels in South Asian American literature.
I never really thought of it as breaking into a genre (probably luckily!). The focus was always on telling the story. For years I'd wanted to get the Indian American coming of age tale down on paper, something I'd been exploring in my short stories (and, of course, in my life). As an adult I'd begun to wonder what it might have been like to have grown up with characters on my bookshelves, on TV, on the movie screen—anywhere, really (as my family was the first South Asian one in our town, in fact)—who looked more like my family and me, with whom I could have a different kind of relatable experience."

I suppose in some ways writing 'Born Confused' was my way, albeit years later, of addressing that lack (and of paying homage to the invigorating and inspiring South Asian arts/club scene that began to take off in the late 90s in New York)."
To buy either novel, visit Desai Hidier's website.
In the much-awaited sequel, "Bombay Blues," Dimple finds herself far from her home of New York City. She travels to Bombay with her family to attend her cousin's wedding, but the trip ends up meaning much more than she anticipated. Desai Hidier says that landing in a new world disarmed and alarmed her characters, but it also allowed them to grow.
It's one thing to mythologize a city," Desai Hidier says. "It can be entirely another to actually inhabit it. For the characters in 'Bombay Blues,' the change in location shifts their sense of self, their habitual dynamics, and their perceptions of home and belonging. It's not so much a matter of Bombay's turning them into something else—rather, that the dislocation and disorientation that accompanies finding yourself on new ground can lead to an unmapping and remapping of aspects of who you are."
Desai Hidier contemplated writing a sequel to "Born Confused" for several years. After a trip to Bombay in 2008, she felt the time was right. She had originally planned to continue Dimple's story in New York City, but as she herself explored Bombay, the city where her mother and brother were born, the place her parents met, she began to create her own memories there.
Becoming a parent myself certainly crystallized my desire to learn this part of my own parents' history better," she explains. "I longed to forge a tangible connection to this metropolis of myth and memory."
Desai Hidier knew the city was an ideal place to watch her characters learn and grow. "Bombay Blues" recounts Dimple's humorous and heartwarming experiences as an American in India. By letting her characters lose themselves in a new land, Desai Hidier said she developed one of the main themes of the novel – "there's no place like home…because home is not a place. Rather, it's a sense sanctuary. It's a direction. A swimming city."
My characters surprised me, and it's possible I surprised them, too," Desai Hidier says. "It was a wonderful experience for me getting to know them all better, as well as meeting the new characters – like catching up with old friends."

As well, during the writing of 'Bombay Blues' I came to learn how much Dimple has grown into her own not only as a photographer, but also in terms of her relationship with her own physicality, her sexual self.  And the ways in which these spaces conjoin. I didn't realize before writing how willing she would be to embrace losing her way, dropping the map. To simply sink in and let the city get under her skin—and get under its own as well."
Desai Hidier says she wrote "Born Confused" relatively quickly. She completed and revised the first draft within nine months. But putting together the final draft of "Bombay Blues" was a much lengthier process. She spent three years writing the book, including three trips back to Bombay to research it.
While some of the important themes Desai Hidier explored in "Born Confused" are love, sexuality and finding one's identity across cultural boundaries, she says many of these themes are also a part of the sequel.
Another big theme in 'Bombay Blues' is following your heart–in art, in life (really, one and the same thing)—and what to do when that may pull you away from the people and places you love most…and draw you towards the untrodden terrain of other spaces. Other faces."

As well, the ideas of the cycle–death and birth, zero and infinity, Shiva and Ganesha, destruction and creation–is a theme; that every new ending is an old beginning. Slam a door and a window flings open. A tide arrives as it leaves the land. Our tale begins every time it ends."
In addition to writing, Desai Hidier took on a creative task no other author has attempted. Desai Hidier, a singer-songwriter as well as fiction writer, wrote what she calls a booktrack, an album of songs accompanying her novel.
Music is always in my mind," she said. "It's a huge part of both of my books, and it's a huge part of my life."
After writing "Born Confused," Desai Hidier began writing songs inspired by the novel. Two years after it was published, she released "When We Were Twins," an album based on "Born Confused."
With "Bombay Spleen," the booktrack for "Bombay Blues," Desai Hidier wrote the songs as she penned the book. The album features her work with Atom Fellows and Marie Tueje, and is produced by NYC's Dace Sharma.
'Bombay Spleen' draws from the themes of 'Bombay Blues'–love, homecoming, cultural history, and the mapping and unmapping of identity— with the musical narrator's personal journey paralleling the arc of Bombay's development itself, from its beginnings as seven islands later reclaimed to become the city we know today. This journey also parallels Dimple's metaphorical (and sometimes literal) one in the book: through landing, sink-and-swimming, back to dry land, finding the flow, and flight."

For me, the book and accompanying album are part and parcel of the same project," Desai Hidier says. "And it was a lovely balance to have these interludes where you're musicating during the mostly silent, solitary novel-writing process—well, at least the outside. In your head it's far from silent and solitary!"
[divider]
Tanuja Desai Hidier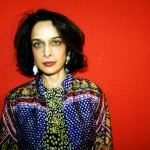 is a writer/singer-songwriter born and raised in the USA and now based in London. Her first novel, "Born Confused" —  the first-ever South Asian American coming of age novel — was named an American Library Association Best Book for Young Adults and became a landmark work. USA Today commended it as "compelling and witty…gives voice to a new generation of Americans…a rare and daring portrayal." In starred reviews, Publishers Weekly praised it as "absorbing and intoxicating…sure to leave a lasting impression," and Kirkus called it "a breathtaking experience. "Born Confused" was recently hailed by Entertainment Weekly and Rolling Stone as one of the best young adult novels of all time.
Its long-anticipated sequel, "Bombay Blues," deemed "a journey worth making" in a starred Kirkus review, explores everything this generation faces today, with a heady mix of uncertainty and determination, despair and inspiration, haunting loss and revelatory love. Tanuja's musical accompaniment to the sequel, her 'booktrack' album "Bombay Spleen": Songs based on Tanuja Desai Hidier's novel "Bombay Blues," is out now worldwide on iTunes (physical CDs, complete with lyrics booklets, are available at CDBaby.com); the first music video for the album will be released September 2014. Her first album — "When We Were Twins" (songs based on "Born Confused") — was featured in Wired Magazine for being a first-ever 'booktrack'; Wired deemed it "reminiscent of Alanis Morissette…[the music] reflects the clash of styles, sounds, and influences inherent to cultural assimilation and urban living." For more information, please visit www.ThisIsTanuja.com.
Follow Tanuja Desai Hidier on Twitter and 'Like' her Facebook page. 
Syeda Hasan is a freelance journalist living between Houston, Texas and Karachi, Pakistan. She loves coffee, Bravo's "Real Housewives" TV show, and all things French. She is a proud Texas Longhorn, and has previously reported for Houston Public Media, the Daily Texan and KUT News in Austin.