by Sruveera Sathi ­
With a noisy ice cream machine whirring in the background and a spotty internet connection, I and six others gathered around a flat screen TV in one of the back rooms of a local Asian and woman-run small business. We assembled to watch a live stream of the 2016 Presidential Election Forum, held in Las Vegas, Nevada and were joined by individuals in over 20 states who had watch parties similar to ours. The forum was presented by non-partisan organizations, APIAVote and Asian American Journalists Association (AAJA) and saw upwards of 3,000 attendees who gathered in The Caesar Hotel to hear candidates and representatives from 4 parties speak.
The 4 speakers:
Dr. Jill Stein: The Green Party presidential nominee
Gary Johnson: The Libertarian Party presidential nominee
Bill Clinton: Served as a surrogate for the Democratic nominee, Hillary Clinton
Sean Reyes: Served as a surrogate for the Republican nominee, Donald Trump.
I didn't realize it then, but it was the first time that a town hall of such a magnitude was convened to specifically address the Asian American electorate. Despite the potential for these representatives to address key issues that the Asian American community faced, I was left wanting more.
Asian Americans: The "Middle-child" Minority?
After watching the 2016 Presidential Election Forum, I'm inclined to say that Asian Americans could be the proverbial middle child of the American electorate; left without a clear role, often times invisible or mischaracterized by candidates, but poised to make an impact.
During the 2016 Election forum, oddly reminiscent of a parent forgetting the name of their middle child, when Gary Johnson was asked by moderator Richard Lui what "AAPI" stood for, he faltered and gave a close but incorrect response. Twitter was quick to criticize his mistake, but I'll give him a pass because the numerous acronyms ARE difficult to keep track of, and in a way underscore the difficulty of addressing the Asian American electorate.
For starters, there are over 20 ethnic groups under the AAPI umbrella and they encompass varying levels of educational attainment, economic attainment, and cultural experiences. But acknowledging that there are so many groups with differing needs is the first step, and the third party candidates during the forum may have missed the mark in doing so.
Dr. Jill Stein, the Green Party nominee who, although got the AAPI acronym correct, ended up with mixed reviews. She fared well when asked about her success with the AAPI community because she mentioned her commendable work with Southeast Asian immigrants in Massachusetts working to close down a toxic Medical Incinerator and was the only one who spoke of how climate change would severely impact several Southeast Asian Nations.
However, mention and knowledge of issues Asian Americans face stateside for Stein and Johnson seemed almost like an after-thought. It was only after prompted by moderator Richard Lui that they focused on a few of these issues like immigration, where both advocated for a stance on supporting a more open immigration policy. That would have been a perfect opportunity for these candidates to mention how their immigration policies might affect Asian Americans specifically, since 1.5 million out of 11million undocumented immigrants are in fact, Asian Americans. But because they didn't, I wasn't truly convinced the candidates did their homework.
Sean Reyes the Trump Campaign's representative, a Filipino American and Utah's first Asian American attorney general, failed to meaningfully connect with many Asian Americans. Reyes started out by trying to appeal to the Asian Americans in the audience through an exercise where he asked the audience to "clap" if they could relate to a few statements. Examples of these statements were: "clap if you or a sibling were ever grounded for getting an A-" or "clap if you think rice should be its own food group."
Statements like these, although intended to offer comedic relief and to appear relatable to Asian Americans, actually backfired because they were stereotypes that didn't seem appropriate for a Presidential Election Forum.  These statements signaled to me that Reyes and by extension, the Trump administration might further one dimensional representations of Asian Americans that we are so desperately trying to move past.
Now coming conveying actual stances, Reyes may have missed the mark in regards to education. For starters, Reyes first made a bad affirmative action joke and said that UCLA was referred to as "Underrepresented Caucasians among Asians" by many in UC Berkeley, his alma mater. He mentioned that this impression has a negative impact on admissions for hardworking Asian Americans and that Asian Americans are "discriminated against by affirmative action programs." But this is not true; because you see, he blatantly ignores that Asian Americans benefit from Affirmative Action too, and that a majority of AAPI members actually support Affirmative Action.
Lifting the Invisibility Cloak
But we can't fault the candidates alone because there are several challenges within the AAPI electorate that we must address first. As I mentioned earlier, part of the reason that addressing the AAPI electorate is difficult is because there are so many ethnic groups and experiences to take into account. So unity among the AAPI cohort becomes instrumental if we want to have a shot at a united political voice.
But if you asked me, I don't know if I would claim an Asian American identity first among the various other identities I have, and it looks like several others feel the same. The Pew Research Center shows that only 19% use "Asian American" to describe their identity. Far more, around 62% use their country of origin like "Indian American" or "Chinese American" to describe themselves.
But standing as a disunited front will only make it more difficult for candidates to address us as an electorate and make it more difficult for us to strive toward our shared goals. Despite the statistics mentioned above, I do see promising steps being made to foster unity among Asian Americans and that is through steps like the reestablishment of (WHIAAPI), the White House Initiative on Asian American and Pacific Islanders by President Obama in 2009. Additionally, several strong nonpartisan AAPI organizations like CAPAC, APAICS, SAALT, and APIAVote have emerged to advocate for the AAPI community.
We as Asian Americans also need to take part of the blame for our lack of civic engagement which is among the lowest of any population. This may be because Asian Americans are often times erroneously painted as a model minority, a label which erases the multitude of experiences of several Asian subgroups, some of which have lower than average outcomes in education, health, and economic status. But, it is also because of the Asian American community's indirect acceptance of the label that lends invisibility to Asian Americans.
By believing that we as Asian Americans are better off because of our high levels of economic advancement, we become complacent and are more prone to view participation in the civic process as unnecessary. But high level of economic success without civic participation is a recipe for disaster. We have seen it throughout the course of this country's history, especially in regards to Asian Americans. It is this civic exclusion which made The Chinese Exclusion Act, Japanese Internment Camps, and a Ban on Asian American Immigrants in 1965, possible. It is civic exclusion that could make scathing Islamophobic rhetoric, racism, and racial profiling escalate more than it already has.
There were some stand-out moments at the 2016 election Forum which gives me hope that Asian Americans will be more visible AND have representation. Where Bill Clinton fared well for the Hillary Campaign, was that he spoke directly to key Asian Americans' issues. During his address Bill Clinton told the audience that he wanted to see the "distinctive needs"  of Asian Americans addressed by candidates and politicians. At the same time he advocated for electing a president who views AAPIs as a crucial part of America. "You want a president like Hillary who sees you as part and parcel of the American quilt of diversity," Clinton said.
Additionally, after the forum, I took to each candidate's websites and Hillary Clinton's was the only one who had a platform outlined specifically for Asian Americans; including Asian American issues which ranged from ending racial profiling, to addressing bullying, to  making college more affordable for members of the Asian American population like Pacific Islanders who have low rates of educational attainment. Seeing her fleshed out platform after hearing from Bill Clinton, earned her many points in my book in regards to Hillary's commitment to serving the AAPI electorate. It gives me hope that we might be able to go beyond Asian American visibility to give AAPI members representation as well.
The Margin of Victory
The 2016 Presidential Election will be historic in that it could see record-breaking numbers of Asian Americans and Pacific Islanders showing up to the polls, which is no surprise given that Asian Americans are the fastest growing racial demographic in The United States. Even though Asian Americans nationally make up only around 4% or eligible voters, Asian Americans make a sizeable impact in states like California (15%), Nevada (9%) and New Jersey (7%) and are even slated to be the swing vote in states such as Virginia, Nevada, Ohio and North Carolina.
Asian Americans have already proven our ability to tip the scales in the 2014 midterm congressional elections, where the Asian American backing of Senator Mark Warner in Virginia was 68% to his opponent's 29%. Warner's actual margin of victory was a mere 1% difference, showing that the overwhelming Asian American support may have given him the extra boost needed to come out on top.
The 2016 Presidential election is important for many reasons but on a personal note, it will be the first general election in which I will be able to vote. As such, it makes a difference to me as a member of the AAPI community but also a larger American community, that candidates can convey how they "get me" and people like me. While it remains to be seen how the AAPI community will influence the general election this year, one thing is certain; we cannot sit idle in the coming weeks and we definitely cannot be ignored in the years to come.
Register to vote here. And don't forget to vote for congressional and local elections happening year round in your state here!
---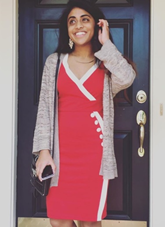 Sruveera is a recent graduate of William & Mary where she majored in Neuroscience and minored in Public Health. Before medical school, she is pursuing a Master's degree from Georgetown University and serving in her local community whenever she gets the chance. With community engagement as a driving force throughout her life, she hopes to one day combine her background in medicine, love of public service, and strong advocacy to enact systemic changes in the healthcare system and beyond.