by Sarah Khan 
The rap duo Swet Shop Boys have come out with a new hit expressing what it's like to have brown skin, deal with the TSA, and live in the era of Trump.
Riz Ahmed recently opened up about being typecast as a terrorist and dealing with other racist stereotypes. So it's no surprise his music would also reflect his struggles as a British man of Pakistani origin, as he divides his time between the USA and the UK.
Check out his latest single — "Englistan"
Himanshu Siru — also known as Heems — has always been vocal about what it means to be brown in America.
Together, the duo is a music powerhouse.
Himanshu starts off the song 'T5' from their album titled 'Cashmere' with, "InshAllah, MashAllah, hopefully, no marshall law" — just that line should resonate with every brown person who has ever been through TSA's scrutiny. The music video is set in an airport where Riz and Heems are "randomly selected" by TSA.
"Always get a random check when I wear a stubble."
Not only does the video and song address the racism brown folks face, but it also references refugees fleeing from Turkey and Syria.
"Stopping refugees is silly, blood. Well you know about Aeneas in the Iliad"
Aeneas was a Trojan hero and a refugee who eventually founded the Roman empire.
Watch the music video below and share it with everyone you know. This is straight fire, you have my word.
They're also touring soon:
7 Nov – San Francisco, CA – The Rickshaw Stop
8 Nov – Los Angeles, CA – Bootleg
14 Nov – Washington, DC – U Street Music Hall
17 Nov – Brooklyn, NY – Rough Trade (Sold Out)
18 Nov – New York, NY – Studio at Webster (All Ages)
21 Nov – London, UK – Birthdays
Support and buy their latest album 'Cashmere.' Don't forget to follow them on Facebook.
---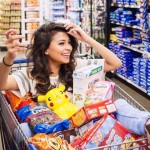 Sarah Khan is aspiring to be Sharmila Tagore with the swag of Aaliyah. She is 23-years-old and her mom won't stop asking her about marriage. Sarah usually ends up telling her mom that she wants to marry an African-American Jew, which causes her mother to promptly throw chappals at her. Sarah wants Drake to know that she's down and ready whenever he is. Sarah is also 257 Pokemon away from catching them all.