by Binoj Jacob
This post was originally published on our partner website India.com:
Your favorite South Asian YouTuber's have done it again. Lily Singh (a.k.a. Superwoman) and Humble the Poet (a.k.a. Kanwer Singh) have released a single you will be rapping to in no time.
Since the release of last year's summertime anthem "Leh," the Canadian-Punjabi duo have once again made waves on the Internet on April 16, a date significant to the song.
This time, instead of saying "Leh" after every sentence, you will chant "#IVIVI." And like most people, if you are wondering why the song's title only consists of roman numerals, it is because IVIVI means 416, which also happens to be Toronto's area code.
A song with lots of Toronto pride has seen more than one million views. The 4:29-minute music video is an ode to their hometown, with lots of shout-outs to people from all over the world who also call Toronto their home.
Staying true to their heritage with the song's catchy Indian tune along with the fun dance moves, quirky facial expressions, creative costumes and on-point lyrics, both Superwoman and Humble surpass all expectations once again.
The music video's production was made possible with the help of their friends and supporters, who are also seen in the video, dancing away to the catchy upbeat number. The dream team includes Sikh Knowledge, a production/DJ/vocalist, EssKayJi, the video's stylist, J Statik, the song's mixer and engineer, The Fotographerz, who executed all the photography and lighting for the video, and Majestic Films, the videographers.
Considering that Superwoman and Humble the Poet's first hit single "Leh," made its way to the No. 8 spot on the iTunes Hip-Hop chart, we hope to see their second single achieve greater success as it is already at No. 43.
While celebrating an entire city and its well-known diversity and multiculturalism, the song is the perfect add-on to the playoff hype the Toronto Raptors recently created.
If you check out the story behind "#IVIVI," you can hear Superwoman talk about how this song is important to her because it seems like the entire world is reflected through every corner of Toronto. And that international flavor is important for her, especially as she leaves home for her debut world tour.
According to Singh, "Toronto is why I am who I am."
Humble the Poet also refers to Toronto in the back story video as "the world's biggest small town."
You can check out the video and all of its cultures below, as well as the back story to the song. I wouldn't be surprised the least bit if Drake decided to rap on the "#IVIVI" remix, and Steve Nash and Russell Peters decided to make cameos. Enjoy the video till then!
---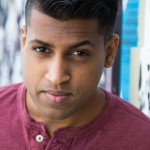 Binoj Jacob's strongest trait has always been his personality so he decided to make a career out of it. Currently an On-Air Talent for Power96, a Top40 radio station in Miami Florida. Also the Host for Raw Artists Miami, as well as a Contributing Writer for SB Nation covering the Miami Heat, an Entertainment Blogger for Power96.com, and a Freelance Contributor for India.com. His other passions include Songwriting and Acting. He also will now stop talking about himself as he is typing.